By Zach Rogers
Hunting with the family takes
on new meaning!

Imagine this: you draw your home state's competitive deer tag. During the hunt, you manage to land your biggest buck yet. Sounds perfect, right? Now imagine doing all of this while eight months pregnant. Sound like an even bigger challenge?
That's exactly what happened to Corissa McCoy and her husband Marshall. The two submitted their applications for deer tags in Nevada, only to find out they would be expecting another addition to their family around the same time. Already excited about the welcoming news, Corissa and Marshall soon received even more good news — they had drawn the tags. Now the question remained: with Corissa being pregnant, would the two have to give up their coveted deer tags? Not a chance.
"I honestly didn't think there would be any issues hunting while I was pregnant," recalled Corissa. "My first thought was having someone there to take care of Levi, our 2 year old son at the time, so I wasn't hunting pregnant and caring for a toddler at the same time!"
Determined to embark on the hunt, Corissa and Marshall took all the necessary steps needed to ensure a safe trip.
"After I talked to my OB about the concerns, I knew I would be fine and knew we had measures in place in case of an emergency," Corissa said. "Hunting is a part of our life, and it's how we provide 90 percent of the meat for our family. We knew we could make it work."
Of course, there were more than a few concerns, ones that the McCoy's took into account before taking off. Above all else was the concern for the baby's health, and after confirming through multiple check-ups that the baby was healthy as could be, the couple felt at ease. They also had the help of family and friends with them to watch over Levi while mom and dad took care of business. Water and food was a top priority in order to keep Corissa hydrated and nourished, and the McCoy's also kept handy a SPOT Satellite Messenger equipped with a 911 helicopter emergency button. Marshall also did some extra preparations before leaving.
"I carried extra game bags in my packs in case I needed to create a makeshift delivery table," he said. "I was praying I would not have to deliver a baby in the mountains."
Throughout the hunt, as Corissa was defying the odds, Marshall found a target of his own: Walrus.
"Walrus was my nemesis," he explained. "He was one of the largest mule deer I ever had a chance at during an open season."
Walrus had a massive 190+ rack, and Marshall was hooked. After a few days of heavy pursuit, Walrus evaded the chase, but Marshall didn't walk away empty handed. He managed to harvest a trophy mule deer only two days after giving up on Walrus.
"It's not always about the prize," said Marshall. "It's about the adventure and the challenges that we encounter."
Overcoming the challenges of being pregnant on the hunt, Corissa landed of nice buck of her own. Although excited, more important was what the kill meant for her and her family.
"Each time I take an animal, I feel an overwhelming amount of appreciation for that life," she said. "More importantly than the size of the buck is the meat it will provide to feed our family."
For the McCoy's, hunting isn't just another hobby, it's their life. Both grew up in a hunting household, with Marshall taking his first tag at the age of 12. He tries to get in at least two or three hunts per season, saving all of his vacation time for hunting. Corissa started at a young age as well, even missing a school dance so she could take a hunter's safety course. By 12, she had killed her first buck. The two are a match made in hunting heaven — they even opted to miss their honeymoon to go out on a hunt, which they dubbed their "huntingmoon."
Of course, neither of the McCoy's would be caught on a hunt without their Havalon. They use it for everything from skinning and quartering to boning and caping.
"Havalon knives are the sharpest, most lightweight tools I have ever used," said Marshall. "I can carry the extra blades and never worry about dulling a knife or taking a break to sharpen. This year alone I used my Havalon to bone out three bull elk and two deer without using any other knife."
Marshall was first introduced to Havalon in 2010 after drawing the "trifecta" of tags in Nevada for mule deer, bull elk and desert sheep. He's been an avid fan ever since.
"During that season I found out the knife was worth its weight in gold. I can cape an animal in half the time, which allows me to pack up and start my trek out much sooner."
Today, Corissa and Marshall are the proud parents of two young up-and-coming hunters in the making. Levi's already an experienced pro, and little Ricki Lynn isn't far behind.
"We believe the sooner you expose your children to camping, hunting, fishing, etc., the sooner they learn to respect it," said Corissa. "Levi begs us all year long for hunting season!"
---
If you haven't seen the Havalon Baracuta
Bone Saw, what are you waiting for?
Click here: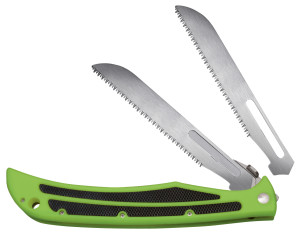 423 total views, 5 views today