By Tracy L. Schmidt
Wild game is personal — it comes with
a story, not just a sticker!
It doesn't get any more personal than sitting down to a dinner you put on the table and eating an animal you hunted. It's far more satisfying to feed your friends and family meat you didn't find at the grocery store on a pretty pink plastic tray. How good does that feel?
Nothing honors an animal more than acknowledging its sacrifice by getting real about how it ended up on your plate. It didn't drop from the sky perfectly trimmed, weighed and covered in plastic. It's beyond me why people find meat more palatable when it comes in such a nondescript form from the grocery store.
Unlike grocery store meat, the animals I'm going to eat have real meaning. The venison we put on our table means so much more and is never wasted. It comes with a story, not just a sticker. A conversation that shares a value not in cents, but in the common sense we're responsible for instilling in our kids. What's the true cost of food? That's some great dinner table conversation! So why don't we talk about it more often?
No brightly lit arches or plastic toy gimmicks are involved — nothing that gets tossed to the side — only appreciation and respect for the reasons we are able to eat. Yes, that's old school, but it is a lesson that's worth remembering. We've shared our philosophy with our girls since they were little. It's normal for them to understand the food chain — very few kids do.
It takes hard work and effort to successfully hunt a deer, and a lot of hard work to process it for the table. Serving the folks who hold the forks and knives, and knowing they understand and appreciate their meal, is what fills up your heart as a hunter. Being able to tell the tale of the great gift we have received not only fills our stomachs, but also our souls.
Somehow certain people seem to feel chicken from the store is more humane to eat than the meat from a hunter. How exactly is that, I wonder? No cage, no antibiotics, no nameless person did a deed that we pretend never happened because we live in a world lined with rose-colored foam.
I prefer to see the world straight up without the glare. I'm a hunter, and I appreciate the sacrifice of the animals I consume — I eat wild venison, and I eat it with pride.
Chill 'n' Grill Venison Kabobs:
1 pound cubed venison steak
24 cherry tomatoes
2 large sweet bell peppers, chunked
2 small zucchini, sliced
1 large onion, chunked
Marinade:
1/4 cup vegetable oil
1/4 cup teriyaki sauce
1/4 cup brown sugar
2 teaspoons minced garlic
Place marinade ingredients in a medium bowl. Reserve 1/4 cup of marinade for basting. Add marinade to cubed meat in a bowl and refrigerate overnight or for at least 30 minutes. Alternate meat and vegetables on the skewers and grill until done.
---
About Tracy L. Schmidt: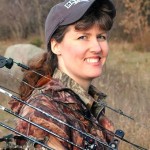 Tracy L. Schmidt is a certified master food preservation specialist and the author of the book "Venison Wisdom." She is married to Daniel Schmidt, editor in chief of Deer & Deer Hunting Magazine and host of "Deer & Deer Hunting TV" on NBC Sports. Tracy enjoys the versatility afforded by Havalon Knives in both the kitchen and the field.
---
Need more tips on how to cook venison?
Check out our FREE eBook and
download your copy today!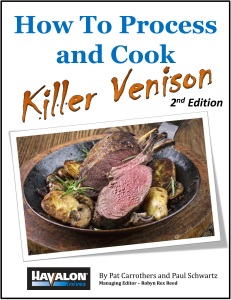 1,399 total views, 368 views today