Why Doctors Who Hunt Prescribe Havalon Knives (When it's time for the post-mortem work…)
by Steve Sorensen
You've tied your tag on a deer and it's time for field dressing. What will you use? A heavy, over sized survival knife? A cheap folder you got at the big-box store? An expensive fixed blade with Damascus steel?
If you're a doctor or a taxidermist, I'm betting you'll wield a surgical scalpel with skill and dexterity. To everyone else, my best advice is to follow the lead of those knife pros, and use a scalpel.
Why a scalpel makes sense.
The Havalon knife is actually a folding scalpel, and it makes sense for a number of reasons.
• First, a scalpel is the sharpest knife you'll ever use. The medical profession can't settle for inferior sharpness, and neither can taxidermists because time is money.
• Second, field dressing is post-mortem work, just like an autopsy. (Yes, so is taxidermy).
• Third, a surgical scalpel is inexpensive, readily available, and the right tool for gutting.
• Fourth, it's the lightest, sharpest field dressing knife anywhere.
And you're in luck. Havalon offers doctors, taxidermists, and you the best replaceable blade folding scalpel on the market.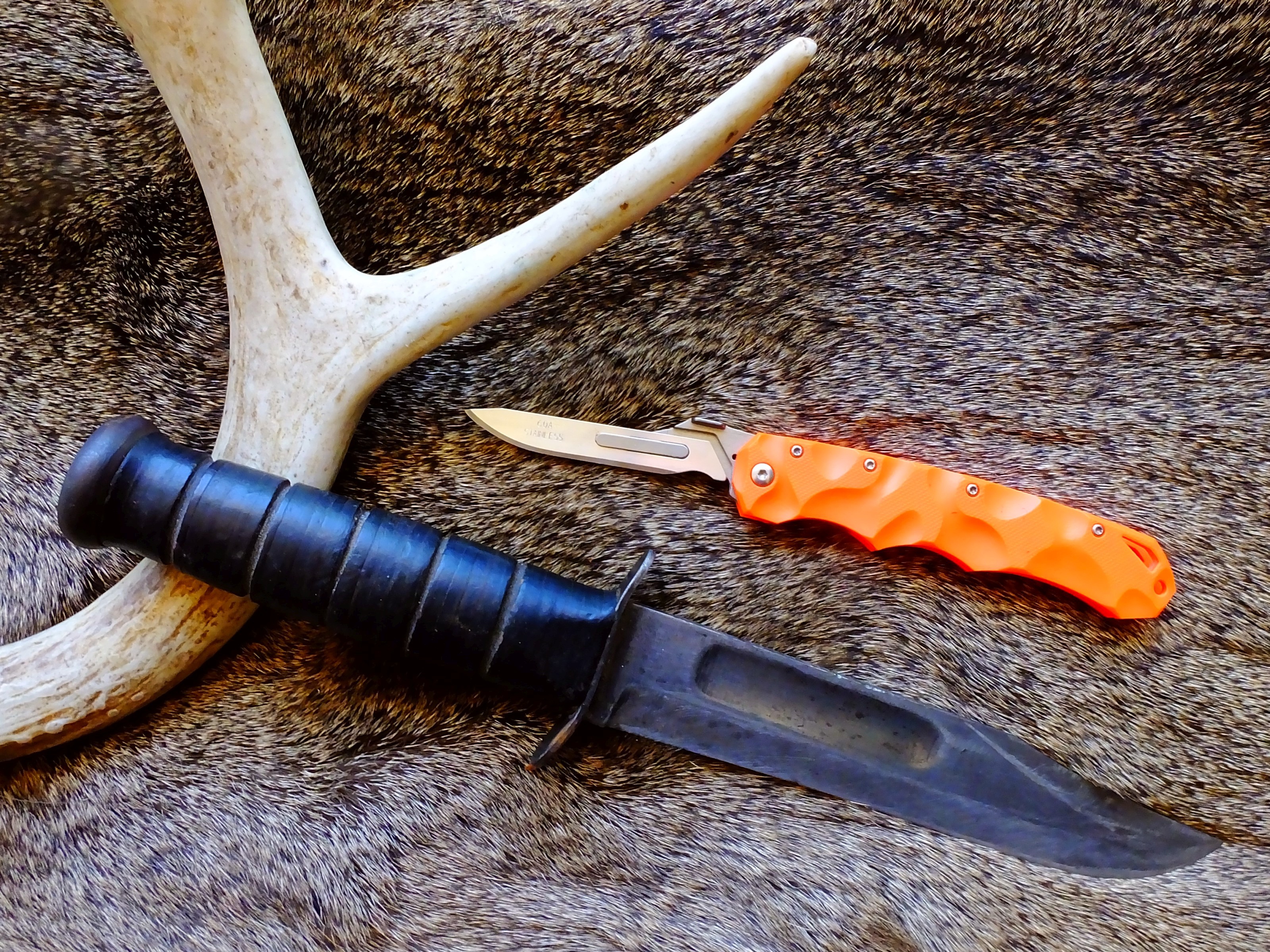 Pick one. Havalon offers a variety of folding knives featuring their #60A autopsy blade — it's thicker, stronger, and does a better job than any other surgical scalpel. (Steve Sorensen photo.)
When I was a kid I saw a hunter with a giant Marine Corps fighting knife on his belt. The bottom of it was strapped, gunslinger style, to his thigh. I must have thought big game needed a big knife, or maybe I thought it looked cool, because I remember strapping my uncle's World War 2 U.S. Navy K-Bar knife to my little prepubescent thigh. I guess I thought I was prepared for whatever cutting job (or fighting job) I'd face. My dad told me I'd never need such a big knife for hunting. Then he showed me his field dressing knife with a blade not much bigger than the blade on a Havalon knife — though the Havalon was still far into the future.
Small is beautiful.
Dad was right. All I needed was a small, lightweight knife with a razor sharp blade, but since the Havalon knife wasn't invented yet Dad's mission was to teach his young hunter to put a wicked-sharp edge on a knife. (I learned how, but in recent years I've noticed that sharpening knives is becoming a lost art — another good reason to buy a Havalon knife!)
Dad's field dressing knife had a blade not much bigger than the Havalon surgical scalpel. Over the years, he sharpened his knife so many times he wore out the blade. As those same years rolled by I noticed hunting knives becoming smaller. A scalpel blade is the logical outcome of that downsizing trend. When it comes to field dressing knives, small is beautiful!
More benefits of the surgical scalpel.
When I first discovered the Havalon knife, I was amazed at how sharp it was, and how it made field dressing fast, easy and clean. I thought I'd be smart and clue in a couple of my doctor friends about what I had found. It didn't occur to me that doctors who hunt already had it figured out — they were already using a scalpel as a hunting knife. Same with taxidermists.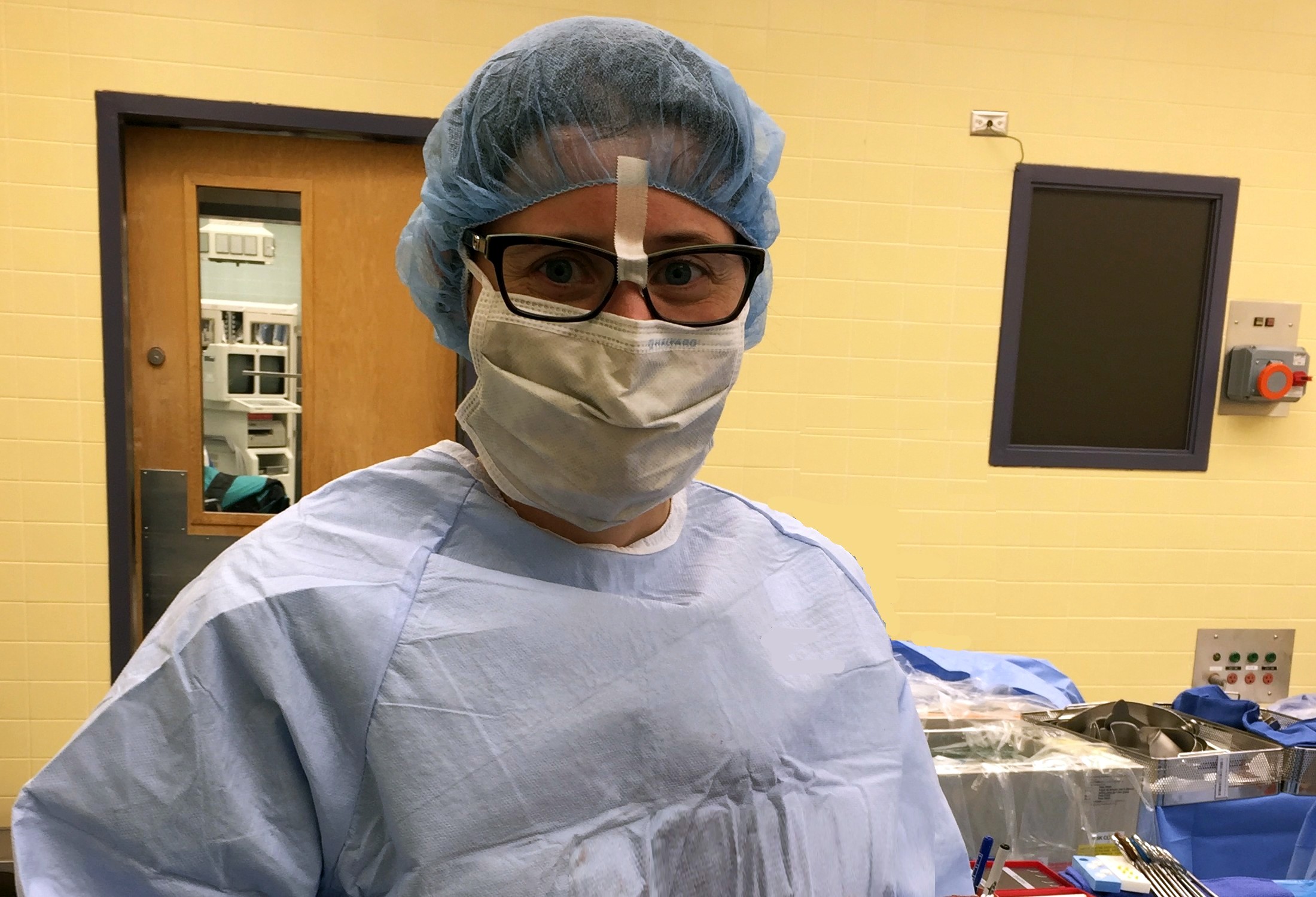 Neither medical school nor an operating room are prerequisites to using a scalpel, but whether you're a doctor, a lawyer, an Indian chief, or an everyday hunter, your best tool for field dressing your deer is a surgical scalpel on a folding handle, and Havalon makes the best. (Jill Sorensen Motl photo.)
Scalpels come in many sizes, but the perfect size is the one the medical industry calls the autopsy blade, (#60A). If you've ever had surgery, and you're reading this, that's probably NOT the blade the doctor used on you. But there's a good chance he did use a smaller scalpel from Havels, the parent company of Havalon Knives. That's because Havels is the leading company in medical cutting tools.
Havels was in the perfect position to pioneer the folding surgical scalpel as a serious and effective field dressing knife. Their scalpel holds an edge (remember — surgeons depend on it), and even better, you never need to sharpen it (unlike the knife my dad wore out). When a blade gets dull, do like a doctor — just unwrap a new blade with a fresh, crazy-sharp edge and swap it out.
No stopping to sharpen. No rooting around in your pack for your second-string knife. No messing with inferior sharpness. And you'll never need to spend the night before the deer season opener putting a last-minute edge on a knife you've neglected since last season.
Little knife, big value.
Because Havels blades are made in volume for the medical world they cost very little. Hunters are beneficiaries of this high-capacity manufacturing. So, when you've shot your deer and it's time to do the post-mortem work, I recommend the Havalon knife, the most innovative folding knife with a super-sharp surgical scalpel.
Of course, good ideas are always copied, but no other replaceable blade knife measures up to the Havalon. No one makes a scalpel as sharp and as strong. Some offer replacement blades that are much more expensive, or are much harder to clean after the work is done.
Havalon makes several handle designs in different materials, plus some impressive two-bladed knives and a multi-tool. Whichever you choose, you'll do your fastest, cleanest field dressing job ever, and you'll see why Havalon knives are preferred by doctors and taxidermists.
***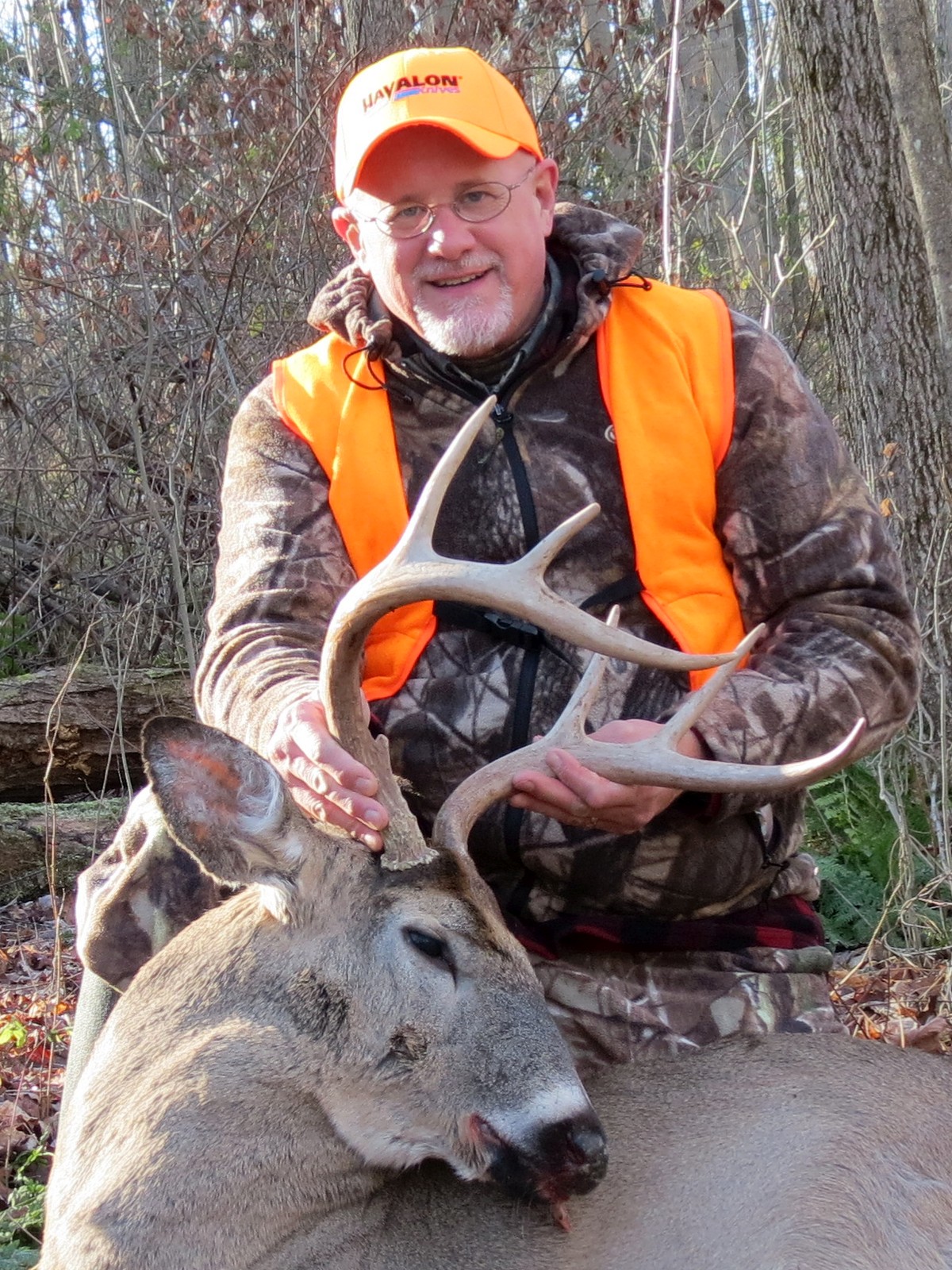 When "The Everyday Hunter" isn't hunting, he's thinking about hunting, talking about hunting, dreaming about hunting, writing about hunting, or wishing he were hunting. If you want to tell Steve exactly where your favorite hunting spot is, contact him through his website, www.EverydayHunter.com. He's a frequent contributor to the Havalon website, writes for top outdoor magazines, and won the 2015 and 2018 national "Pinnacle Award" for outdoor writing.
226 total views, 1 views today