By Vikki Trout
Early season turkey tactics — prime time
for gobblers!
I thought to myself — he's just over the ridge. If I can move slightly, I will be in line and on his side. Well, bad decision!
Who would have thought 10 yards would ruin that morning? Even though I hugged the ground as I snuck in, he nailed me in the naked, wide-open woods. I learned a valuable lesson about sparse foliage in early spring that day. Based off my own experiences, use these pros and cons — benefits and liabilities — to score before the green-up.
Four Early Spring Benefits
1. Hearing a gobbler after roost descent
Hearing a gobbler sound off with exuberance in the darkness is exciting. And when he hits the ground and continues gobbling, we are even more energized. Prior to the green-up, it's much easier to detect the presence of a vocal gobbler because his voice carries throughout the woods. Of course, you have to be careful since the turkey may turn direction and will sound as though he is somewhere else. I usually like to listen long enough to determine his location before I move. After green-up, they sometimes talk and we just don't hear them. Late spring dense foliage can diminish our hearing capabilities.
2. Predicting the path
In most states, hens are still breeding when spring turkey season begins. Hunters can factor this into their strategy. Hens will move very little when breeding since they've already established their nesting sites. As they travel to and from feeding areas they're much more predictable and they do their best to avoid other hens. If they hear hen talk, especially if you sound like an old boss hen, they may change direction because they don't want to lose their gobbler to some other floozy! But sounding like a sweet little jenny may bring the hen with gobbler in tow.
3. Setting up during pre-dawn
Many times my husband and I would roost a gobbler and come back the next morning before first light. The advantage to open woods is that when you are setting up in the dark, you will not be as likely to pick a location that could impair your shot. Open woods increases the odds of an open shot — if the opportunity presents itself.
4. Double-teaming
I cannot begin to tell you how many turkeys have fallen when my husband John and I used the double-team method. This works very well, especially in open woods. The shooter would set up 30 to 40 yards in front of the caller. When the caller would talk turkey, the gobbler would assume his "girlfriend" was farther away. This strategy brought many birds into shooting range. It works great in open woods because the gobbler knows exactly where the call originates.
Four Early Spring Liabilities
1. Getting too close
Remember that gobbler I tried to approach just 10 yards closer? He was gobbling with every breath and it was only a matter of time until he would get wary since he wasn't seeing any hen. He was thinking what every gobbler out there thinks — the hen should come to him — so he waited. The woods were bare and trees had not yet begun to bloom, so I should not have attempted to relocate. He saw something he didn't like, turned and vamoosed. A little foliage would have helped me get away with the move.
2. Moving at the wrong time
When hunting open woods, be very careful of when you make the decision to move. You are relatively safe if you move as soon as you hear the gobbler announce his location. But if you wait, the gobbler could have shut up because he's on the move and you can run smack-dab into him. If I decide I need to move, I'll wait until he gobbles, then immediately be on the move. If he's close, I stay put!
3. Using hen talk as locator calls
When the typical owl, crow or peacock doesn't get an answer, some hunters get out the hen calls. But walking and calling in open woods can cost you. Don't assume the gobblers aren't around just because you don't see or hear anything. Sometimes they are tight beaked for no good reason. I have sat in my photo blind and watched longbeards say nothing to a crow that's sitting over their head hollering, and I have also watched them crank up and go nuts over the annoying crow. It just depends on their mood. Be careful about using hen calls as locators in open woods. The gobbler may be within eyesight, and using a hen call can turn that bird into a call-shy gobbler.
4. Coping with hens
Dealing with hen turkeys is never easy. They do their utmost to keep the gobblers away from us. They can hear your calls and pinpoint your precise location. When they hear the calling — it's Katie-bar-the-door and take the gobbler with them. I spoke earlier of double-teaming to lure the gobbler into range, and that method can also be applied to bringing the hens in. And when the hen moves out of harm's way, you'll soon be reaching for your Havalon Piranta!
---
About Vikki Trout:
Vikki Trout is a full-time freelance writer and photographer from southern Indiana. She loves hunting turkey, deer, bear and small game. When she's not hunting, she loves capturing wildlife through the lens of her camera. Visit her website at www.troutswildoutdoors.com.
---
Get the right knife for
those spring turkeys! Click here: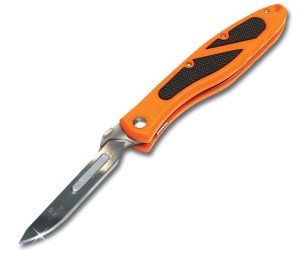 99 total views, 24 views today