By Ron Spomer
A Pro's 10 Tips on Buying and Using Binoculars
Most of us know we should use a binocular. Few of us know how. Took me half a lifetime to figure it out. Perhaps my "trial by errors" can save you the trouble and significantly increase your game sightings.
The "bang for your buck" beauty about binoculars is they increase the number of bucks and bulls you bag. You can't shoot 'em if you can't see 'em. With the right binocular used the right way, YOU'LL FIND MORE GAME – Guaranteed.
When buying binoculars:
Spend more than you can afford. You needn't splurge on a Swarovski (www.swarovskioptik.com) but you won't go wrong if you do. Pro-rated over a lifetime, the best binoculars cost just pennies a day. More significantly, they encourage you to use them because everything is so big, bright and crisp. You'll love the view. I'd rather spend $1,800 on a binocular and $400 on a rifle than vice versa. Plenty of $400 rifles shoot minute-of-angle. But a dim, blurry binocular is nearly worthless. Bino prices are falling, but spend at least $150 on a Porro, $200 on a roof prism. Any amount you stretch beyond that will serve you well.
Decide on prisms. Roof and Porro refer to the prism inside the instrument. Porros have the old-fashioned, dog-leg shape. It's easier to get optical perfection in a Porro, so they're cheaper than roof prisms of similar quality. But roofs are more compact
and rugged.
Phase correction. In a roof prism, insist on BaK-4 prism glass and phase-coating. Phase-coating weighs nothing but significantly improves sharpness by lining up the different colored light waves into one phase. Porro prisms don't need phase coatings.
Invest in coatings. Anti-reflection lens coatings add more to brightness than do huge objectives. Insist on fully multi-coated lenses – all three words. That means every air-to-glass lens surface has several anti-reflection coatings. Light goes through instead of bouncing off.
Don't overpower. You'll find more game with a 6X than a 10X because the lower power "sees" a larger area. This is especially critical in woods. Best all-around power is 7X or 8X. Don't go overboard with objective lens size either. A 40mm to 42mm objective works beautifully until 45 minutes after sunset. High-quality 32mms do nearly as well and are a lot smaller, lighter and easier to use.

When using binoculars:

Read instructions. I'm dumbfounded by hunters who don't know how to adjust lens diopter to match their eyes. Basically you focus the non-adjustable barrel with the center wheel, then adjust the diopter wheel until the same image looks equally sharp through the other barrel. Once both are adjusted, the center wheel controls both barrels. Unless your eyes change or you loan your binos out, you never have to adjust for your own eyes again.
Shorten the strap. Binos will be more comfortable if they ride on your chest instead of stomach. Less annoying bounce, easier to lift and use. Or make the strap long and wear cross-shoulder. Push the bino behind your back for protection, slide it up
front for use.
Throw away the case. Seriously. The objective lens covers, too. You bought the bino to use, not baby. You don't hunt with your rifle in a case, do you? But do keep quick-detach eyepiece covers on. Train yourself to pop them off as you lift the bino. The easier that bino whips into action, the more you'll use it.
Look before you leap. The classic mistake is to grab the bino after you think you see a deer. This is a great way to see waving tails. The biggest advantage a binocular provides is Superman vision. We might not run faster than a speeding bullet, but we can see 8 times better! Raise the glass and study every bit of cover in front of you. Scan left to right. Then turn the focus wheel in and out. This makes close objects blur in and out of focus like you see in the movies. The first time a blurry branch sharpens into a buck's antler you'll gasp. I've had it happen as close as 20 yards. A buck was hiding "in plain sight" just 20 yards away and I didn't see it until I focused my bino on that
brush pile.
Scan the far edges. What looks like a wall of trunks to the naked eye turns into long tunnels and openings deep into the forest. Many of these openings are interrupted with deer walking through or standing there, chewing cud. Glass, glass, glass and see them before they see you. Then shoot. Your binocular has just gotten you another one.
***
About Ron Spomer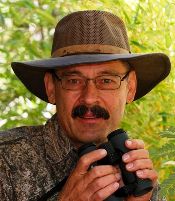 Ron is rifles/optics columnist for Sporting Classics and North American Hunter magazines and host of Winchester World of Whitetail on NBC Sports.
Learn more at (www.ronspomeroutdoors.com)

For more expert advice on hunting and fishing equipment, click here.
2,776 total views, 4 views today