By Bernie Barringer
Bass-Style Spinnerbaits for Walleyes?
The Surprising Truth!
At times in my fishing career, I've just shaken my head in wonder. Those occasions have turned into "aha" moments. This happened to me about ten years ago on sprawlingLakeMcConaughyin westernNebraska.
I was fishing the big walleyes for which the lake is famous, and happened to drop in at a tournament weigh-in. It was a Nebraska Walleye Association event, and as the leaders paraded through the weigh-in with their 30- and 40-pound bags of fish, I heard several of the top teams say they caught their limits on spinnerbaits.
I was certain it was a local way of referring to bottom bouncers and spinners, or some kind of crawler rig, but a little investigative work proved me wrong. These anglers were using bass fishing baits and collecting limits of large walleyes on them.
Large numbers of anglers were slow-rolling 3/4-ounce spinnerbaits along the rocks of the dam and rock bluffs of the lake. They were counting them down to 18-25 feet where the schools of baitfish were located. Some of them were casting spinnerbaits among the boulders and fluttering the baits down into the shadows where the walleyes would attack. Some were even trolling them!
I had caught a few walleyes on spinnerbaits in the wilds of Canada – but I figured that was a fluke! After all, those naive walleyes will eat most anything that doesn't eat them first. But could there be more to this spinnerbait thing for walleyes?
I'd later learn that fishing with spinnerbaits was once a big secret on western reservoirs, but it's a secret no longer. "Spinnerbait fishing for walleyes is very common on McConaughy," says tournament angler Travis Sanger, a spinnerbait convert. "It is also popular on Merritt Reservoir and Elwood, which is where I believe it all started."
So what makes a spinnerbait the ticket on those three reservoirs? "Alewives," he says. "I have also seen them work well on lakes that have a shad forage base, which includes some of the Nebraska reservoirs, but alewives are a key." Turns out, a spinnerbait not only imitates an alewife, but it attracts them.
"When you see alewives following your spinnerbait, you know you're in the right area. I don't know if they follow out of curiosity or what, but they follow a spinnerbait. If alewives are around, walleyes will be nearby. If you aren't seeing alewives following your bait, do not spend too much time there."
But are spinnerbaits really the right tool for the job in this situation? Or would a more traditional walleye lure be better? "The advantage of a spinnerbait is its ability to select for larger fish," Sanger explains. "You won't have 40-50 fish days with a spinnerbait; but as a tournament bait, it is great because it is selecting those four- to five-pound fish and up." That's the upside to the bait, but there's a downside too. "It tends to make you a hero or a zero," he says.
That, of course, begs the question: Will spinnerbaits work in waters other than western reservoirs – waters with similar forage base and cover? I sought to answer that question while pre-fishing an FLW Walleye Tour event on Devils Lake, North Dakota a few years ago.
I was pitching shad raps among the flooded timber, a technique that has put a whole lot of Devils Lake walleyes through the weigh-in line over the years, when I noticed a pattern:  I was catching more walleyes when patches of weeds were nearby. Shad Raps are often lost on the tangles of underwater wood, and they do not pull through weeds well at all.
I decided to pull out a spinnerbait, and to my excited amazement, I caught walleyes on four of my next five casts. "A spinnerbait stays in the strike zone longer than a crankbait," says Devils Lake guide Jason Feldner. "You can crawl them over branches and fish them right along the edges of the deep weedline. I've caught a lot of fish on them."
Feldner uses two distinct techniques. In the spring, he likes to use a detachable blade like a Beetle-Spin blade, with a 1/8-  to 1/4-ounce jig and a plastic trailer such as a Power Bait twister-tail or shad body. He prefers yellow and white. "The walleyes hit them really aggressively," he says. "Usually from behind – a lot of the time your line will just go completely slack and then you know you have a fish."
Feldner also slow-rolls them over deep structure, counting them down and retrieving them along the bottom, similar to the way the McConaughy anglers were fishing the dam.
Most spinnerbait walleye anglers agree on one thing: willow leaf blades. Maybe it's the combination of flash and vibration that attracts them. Or the tight spin of a willow leaf blade that creates just the right profile. "I don't know why it is, but willow leaf blades produce walleyes," says Travis Sanger. "If it is a willow leaf and gold in color, it's the right spinnerbait for walleyes."
Sanger likes to combine his gold willow leaf blades with spinnerbait bodies and skirts in chartreuse or white. Feldner basically agrees with the color choice, most often going with yellow or white. Both are fishing moderately clear water. For stained water, brighter colors like florescent orange or fire tiger might be a better choice.
Sanger asserts that the upsides of fishing spinnerbaits for walleyes far outweigh the downsides. And he is certain they will work in many other walleye waters, particularly those where shad or alewives are the primary forage.
"You can cover a lot of water with them and select for bigger fish," Sanger says. "It is hard to spend the time to really gain confidence in them, but once you do, it's golden!"
***
About Bernie Barringer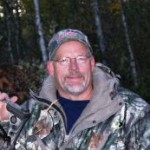 Bernie Barringer is a lifelong angler who has competed in professional walleye tournaments. He enjoys fishing for all species and writing about his experiences for many outdoor magazines.
Click HERE to read more articles by Bernie,
and for the best fillet knife for fish, click HERE.
3,808 total views, 1 views today