What To Do After Field Dressing Your Turkey
By John Jameson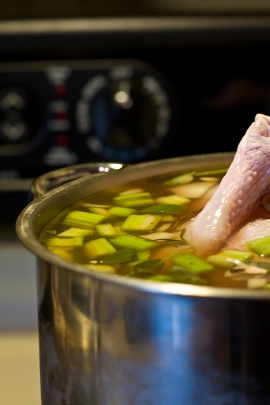 Harvesting a wild turkey is one of the most rewarding experiences you can have after heading out on the hunt. And once you've mastered the art of field dressing your bird and transporting it (or its most succulent parts), to the final destination in your kitchen, the only thing you have left to worry about is cooking your wild turkey.
1. One of the most common problems unseasoned turkey hunters run into when cooking wild turkey is that the bird comes out dry. There's nothing wrong with the bird or the cooking method. A tender bird is ensured only through proper preparation, no matter what method of cooking—deep-frying, brining, grilling, roasting, etc.—is employed.
2. Pluck or skin the bird as soon as possible. If you're plucking and can't complete the task right away, make sure you have a way to boil water to 140°. Plucking and skinning ahead of time ensures that the feathers don't cool into the skin and make it tough.
3. Properly field dressing your turkey is crucial. Unless you live less than an hour from where you are hunting, you should bring along the sharpest hunting knife in the woods and field dress your bird while out on the hunt. This will eliminate acids from building up inside your kill, which can make the final product less appetizing. If you are only taking the breast meat and thighs, you can use the gutless field dressing method. Pack a few gallon size freezer bags and some paper towels just in case you need to do your work in the field.
4. Your wild turkey is not the same as a store-bought turkey. A store-bought turkey has been soaked in juices and injected with plumping preservatives to keep it juicy. Wild turkeys are very lean. Therefore they need to be basted at least twice as often, if not three times as often, as a store-bought bird.
5. You can also utilize the beer-can method by putting a full opened can of beer inside your turkey for roasting. With this method you stand the open beer can upright and you position the bird over the top of the can. The beer steam then helps moisten the bird during roasting. Look up detailed directions on this method on the web. There are different variations so just choose one that appeals to you.
6. Deep-frying your wild turkey is probably the best method for a truly juicy bird. Use a deep-fryer when cooking wild turkey this way. The fat from your turkey will mix in with the oils from the fryer and the pairing will moisten the bird as it cooks. A 20-lb. turkey fries for approximately 60 to 75 minutes at 350°.
7. If you aren't deep-frying your wild turkey, then brining overnight is highly recommended. You can brine the whole bird, or parts. Use a solution of 1 cup of salt and
1 cup of sugar to each gallon of water. That's all you really need for a successful brine, but it's a good idea to add flavoring items like a chopped onion, cut up lemons, rosemary, bay leaves, white wine and so forth. But don't skip the salt because that is the "active" ingredient that helps seal in moisture. For a Wild Turkey Brine recipe from the National Wild Turkey Federation, click here: www.nwtf.org.
Ready to buy the sharpest hunting knife in the woods? Click Here.
What are your tips for great tasting wild turkey?
[hs_action id="7201″]

20,774 total views, 2 views today