Are You Making These 7 Turkey Hunting Mistakes?
(Part 2 of 3)
by Steve Sorensen
Failure to do enough scouting and the right kind of scouting aren't the only mistakes that lead to disappointment in the turkey woods. Another big pre-season blunder is failure to have your shotgun ready.
1.     Shotgun Mistakes: 
If you have a 60-yard shotgun shooting five-dollar shells through a custom choke, but don't take the time to pattern it, you might get a gobbler in front of you only to go home crying the blues. Today's shotguns are turkey killers, plain and simple, but you still need to know what your pattern looks like at 30, 40, 50 yards or more. If your pattern is off-center, or a certain choke or cartridge tends to leave baseball-sized holes in it, you're going to have turkeys get away. The point is this: Know your shotgun, and don't shoot beyond its range.
Innumerable turkeys have been killed with general purpose shotguns and 2¾" shells. In fact, I never missed nor wounded a bird with my old Ithaca Model 37 Featherlight pump. That's not because it's so powerful; it's because I shot only at turkeys I knew I could kill. Stretching the yardage is never a good idea. I've passed up many shots between 25 and 40 yards. Had I taken every one of those shots, I would have killed a lot more turkeys. But I would also have<br>wounded some.
I've retired the old Ithaca. Now my go-to gun is a Remington 870 with the ShurShot synthetic stock and a 3½" chamber. The patterning board says it's a 50-yard shotgun. But, I haven't shot at any turkey beyond 30 yards – yes, that's only 60% of its<br>effective range.
I recommend limiting your shots to 60% to 80% of your shotgun's range. That does two things: One, it will compensate for a common mistake – badly misjudged distances. And two, it will almost guarantee that every time you shoot at a gobbler, you'll cancel his<br>next date.
Another common shooting mistake includes lifting your head above the line of sight. That will cause you to shoot over the target. A scope can correct that tendency. So will discipline.
Another shotgun mistake is taking a shot at an extreme angle. Last spring I had a gobbler coming in behind me. He passed on my right, which is a difficult shot for a right hander. I got the gun on his head, but as I strained I canted the shotgun and dropped it a little as I squeezed the trigger. I took his legs out from under him. It was a bad shot, even at just 30 yards, but I was fortunate enough to recover him after I sprained an ankle in the chase. The lesson is this: Don't settle for shots that aren't comfortable. You won't hit where you think you'll hit.
2.     Gear Mistakes: 
Manufacturers sell a tremendous amount of must-have gear. That's a testimony to the creativity and resourcefulness of turkey hunting fanatics. But it's possible that your gear can get in the way of a successful hunt. A vest full of calls, decoys and other paraphernalia might do more harm than good.
Most turkey hunters are suckers for hunting gear. I'm fascinated by new ideas that hit the market every year. But is it really possible that the newest call on the market is the killer sound that outperforms the thousands of other calls that claim the same thing?
Here's my advice on gear: Go sit on your back deck and rummage through your vest. Put everything you didn't use last year into a box.
Then work all of your calls several times over the course of a week. You'll find out which ones sound the best, which are easiest to run, and which you are most confident using. Commit to three of them, put the rest in that same box, and hide the box. I recommend at least one box call, maybe a slate, and a diaphragm. Make sure they all sound different. OK, take two diaphragms – they're small.
Regarding other gear, invest in things that will keep you comfortable. Get a thick seat pad, or maybe a stool that will keep your derrière a few inches off the ground. Otherwise, a jutting root or rock will make its point ten minutes into a three-hour sit.
Also, use a shotgun you can hold comfortably. That's what attracted me to Remington's ShurShot stock – available on the 870 pump and the 11-87 semi-auto, it's the most comfortable I've ever held on an approaching gobbler.
We've covered pre-season mistakes, shooting blunders, and gear goof-ups. Next time we'll examine mistakes in set-ups, calling, and that all-important character trait every turkey hunter must have, patience.
***
About Steve Sorensen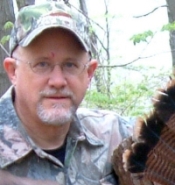 Award-winning outdoor writer and speaker Steve Sorensen loves the Havalon knife, and has been a fan of knives since he begged his dad for a hunting knife when he was six years old. His articles have been published in Deer & Deer Hunting Magazine, Sports Afield, and many other top magazines across the USA. Invite Steve to speak at your next sportsman's event, and follow his writing on his website, www.EverydayHunter.com.
Click HERE to read more articles by Steve.
2,840 total views, 1 views today