Get a kid out in the woods for a spring turkey hunt, and reduce the risk of that young person becoming an indoorsman.
By Steve Sorensen
You can't use the word "perfect' for many things, but a youth turkey hunt is perfect.
A couple of years ago Vickie Gardner of Alpen Optics told me about her first hunt. Vickie, who calls herself "Vice President of Stuff" at the company her husband Tim founded, thought she ought to get involved in hunting if she was going to be selling riflescopes, binoculars and spotting scopes.
So she asked a friend, "What's the most addicting form of hunting you do?" He replied, "Turkey hunting." So Vickie decided right there to go turkey hunting. She took her godson Ryan, who ended up shooting his first gobbler.
Vicki says, "The greatest part of the hunt was watching the older hunters in camp take a boy they didn't know under their wings and encourage him." That's exactly what youth turkey hunting always does.
1. Encouraging Kids – That may be the number one reason why it's the perfect way to bring new hunters into the fold. Vickie and Ryan are proof that turkey hunting will grip a person and won't let him (or her) go. But, there are many more reasons.
2. Kids Don't Have to Wait – When I was six I ached to go hunting, but had to wait six more long years. It was the biggest frustration I experienced as a kid. Today, many states have recognized how suitable the sport of turkey hunting is for young people, so they've created "mentored hunting" programs.
3. Moment-By-Moment, In-The-Field Instruction – Pennsylvania, my home state, is a state with mentored hunting. An adult is responsible for instructing the youngster so the kid can focus with single purpose. By having this privilege early, he is less likely to take the kinds of risks later that may result in an accident, and he's more likely to fall in love with hunting.
4. He Gets In the Game – In mentored hunting, the youth is a real hunter. The adult handles the firearm most of the time, and hands the gun to the youth and coaches him for the shot. In youth basketball or football, the coach can't be in the game with the youth, but in hunting, he can.
5. It's Safe – Some people ask, "Isn't this dangerous?" No. Hunting is already one of the safest sports in America, and by introducing kids properly, under a limited scenario where they accept it as a privilege, it's likely to end up making turkey hunting even  safer in the coming years.
6. Nice Weather – Traditional fall hunting seasons can have nasty weather, but springtime is a beautiful time to be in the woods, so the youth hunter won't need to wear bulky, uncomfortable clothing.
7. Brief Outings – Another plus is that spring gobbler hunts can be brief excursions. You can be home by mid-morning if you want, or noon-ish. The child doesn't have to sacrifice the entire day if he or his family has other plans.
8. Lack of Competition – Many states plan special youth days before the general opener. You're more likely to find an uneducated gobbler, and you're less likely to be calling to a gobbler that someone else is calling.
9. Something Always Happens – The spring woods are coming alive, and there's no better time to be a nature-snooper. The sunrise is only the start of it. Migrating songbirds, intricate spider webs – everywhere you look you'll see something unforgettable.
10. A Lot Can Happen In A Short Time – If one gobbler beats you, it doesn't mean the hunt is over. Keep hunting and you have a good chance of finding another gobbler that will test your skills.
To make that point, my friend Jason Morrison tells about the day when his 13-year-old son Ben became a veteran in the turkey woods. After spooking the first gobbler of the morning on Pennsylvania's youth day, they found another, called it in, and Ben scored. The same day was also New York State's youth day, so they headed north and Ben harvested a second gobbler.
To top it all off, Jason is a taxidermist (Buckhaven Wildlife Art), and he mounted both gobblers. Will Ben ever forget that day of father-son bonding? Not a chance.
For many kids, video games and cable television can occupy way too much time, leaving them no time to rattle around in the woods and splash along the streams. So get a kid out in the woods for a spring turkey hunt. He'll never forget it, and it will reduce the risk of that young person becoming an indoorsman.
Make sure you have a plan before walking into the woods. Do some scouting. Find a hunting location that doesn't involve an all-day hike. Go slowly, take it easy, and explain what you see. And if his (or her) parents don't hunt, watch the kid come home and excitedly begin pushing his non-hunting, neutral parents to the side of the good guys.
***
About Steve Sorensen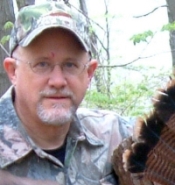 Award-winning outdoor writer and speaker Steve Sorensen loves the Havalon knife, and has been a fan of knives since he begged his dad for a hunting knife when he was six years old. His articles have been published in Deer & Deer Hunting Magazine, Sports Afield, and many other top magazines across the USA. Invite Steve to speak at your next sportsman's event, and follow his writing on his website, www.EverydayHunter.com.
***
2,338 total views, 1 views today