By Steve Weisman
When the easy ones are gone, use these…
4 Ways to Find Late-Season Pheasants
By mid-season of every pheasant hunting season, many hunters put their guns away because the easy birds are gone. However, for me, that's the time to analyze the types of habitat and target them with a good dog.
Find good quality roosting cover, a close food supply, and a protective place for pheasants to get out of the wind, and you'll find ringnecks.
1.  Quality Cover
Quality roosting and protective cover means some good native prairie grasses, like switch grass and big blue stem, but hunting without a dog is nearly futile. In northwest Iowa I hunt lots of sloughs and cattails, which are great pheasant cover, but I prefer to hunt cattails around smaller sloughs.
Hunting the larger sloughs is tougher, because it takes some good solid ice to be able to walk on the top side of the water. More than once I've seen hunters try to move in cattails with "frozen" water only to end up going through. So, we save this for late, late season.
For the most part, we stick with shallow, smaller sloughs. An ideal time to hunt these birds is during a snow – especially if it begins falling in the morning. By early afternoon, the pheasants are in their cover and will be more likely to hold.
I caution people against kicking pheasants out of their roosting cover right before closing time if heavy snow is falling or windy blizzard conditions are forecast. Kicking them out of their cover and into the open can mean death if the storm is a long-lasting one.
2.  Food Supply
In addition to quality cover, a good food supply needs to be nearby. It might be a chisel-plowed cornfield, a feedlot or a planted food plot. We either hunt the cover early before the pheasants have left it to feed, or at mid-day when the pheasants have gone back to the cover.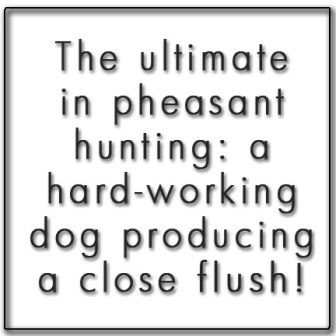 The rougher the weather, the more the pheasants will hunker down in the cover. Food plots are normally part of the larger tract of protective cover, so we walk the food plots trying to push the birds out of the corn or sorghum.
3.  Shelterbelts
Shelterbelts offer protection from wind and blizzard conditions. The best have mixed vegetation – shrubs, cedar, and pine trees plus a variety of deciduous species. This kind of shelter provides protection from the elements and lots of escape routes. To cover all the escape alleys I usually hunt shelterbelts with at least four people and two dogs.
We usually send one hunter and the dogs into the shelterbelt, while two walkers move along each side 30-40 yards ahead of the dogs. At the other end, we station our blocker. It's tough to keep the dogs close, and it's important to be as quiet as possible.
Birds in this type of cover are always on the alert and can make a quick exit. That's why we allow the blocker to get in place and the other two walkers to get ahead before the hunter and dogs enter the shelterbelt. Birds will try to double back. So, take it slowly and let the dogs work. Their noses will determine when to go on and where to move next.
4.  Patience
The real key to hunting late season cover is patience. Often we catch ourselves going faster and faster, wanting to push through. We're almost obsessed with reaching the end. Pushing hard increases the wily ringneck's chance for survival. Birds will flush behind you and give you only a desperation shot or no shot at all.
Slow down and let the dogs work. Give them time to sort out the maze of tracks under those cattails or in that switch grass. Using a stop and go method can help crack the nerves of a ringneck. By stopping to watch the dog work, you might be unnerving a rooster that thinks he has slipped by. This is the ultimate in pheasant hunting: watching a hard-working dog piece the puzzle together and produce a close flush as the end result! Plus, it's certainly easier not racing from one end of the field to the other.
It's About Memories 
To me, it's all about enjoying the dog. You always know the dog is hot on a bird, when the tail wags a thousand miles a second!
The funniest thing I ever saw was the trick one pheasant pulled on my first Labrador, a black named Mandi. As she aged, she became a pointing lab. We were hunting late season with a dusting of snow on the cover. Mandi worked and worked back and forth, back and forth, then stopped abruptly and pointed toward a big clump of grass two feet in front of her. She stared, but nothing happened.
Suddenly, a hen pheasant broke from the cover and ran right underneath Mandi, between her legs, and erupted into the air barely clearing the confused dog's tail. The bird was gone quicker than Mandi whirled around. The look on her face said, "Now what was that all about?"
Use these four ways to find pheasants and late season hunting can be great. Make sure dogs and hunters know what to do. Then, hunt 'em up, and make memories!
***
About Steve Weisman
A retired teacher, Steve Weisman is a member of OWAA and AGLOW* and has been a freelance outdoor writer for 19 years. He writes for several publications throughout the Midwest. He enjoys sharing news about the outdoors through his own experiences and the information gained from DNR wildlife and fisheries biologists and outdoor experts. Contact Steve at stweis@mchsi.com.
*OWAA is Outdoor Writers Association of America.
AGLOW is Association of Great Lakes Outdoor Writers.
 For more articles by Steve Weisman, click here.
For the best knife for skinning your pheasants, click here. 
2,869 total views, 1 views today