By Darl Black
Solve the puzzle of big fall bass, and
haul your personal best into the boat!
Trophy hunting isn't solely for wild game in the fall. It's also the best time to hunt for trophy largemouth and smallmouth bass across the continent. A big difference is that when an angler captures a big bass, he more than likely snaps a photo and releases the fish to provide thrills for other fishermen. (More on that later this week.)
As water temperature begins its gradual downward slide in the fall, bass instinctively begin feeding heavily in preparation for the coming winter slowdown. Bass which have been spending the summer prowling deep structure or shadowing suspended baitfish schools will now follow those open-water preyfish into shallower water for a feeding foray. In situations where largemouth bass spent the summer sulking in the deep weeds, the cool down is the signal to move more freely around shallower weeds in search of prey. All this feeding activity creates an opportunity to catch your PB bass (Personal Best).
Punch #1 — Fall Locations
With northern tier waters cooling first, bass may begin their move in late September or early October when water temperature dips into the 60s. Schools of native shiners migrating to the shallows trigger the move. In southern states, lake temperatures begin cooling a little later. Here gizzard shad are likely the dominant baitfish in most reservoirs; shad schools move up the creek arms of large reservoirs and into shallow water with bass close behind.
Where bass go
Largemouth and smallmouth bass — particularly bigger specimens — are moving to feeding flats in shallower water than they are typically found most of the summer, therefore making them more accessible to the average angler.
Impounded waters (natural lakes and man-made reservoirs) differ substantially across the U.S. Therefore, the location of actively feeding bass is best addressed in general terms. In natural lakes, this may translate to largemouths actively feeding in shallower portions of weedbeds, or to smallmouths moving to gravel bars and rock piles nearer the shore. In some large reservoirs, largemouth bass will move into the major creek arms and then into the cover on adjacent flats. Smallmouth bass in reservoirs may move shallower on rock-studded flats, rip-rap areas or bluff areas. In smaller northern reservoirs which lack major creek arms, bass simply move to main lake shorelines.
The cover they like
In the big mid-fall picture, largemouth bass will generally be around relatively shallow weeds and wood cover while smallmouth bass favor more rocky or gravelly bottoms — often interspersed with weeds. Basically, if it's fishy-looking cover in water less than 10 feet deep, fall is the time to target it.
The temperature they want
The party's over when water temperature drops below 50 degrees. That's when bass will begin to disappear from the shallows and make their way to winter haunts in somewhat deeper water.
Punch #2 — Fall Lures
With the focus on larger bass, skip the finesse baits you may have been using all summer. Bass are chowing, so go big in the fall. Although water temperature is in that magic range and baitfish are abundant in the shallows, bass will not feed ravenously every day. You'll have to deal with non-aggressive fish at times. However even on slow days, stay shallow and keep checking different areas for active fish.
The type of lures selected should allow you to cover water quickly. Use baits which allow you to make horizontal presentations over weedbeds and across flats while bumping hard cover. Don't spend a lot of time soaking baits in one spot.
Having chased autumn bass in both northern and southern states, often with guides or professional tournament anglers, I have settled on a handful of essential lures. My picks account for a majority of big smallmouth and largemouth bass I've taken during mid-fall in shallow water.
Food options for bass in the fall typically include shad, shiners or minnows — and in some northern smallmouth waters, schools of young perch. Therefore your lure selection should be representative of these preyfish.
Topwater dog-walking bait
Bass chasing baitfish in the shallows cry out for topwater. My favorite big bass lure is a cigar-shaped dog-walking topwater — one that sashays left and right with properly executed rod snaps. You'll find many on the market today, but I'm old school so I go with the Zara Spook.
Lipless rattling crankbait
Big fall bass seem to be attracted to the tight wiggle and rattling vibration of this special style of crankbait. Interrupt your steady retrieve every few feet with a pause of several seconds. Don't let the popularity of the standard sinking model cause you to overlook using a suspending model for fishing over submerged weeds in natural lakes — the pause does not entangle vegetation.
Diving flat sided crankbait
When I work points, rocky banks, rip rap or stump-lined banks of a secondary creek channel on a reservoir, my go-to bait is a flat-side coffin-lip crank with a depth range of 6 to 8 feet. Of the many very good ones on the market, Rapala's DT Flat model is one of my favorites. In clear water, I'll go with a shad or shiner finish, but in dingy water I turn to Old School (intentionally faded chartreuse) or Golden Shiner.
Swim jig
Imagine a cross between a spinnerbait and a traditional jig with a trailer, and you're thinking of a swim jig. A swim jig has the line tie in the tip of the nose and sports a thinner stranded skirt with a twister-style grub as a trailer rather than a craw chunk. A swim jig can be worked with subsurface swimming like spinnerbait. However, the jig gets in and out of cover better than a spinnerbait. Also, a swim jig can be slow rolled along bottom cover, bumping stumps if desired. Many swim jigs are offered in baitfish color schemes. Terminator produces one of the best swim jigs, including Silver Shiner, Emerald Shiner, Perch and Sunfish patterns.
Swimbait
A soft plastic swimbait with a shad-style thumper tail is about as realistic as it gets in presenting a lifelike preyfish lure to bass. I like to rig a 5-inch Lunker City Swimfish on a ½-ounce fish-shaped leadhead for largemouths. For smallmouths, I'll slip a 3½-inch Larew Sweet Swimmer on a Road Runner ⅜-ounce Classic Runner (an under-spin lure). These swimbaits have pretty much replaced traditional spinnerbaits for me in the fall. I can work these baits in the open water above a submerged weedbed or deeper over feeding flats. The profile and action of a swimbait seem to have more appeal to bass than a skirted spinnerbait.
Now you have both pieces to the puzzle — location and lures — so… go fish!
---
About Darl Black: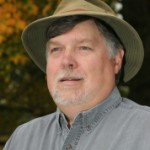 Darl Black is a lifelong freshwater angler and veteran writer/photographer. Darl tackles a wide variety of fishing related stories for print publications and websites. Of all fishing, angling for smallmouth bass is his favorite pastime.  He may be reached for assignment at darlblack@windstream.net.
---
Are you a part of the Havalon Nation?
Sign up today!
[hs_action id="10664″]
3,203 total views, 3 views today