by Bill Vaznis
Big post-rut bucks are more vulnerable than ever!
The late deer season, open in many states through January, is my favorite time of the year. Bucks are on the move again as the biggest and most secretive bucks look for one more estrous doe before breeding season finally trickles to an end. By mid-December most females have been bred, and that means mature bucks are on the prowl in unfamiliar territory during legal shooting hours. If you know where to look, they can be easy targets.
Four Late Season Muzzleloading Deer Hunting Tips
#1 – Hunt Scrapes and Scrape Lines
When you sense the rut is tailing off, it's time to return to the primary scrapes and scrape lines that were hot during the pre-rut. Bucks will reopen scrapes that have been dormant for several weeks, and begin checking them regularly. And sometimes does that have not yet been bred will seek out these freshened scrapes in an effort to hook up with a mature buck.
Still-hunting along these scrape lines can be a productive strategy once again, but stay alert. Sometimes a buck will bed down nearby and wait for a doe to wander by. Get in the habit of looking for racked deer holed up next to a log or brush pile. His swiveling rack can be a dead giveaway.
#2 – Look for Food Sources
A buck's main goal during the post rut is to nourish himself after the intensity of the rut. Study topographical maps, and look for old apple orchards, vineyards and farm fields that are off the beaten path, plus those expansive lowland edges along rivers, lakes, and swamps. These attract hungry deer. Orchards and vineyards show up on the map as several parallel rows of squiggly circles. Hidden agricultural fields often lie beyond roads and the far side of large woodlots.
Now look for terrain features that protected deer during the fall fusillade as well as the cold winds of winter. Ravines, gullies and steep ridges should immediately come to mind, especially those that are adjacent to farm fields, abandoned apple orchards and hardwood ridges thick with hickory, beech and oak mast.
Bucks will be bedded close to these food sources. Therefore you will need to set your stand up closer to the food source than you normally would. Be sure to approach your stand carefully and climb aloft quietly.
#3 – Find Hidden Deer Populations
Still unable to find a late season buck? After a fresh snowfall, look for deer tracks where you would not expect to find deer, and follow the first set you come across. Those tracks invariably lead to other deer tracks, and then to hitherto unknown late-season feeding areas such as an oak ridge above a swamp or a windswept alfalfa lot.
As temperatures drop and winter sets in, expect deer to be more active during the middle of the day when it is the warmest. You can also expect deer to congregate on southern slopes. Still-hunt back and forth crosswind, and you might catch a buck bedded in a sunny patch facing downhill. Be alert! Trophy bucks sometimes drop their antlers during the late season, and the big doe you shoot now could very well turn out to be the record book buck you saw last summer – sans antlers!
#4 – Use Snowshoes
Deep snow may inhibit your access to those late-season food sources. Of course, other hunters will also find it difficult to reach these strongholds giving you a primary hunting location all to yourself – if you can traverse through the snow. On several occasions I have used snow shoes to get into the back country where deer are congregated, and I now keep a pair stuffed away in the back of my 4×4 just for those days.
Shoe design is important. Modern snow shoes are aluminum framed and feature crampons for better stability and nylon webbing that does not stretch when wet like rawhide rigging does. Choose a small "bear paw" design rather than the longer cross-country or "pickerel" style – they're much more maneuverable over uneven terrain and in thick brush.
Skirt known or suspected bedding areas for those cautious bucks that prefer to linger in the thick stuff before exposing themselves during daylight hours. Tweak his mating instincts now with a doe-in-heat canister call to get a realistic b-a-a-a-t. A nice added feature is that these calls do not freeze up as you do not have to breathe into them.
When the woods have grown quiet, and the deer have settled down, the last thing on the mind of a big buck is a hunter. Take advantage of that.
***
About Bill Vaznis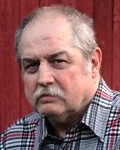 A lifetime of hunting and outdoor writing has put Bill's byline in every major outdoor magazine in North America. He has published over 1,000 articles and columns plus thousands of photographs on bowhunting, big-game hunting and freshwater fishing. Today he owns and edits a rapidly growing digital magazine for bear hunters named Bear Hunters Online. He has also published three how-to hunting books: Successful Black Bear Hunting, 500 Deer Hunting Tips and Still-Hunting Trophy Whitetails. He lives on a farm in upstate New York with Grizz, a 30-pound woodchuck with a voracious appetite for the neighbors' gardens.
For more articles by Bill Vaznis, click here.
If you want the best deer skinning knife for that late-season buck, click here.
2,280 total views, 1 views today