By John Jameson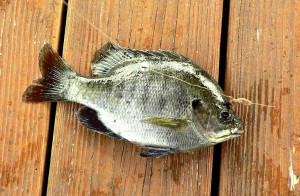 Bluegill is a common fish that is easy to catch, and with an abundance of these freshwater fish at your disposal, easy bluegill recipes can help you make your way through your daily catch and onto an excellent meal quicker than you think.
Bluegill have tiny, brittle bones that can easily cause problems for the chef and the person eating the fish, so before you start cooking, it's a good idea to either descale or debone and fillet your fish, being careful to remove all of the tiny bones that may break off in the process. The easiest way to get the job done is to use a sharp knife, like a Havalon knife, to facilitate the filleting, descaling or deboning of your fish. Once your bluegill are free of bones or scales and ready to be turned into your next favorite meal, you will have plenty of recipes to choose from to cook your fish, but only a handful are easy bluegill recipes.
Grilled Bluegill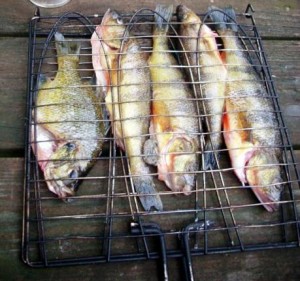 Fillets – As the name suggests, in order to make this dish, you'll need to start by using a sharp knife, like a Havalon knife, to fillet your bluegill. Start by marinating your fish fillets in Italian dressing for four to six hours, or overnight if possible. Off to the side, create a basting liquid from butter or olive oil and additional Italian spices like Rosemary and Thyme. Choose herbs that you find flavorful and add only a hint to the butter or olive oil. While the fish fillets are in the grill basket, use a basting brush to spread the butter mixture over the fillets. Turn the fillets once they begin to flake and remove when
both sides are a crisp golden brown.
Whole Fish – For some people, filleting a bluegill takes a bit too much time. Or, if you prefer to eat your fish with the skin on, filleting may also not be right for your grilled fish. If either of these are the case, then you can create the same recipe without completing a fillet. You will still need a sharp knife, like a Havalon knife, to assist you in descaling your fish and cleaning it. Once you are finished with this task, you will follow the same marinating, basting and grilling instructions, but you will watch for the skin to lighten up as the surface basting becomes golden brown.
Grilled Bluegill Fajitas – In order to make this American take on a Mexican favorite, you'll need to fillet your bluegill and cut it in strips that are still large enough to lay across the grill. Shake your fillet strips in a bag along with a teaspoon of fresh cilantro, a pinch of freshly ground salt and pepper and a tablespoon of limejuice. Let the fillets sit in the bag after shaking to soak up the flavors. Then grill the strips using a grill basket to keep them from falling into your grill. Roll your strips into corn tortillas and add some additional limejuice along with lettuce, avocado and tomatoes.
Fried Bluegill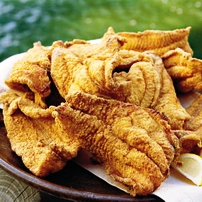 Fillets – Unlike many other fried foods, fried bluegill fillets are quick and easy to make. To bread the fish, pour one cup of crushed breadcrumbs or croutons into a bag with pepper, salt and lemon pepper. Coat the fillets in egg and shake them in the bag to coat with the breading. Fry the bluegill fillets in a pan with a small amount of canola or olive oil. If you don't have any dried breadcrumbs or croutons handy, you can make this easily. Simply put some bread in the toaster and toast to a deep golden brown.
Whole Bluegill – If you decide to fry your bluegill whole, you will need to be sure to descale your fish with a sharp knife, like a Havalon knife, and to properly clean it. In order to make the breading stick you will need to generously coat your small fish in egg product and roll them in a bowl of breading rather than shaking them in a bag of breading product.
Baked Bluegill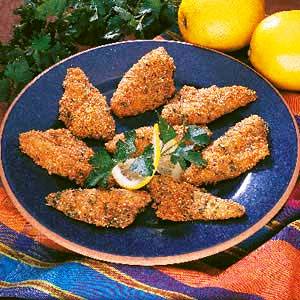 Parmesan Bluegill – Much like the fried bluegill, to make this recipe you will need breadcrumbs, salt, pepper and lemon pepper. In addition, you will also add Parmesan cheese to the bag. Coat the fillets in egg and toss in the bag to fully coat each individual fillet or fish. Place your fillets or whole fish in a greased, glass baking dish and bake for about 20 minutes at 375-degrees or until the crust becomes golden brown and the fish begins to flake.
Never forget to properly clean your fish, whether you choose a fillet or whole fish recipe, and in the case of whole fish, remember to properly descale before cooking. Each of these easy bluegill recipes can be modified to fit your our taste and need for adventure. Simply change out the spices and herbs and create your take on easy bluegill recipes.
Do you have a recipe for bluegill? If so, share it with us here,
and for more articles on cooking your catch, click here.

Related articles
49,257 total views, 7 views today