By Vikki Trout
Sometimes it pays to be a turkey psychologist!
We all know that hens can wreak havoc on the minds of turkey hunters. Last season one of the strangest things I have ever encountered clued me in to how we have overlooked hen behavior as it relates to decoys.
My husband John sat our gobbler decoy ("Pretty Boy") on a field edge where toms were visiting daily, expecting the decoy to get the attention of the gobblers. John set up behind me and called in hopes that we could entice a bird. The breeding was going strong and when the hens would hear "hen talk" they were constantly taking gobblers in another direction.
One hen in particular was not happy about our decoy or our calling — she already had two gobblers accompanying her and did not want to share them. She perked up from across the field, saw the decoy and charged in — both gobblers in tow. She was purring aggressively and the poor gobblers struggled to keep up with her because they stayed in full strut while running. Suffice it to say, a shot never rang out because they were all clumped together. I would have killed a hen or two gobblers. That got me thinking about how important decoys are to hens.
Everybody knows gobblers respond,
but what about the effect of decoys on hens?
Decoys certainly have an effect on gobblers. But what about hens? I'm no turkey psychologist, but if I could play hen therapist for a few minutes, I'll share my insights about hens and dekes.
1. Feisty hens — As mentioned earlier, the boss hen we encountered was an unusual circumstance, but this was not our first session with her. She had unmistakable markings and displayed the same hateful attitude towards other turkeys the day prior. She was the prototypical "boss hen," and just as she doesn't tolerate other hens, she might not tolerate an unfamiliar gobbler for long either. This one came to the decoy, picked a quick fight and vacated the area without drawing her gobblers close enough for a shot.
2. Spooky hens – Some turkeys have a fear of decoys. All turkeys realize that gobblers do not stand still, but even in full-strut they still move a little. If a hen sees your decoy from a distance and notices it never moves, she may have second thoughts about coming. And if gobblers are paying attention to her, they won't come either.
3. Skittish hens — In the late season especially, a turkey's tolerance of hunting pressure diminishes. All of them become more skittish. They may have been decoyed or even shot at earlier in the season. This is when hens want their peace — they don't want to be around gobblers. So if a gobbler sees a lonesome strutter when hens have gotten scarce, he may avoid it too. If hens aren't attracted to a gobbler deke in the late season, it's no wonder gobblers aren't either.
4. Flocking hens — If you hunt the same area consistently, you may not consider a decoy necessary because you can pattern turkeys more easily — both the gobblers and their hens. If you're having trouble getting the gobbler to come, a hen deke might just be the trick. Place the decoy before first light in a spot they frequent. Other hens will think she beat them to the spot, and lead your gobbler right in. If they don't, a subordinate gobbler might see your deke and think he finally has a chance.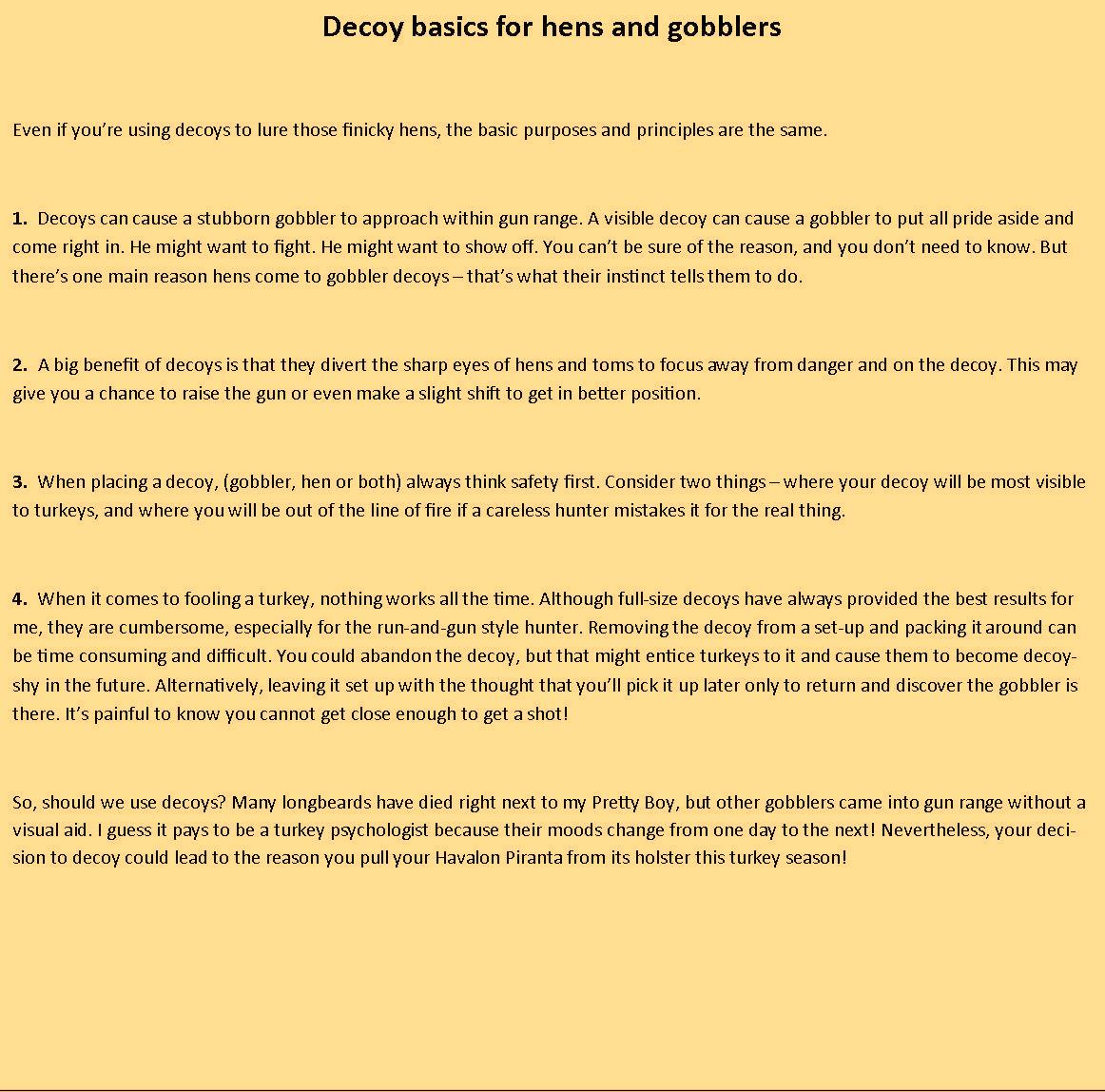 ---
About Vikki Trout:
Vikki Trout is a full-time freelance writer and photographer from southern Indiana. She loves hunting turkey, deer, bear and small game. When she's not hunting, she loves capturing wildlife thru the lens of her camera. Please visit her website at www.troutswildoutdoors.com.
---
Don't forget to download your FREE
copy of our turkey hunting eBook!
Click here: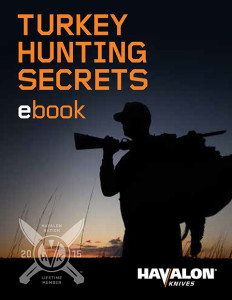 1,387 total views, 3 views today