By Bernie Barringer
Where you'll find crappies, walleyes, largemouth, northern pike and musky in fall.
Are you missing some of the best fishing of the year? When the leaves turn colors and you put down your rods and reels to pick up your guns and bows, the answer is "Yes". A day on the lake surrounded by the beauty of fall is glorious, but under the surface fish are putting on the feedbag to get ready for a lean winter. Plus, boat traffic and fishing pressure is at a minimum. You might even find you have the lake to yourself.
The Key – The Fall Turnover
In the fall, the lake is changing. Everyone knows about the "turnover", but few people really understand how it affects fish location. In short, since warm water rises and cooler water sinks, lakes stratify during the summer. By midsummer, most lakes have a thermocline, a distinct division between warm and cold water. Fish can't spend much time below the thermocline where cold water holds little oxygen.
As autumn arrives, the warmer surface water cools until it reaches the same temperature as the lower level, and then the whole lake mixes. This usually occurs over just a day or two. During this time the water can be quite turbid, but as soon as turnover is complete, the entire fishery changes. Let's look at some of the top locations for four species of fish after the turnover.
Crappies
Fall fishing for crappies can be so easy even a caveman could do it – a caveman with good electronics. Crappies are notoriously hard to find during the summer because they tend to spread out over a large area of open water and suspend. They are still suspended in the fall too, but they are really bunched up.
The first time I found a huge school of October crappies, I thought something was wrong with my depthfinder. It showed a huge black band from 10 feet to 20 feet down over 30 feet of water. Turns out they were crappies. Big ones. I tipped a tiny jig with a small minnow, counted down to 15 feet, and had one of the most amazing days of crappie fishing in my life.
Look for this phenomenon in necked down areas of lakes with deep water. These "narrows" concentrate the fish. They're not very aggressive but you have a captive audience, so spend some time working them over. Be patient and keep your bait in the right zone – slightly above the main part of the school – and you'll have some amazing fishing.
Walleyes
Walleyes go deep in the fall. Sometimes really deep. I can take you to a spot where you can catch walleyes at 60 to 80 feet in October. The lake you fish may not have water that deep so look for the deepest water of the lake. Then do what I do – find a structural element such as a point or a saddle, a gravel hump, or maybe a shelf along a steep break.
There are two ways to fish them most effectively. The first is with a big minnow or chub on a lindy rig. Slowly move around the structure with your minnow on the bottom and when you feel a bite, give the fish plenty of time. Big baits are the rule in the fall – young-of-the-year fish are growing up and that's what the walleyes are feeding on.
The other method is a bottom bouncer and spinner with a nightcrawler. This is your best choice if the bottom is rocky. Pull it around until you contact a fish and if you see a pod of them on your sonar, stop and drop a jig over the side to fish them vertically. Walleyes are not as schooled up in the fall, especially when they are deep, so don't spend a lot of time with the jig unless you see a good sized bunch of them.
Largemouth Bass
While walleyes go deeper in the fall, bass are going the other direction. Weed-choked summertime shallows are now opening up as weed growth begins to die back. Bass can hunt more effectively in the skinny water once again, and you'll find them in many of the same areas you found them in the spring.
Bass do not feed much during the winter, but they really bulk up in the fall. They'll aggressively hit spinnerbaits slow-rolled through the weeds. Some of the best cover in fall is the stuff you couldn't even get a lure though a month earlier. Now you can work a spinnerbait slowly through it, dropping it into the openings. Use a spinnerbait with a single Colorado blade so it helicopters real nice as it drops. It's one of the most fun ways to fish bass.

Northern Pike and Muskies
Summer finds pike and muskies set up on the deep edges of weedlines, ready to ambush any unsuspecting prey that drifts by. But come fall, they go on the prowl and use a hunting strategy more than an ambush strategy. They love cruising large weed flats, mostly in the 4- to 8-foot deep range. The more expansive the weed flats the better. For exciting action on warm days, use large bucktails like the Cowgirl or the Muskie Maverick; on colder days use twitchbaits or jerkbaits.
One of the most effective ways to fish large weed flats is simply to cut the motor on the upwind side of the flat and drift across it, fan-casting in all directions as you go. If you see a fish come to the boat lazily following your bait, mark the spot and come back during the warmest part of the day and try for it again.
This fall, don't put your tackle away when you start to think about hunting seasons. Pick a few nice fall days and take advantage of the fantastic fall fishing on a lake near you. And get a Havalon Baracuta filet knife ready, because you are going to need it!
***
About Bernie Barringer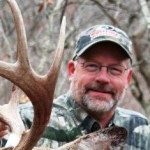 Bernie Barringer hunts a variety of species in several states and Canadian provinces. He has published more than 400 articles in two dozen outdoor magazines and authored ten books on hunting, fishing and trapping. He is the managing editor of Bear Hunting Magazine, and blogs his hunts on his websitewww.bowhuntingroad.com.
For more articles by Bernie, click here.
2,566 total views, 1 views today