By Darl Black
Fall and winter open water rivers offer
fantastic walleye fishing.
When I turned 12 – the age to obtain a Pennsylvania junior hunting license – I joined my dad and uncle on their annual trip to the Allegheny National Forest for the opening three days of antlered deer season. On Sunday, as we drove across the Allegheny River at Tionesta, I observed numerous anglers lining the shoreline of the big eddy below the bridge. "Those guys are fishing for walleye with chubs they trapped in creeks," commented Dad. "Walleye fishing is great at this time of year, so some of them also fish during their stay at deer camp."
As the years passed, my interest in hunting waned while my dedication to angling increased. I realized what Dad said was true – fall is a fantastic time for river walleye. Surprisingly, given all changes to freshwater angling in the five decades since my first deer camp, the techniques employed by river fishermen have pretty much remained the same. Whether fishing a river for walleye from shore or by boat, the majority of late fall and winter anglers use live indigenous preyfish obtained from local streams.
Prescription for Cold Water Walleye in Northern Rivers and Creeks
Obtain a minnow trap. The most popular trap is a two-piece wire funnel trap available from Frabill (www.frabill.com). Attach a 12-foot piece of thin nylon cord (i.e. parachute cord) to the trap.

Scout for baitfish. Walk the banks of small streams which feed rivers or major creeks, checking the deeper holes for the presence of baitfish. The exact species will vary from watershed to watershed, but the best preyfish are four inches to almost seven inches in length. Since baitfish may be difficult to see against the dark bottom, toss dry bread crumbs into the hole to create a feeding frenzy.
Bait and place the trap. When you find a hole with a good number of baitfish, open the 2-piece trap. Tear apart two slices of bread, wad pieces into balls and place in the trap. Close and latch the trap. Pitch trap into the hole, and tie rope to a branch or sapling tree. Leave overnight.
Keep the baitfish lively. Return the next morning, pull the trap and transfer baitfish into a transport container. At home, move baitfish to an aerated storage container, such as an insulated 10 gallon picnic cooler with a 120-V AC fish-tank pump. When going fishing, transport bait in a battery-operated aerated container (example: Frabill Min-o-Life carrier).
Select the correct rod. Some fishermen will use any available rod for live bait fishing. However, a 6½' to 7½' medium-power spinning rod with moderate flexibility in the upper section is generally the best choice. This style rod provides good casting distance, is long enough to allow mending line on a drift, and has sufficient hook-setting power yet forgiveness so not to snap 8-pound test line on a big fish. I prefer monofilament over superline.
Scan the river for fish-holding locations. River walleyes are actively feeding in the late fall, positioning themselves along current seams, in pocket eddies, behind objects such as large rocks or deadfalls, and on outwash gravel bars at tributary creek mouths. Depth is rarely a critical factor in river walleye location during the fall – the fish may be feeding in two feet of water or in 12 feet. Current breaks however are critical to baitfish position – so that's where you'll find walleyes.

Make the proper presentation. Keep rigging minimal so baitfish are presented naturally. For large creeks or small rivers where fishing depths range from four to 12 feet and current flow is moderate, simply tie on an appropriate size hook and crimp split shot on the line about 12 inches above the hook. Use enough weight so the bait ticks the bottom as it drifts with the current. Size #4 or #2 bait hook will handle four to five-inch preyfish; size #1 or #1/0 may be used for six-inch bait.
Use Circle Hooks and Save Fish
Years ago, all live bait fishermen used hooks with a standard "J" bend. They let walleye run a long distance with baitfish before setting the hook, resulting in hooks buried in the gills or deep in the throat of the fish. Released fish frequently died from injuries. However, the introduction of circle hooks to freshwater angling has reduced hooking injuries to released walleye.
With circle hooks, do not snap or jerk on the rod to set the hook. Instead, as the walleye moves away with the bait, point the rod at the fish and engage the bail. As the line tightens, firmly lift the rod tip straight up. Executed properly, the fish will be hooked in the corner of its mouth over 90% of the time. If legal size, keep for a fish dinner if desired, while releasing others unharmed.
The Hair Jig Alternative
If a walleye angler is not fishing with live baitfish during the fall, then they are swimming hair jigs. Hair is the traditional lure on the river when water temperatures are below 55 degrees. Most serious walleye anglers tie their own using some combination of bucktail, deer body hair, hackle feathers, marabou plumes or rabbit fur strips.
Basic black, white or yellow jigs are popular, but dedicated anglers tie patterns which resemble preyfish in the river. Typical weights range from 1/16-ounce to 5/16-ounce. As with a live bait rig, fishermen choose a jig weight which barely ticks bottom with a pull-pause retrieve. Some fishermen increase confidence by tipping a jig with a 3-inch fathead minnow, but purists insist on fishing hair jigs without live bait adornment.
***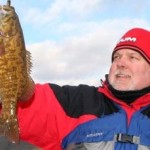 About Darl Black
A lifelong freshwater angler and veteran writer/photographer, Darl tackles a wide variety of fishing related stories for print publications and websites. Of all fishing, angling for smallmouth bass is his favorite pastime. He may be reached for assignment at darlblack@windstream.net.
For more fishing articles by Darl Black, click here.

And click here for the best fillet knife for your cold-water walleye.
12,689 total views, 3 views today