By Steve Weisman
Too many ducks don't get eaten. Try these two recipes,
and your dinner guests will devour them!
The waterfowling challenge few people solve is how to turn ducks into quality table fare.  Bottom line? It's no different than any other type of food – it's all in the preparation. Fix it correctly, and it is a delight. Fix it incorrectly, and it's a disaster.
No question about my two favorite recipes – they fit into the "delight" category. And both are easily prepared in three simple steps.
Recipe #1 – Fried, browned and baked
Step 1 – Slice 'em
Skin the duck, slicing the breast off the breast bone and keeping the legs. The legs are tender and the bone provides additional flavor.
Next, slice the breasts into ¼-inch thick strips so you can see to remove any steel shot and to make the meat tender when cooked.
Place in water and chill in refrigerator over night.
Step 2 – Fry 'em
Use olive oil and a spoonful of refrigerated bacon grease.
Dredge the cut-up portions in flour, salt and pepper and fry at 350 degrees until brown on both sides.
Step 3 – Bake 'em
Place all of the meat in one pan and put a can or two (depending on the amount of duck) of Cream of Mushroom soup over the breasts and cook them again either in the skillet or the oven at 300 degrees for another hour (do not cover with a lid).
The length of time is determined by how long it takes for the meat to get tender.
Serve with whatever side dishes you want. My favorites are fresh squash, a cucumber salad and tomatoes.
Recipe #2 – Grilled duck (hors d'oeuvre) and Jalapeño poppers
Step 1 – Cube 'em
Marinate in Italian dressing overnight.
When ready for the grill, drain off the dressing,
Wrap strip of bacon around the breast using a toothpick to hold the bacon.
Step 2 – Add some zing
Clean seeds out of Jalapeños
Fill peppers with cream cheese, mozzarella, browned sausage and crumbled blue cheese.
Step 3 – Grill 'em
Place duck cubes on the grill and cook until bacon is cooked, but be careful not to burn.
Place Jalapeño poppers on grill and cook until cheese melts and peppers lose their firmness.
For good measure, throw in some freshly made salsa (fresh garden produce) and chips. Marinated duck breast, poppers and salsa – wow, what a mixture of tastes!
***
About Steve Weisman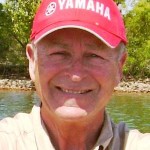 A retired teacher, Steve Weisman is a member of OWAA and AGLOW* and has been a freelance outdoor writer for 19 years. He writes for several publications throughout the Midwest. He enjoys sharing news about the outdoors through his own experiences and the information gained from DNR wildlife and fisheries biologists and outdoor experts. Contact Steve at stweis@mchsi.com.
*OWAA is Outdoor Writers Association of America.
AGLOW is Association of Great Lakes Outdoor Writers.
Click here to read more articles  by Steve Weisman.
Don't forget your Havalon knife in the kitchen when preparing your duck.
2,718 total views, 2 views today