by Steve Sorensen
After you've read up on bears and bear hunting, and decided which Canadian province you'll take your bear hunting dollars to, the next key is…
Key #2 – Choose Your Guide Wisely
Pierre Roy of P. R. Guides and Outfitters in New Brunswick put my first bear in front of me. He told me "When we started out we were a little afraid of American hunters. We thought they'd easily spot any deficiencies in us, so we baited and hunted our own stands for two years before we dared take any clients. We began with high standards because we felt we would be judged by hunters who really knew their stuff."
His partner Ron Hachey added, "We learned that most hunters aren't experts, but we didn't change our approach or lower our standards."
Look for guides like these – humble, hardworking men who begin preparing long before the spring season starts. As soon as the snow melts, they're clearing brush and repairing stands. Well before opening day they begin offering food sources the bears will rely on.
Ask your prospective guide how he defines an "active site". He should tell you that an active site is one with multiple bears hitting it daily. Trails to and from the bait should be littered with bear scat of every size.
When choosing a guide, ask for references from hunters who harvested bears, and also some who didn't. Ask their opinions on why they didn't score.
Key #1 – A Lot Depends on Your Attitude
Commit yourself to having a good time even if things go wrong. After all, it's more than a bear you're after. You want a safe trip, and you want good memories to bring home.
Don't expect your guide to control everything, or you'll be disappointed. Even the best guide can't control the weather. A steady drizzle shouldn't be a problem, but lightning and gale-force winds are dangerous. Don't complain if your guide says it's too dangerous to hunt. He's looking out for you.
Besides the weather, what other factors are beyond the guide's control? On fall hunts, the sweetest morsels can't always satisfy a voracious appetite – not when blueberries are ripe and bears are loading up on carbohydrates for winter's long nap. Understand that natural foods compete with baits more in fall than in spring, but even in the spring a bear might find a winter-killed moose and spend a week or more guarding it and feeding on it.
What can a guide guarantee? No guide can guarantee you will kill a bear. A hardworking guide can almost guarantee a shot opportunity, but he doesn't have much control over the size of the bears that visit his baits. A hunter who insists on a 300 pound bear or bigger, but sees only a bunch of smaller bears, should thank the guide for meeting his obligation.
The guide can't control a hunter's shooting ability. If he misses, that's not the guide's fault. Nor is it the guide's fault when a hunter wounds a bear that can't be recovered.
A guide can't promise everyone will get along in the camp either. Most hunters pitch in and add to great camaraderie. Occasionally (like when a hunter embarrasses himself by failing to live up to his own bragging), a hunter will make life difficult for everyone. A guide must be part psychologist, knowing when and how to step in. He must also know when to take advice from hunters and when to ignore self-proclaimed "expert" clients. And, it's a bonus when he's a great storyteller.
Any top notch bear guide is an expert at many things. He must not only put pleasing treats in front of the bears, but also make sure hunters have a satisfying menu and comfortable bunks. He must know how to navigate unafraid in dense, unmarked forests while tracking bears at night. He must know enough taxidermy to skin your bear to a taxidermist's satisfaction.
You choose a guide for what he can offer, but the bottom line is this: making the most of your hunt depends on you.
If you use these keys as you plan your next trip to Canada, you won't just be paying your money and taking your chances. You'll be hunting a productive place, and you'll be hiring a bear guide with expertise.
When I hunted New Brunswick with Pierre Roy, he knew I had been on three previous baited hunts and hadn't harvested a bear. He cared about that, and said "When you come here, you need to know how to shoot – because you will shoot." That was his promise, and he delivered.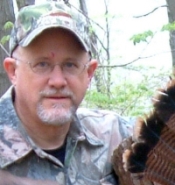 About Steve Sorensen…
Outdoor writer and speaker Steve Sorensen loves the Havalon knife and has been a fan of knives since he was six, when he began begging his dad to take him hunting. His articles have been published in Deer and Deer Hunting, North American Whitetail, Sports Afield, and many other top magazines across the USA. Invite Steve to speak at your next sportsman's event, and follow his writing at EverydayHunter.com.
2,003 total views, 1 views today