By Bernie Barringer
Add "new school" to "old school" and
get more bucks!
On an out-of-state bowhunt in 2010, I found myself in the perfect spot. I'd never been there before, but my research from home gave me total confidence in the spot. I used Google Earth to find some great looking terrain, checked the state's Game and Fish Department website, made some calls to local biologists and planned my hunt. By the time I arrived, I had some good ideas of where to hang stands, and on one of them I scored a really nice buck. I also filled the doe tag the same day.
Yes, it was one of the most shining moments in my bowhunting career, but it didn't happen by accident. The hard work started long before I arrived for the hunt. What made it all the more rewarding was that I had chosen that spot from the screen of my computer before I even bought the tag. The number of resources we have at our fingertips today is truly remarkable. There's a lot out there, for sure, but I've narrowed down some of my favorite "new school" tricks that have helped me redefine my deer hunting skills for the modern era:
1. Using Google Earth and Topographic Maps
Prior to a hunt, I spend a lot of time on Google Earth looking for land features that might indicate a deer hunting hotspot. Funnels or pinch points are obvious, as are field corners, outside edges of river turns, long running barriers to travel and narrow strips of cover between two large blocks of timber. All these and more are potential spots to bag a buck, and they're obvious on maps and photos you find on the Internet.
Add the factor of topography to the equation and you'll realize the true value of each of these spots. Some places may look great on the computer screen, but once you figure in the lay of the land they don't have as much appeal. On the converse, places that look good become great when you discover a steep hill or barrier of some sort that couldn't be seen from the flatness of your computer screen. Each and every aerial photo needs to be compared to a topographic map or an in-person visual to fully analyze the location's potential.
Knowing how deer use the terrain and using that knowledge to pick out locations on aerial photos can help you choose great hunting locations within public hunting lands.
2. Downloadable Public Land Maps and Phone/Tablet Apps
Many states have downloadable, interactive public land maps. Some are for using online, which means you must be connected to the Internet, but some you can actually download onto your phone or tablet and access them offline. This is especially helpful where cell phone coverage is unreliable.
Online maps provided by several states' websites can be very helpful. They clearly show property borders and features within the properties. They show parking lots, access roads, food plots, even waterholes. In many cases the resolution of the aerial photos is so good you can zoom in and see deer trails. In one case I was examining an aerial photo of public land and the detail was so good I picked out two pheasant hunters and their dogs!
Google Earth has an app that allows you to see where you are on the aerial photos, placing an icon to show your location. In areas with more than two cell phone towers, their location capabilities are every bit as good as GPS. Several other mapping apps offer similar features. Some are linked with weather info such as Scoutlook Weather, which offers other helpful tools including a scent cone feature. Carrying a tablet computer into the field gives you an opportunity to see everything on a larger screen. Tablets and iPads have other uses, some of which I will discuss in the section on game cameras.
Check state wildlife departments' websites for public land apps. Several states now have them, and others add new ones all the time. If they don't, a data connection is all you need to access online maps for state websites that don't have an app yet.
3. GPS Mapping
One of the more helpful technologies is the introduction of GPS maps that include everything from public lands to USGS topo maps. The Trimble Outdoor Maps series is a good one. It features micro SD cards that you insert into your GPS or download from your computer to your GPS. These maps show public lands in different colors. Federal lands, state lands, timber company, county and local public lands are all different colors. These are overlaid on top of topo maps with roads, trails, rivers and other important features.
Some of these GPS applications even have databases with landowner's contact information. It's like having an online plat book on your GPS. Property lines are laid out clearly, and the names of property owners are there in the event that you would like to attempt to get permission.
With the help of all this technology, choosing a place to hunt is easier than ever before, but you still have to put your feet on the ground to actually know for certain if an area is really as good as it looks from the screen. This is where a preseason trip can be invaluable. It's rare for me that preseason trips are an option, but let's take a look at this topic in case it works for you.
4. Trail Cameras
Game cameras have changed hunting like few other advances in technology. Trail cameras are the best tool available for preseason monitoring of deer movements on any piece of property, and nothing takes an inventory of an area's buck population like a camera set up over an active scrape. That camera will get photos of the majority of the area's bucks within 2-3 days.
Today's cameras are small, lightweight, take great photos and have some amazing features. Some will take video, and some will monitor an area by taking a photo every few seconds around the clock. Some even text or email a photo to you as soon as the camera snaps it. This can be a big help in determining where the deer are moving and when. It can also help you catch a thief or a trespasser.
Bottom line – take advantage of the technologies available to you today. You don't have to abandon "old school" practices, but learning how to use the "new school" tools at your disposal will lead you down the path to more successful deer hunting.
---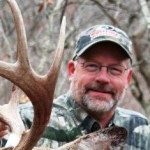 About Bernie Barringer:
Bernie Barringer hunts and fishes for a variety of species in several states and Canadian provinces. He has published more than 600 articles in two dozen outdoor magazines and authored 12 books on hunting, fishing and trapping. The latest is "The Freelance Bowhunter: DIY Strategies for the Travelling Hunter." He is a recognized authority on DIY hunting, and blogs his hunts on his website www.bowhuntingroad.com.
---
Download your FREE copy of…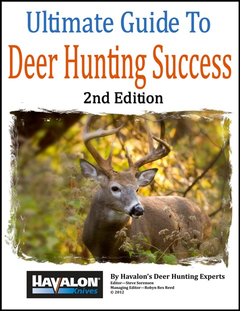 2,511 total views, 1 views today