by Ron Spomer
Seven rules for scoping up for western mule deer.
Without a scope to aim it, the most accurate, powerful, flat-shooting mule deer rifle is little better than a .30-30 Winchester lever-action.
Despite all the hype surrounding "magnum" cartridges and long-range bullets, superior scopes are required for them to live up to their potential. Putting the sight (reticle) on the same focal plane as the visually enlarged target makes it possible to wring the long range potential from today's flat-shooting cartridges and bullets. But which scope?
Too many shooters assume that a long-range mule deer scope must include an objective lens the diameter of a beer can and magnification suitable for an astronomical telescope. In truth, a 3-9x40mm or 4-12x42mm scope is more than capable of directing bullets precisely to any mule deer 99.9 percent of shooters are likely to engage.
This doesn't mean that a 4-16x50mm, or a 3.5-18x44mm, or an even bigger scope is useless. They'll work just fine. They might even provide slightly superior light transmission and a bit of useful magnification. But they'll also add a lot of bulk and weight to your system, and when you're hiking upwards of 10 miles a day, much of it vertical, weight is not your friend.
Whether you opt for a trim, 13-ounce 2.5-8x36mm or 24-ounce 5-25x50mm scope, be sure to buy one with the right ingredients.
Follow this outline and you can't go wrong:
1.  One-piece aluminum main tube – This is the chassis that holds everything together. A one-piece unit is stronger and more durable than one that joins twin tubes to the center turret. Skip the weakening joints and it's easier to keep moisture out, too. Aluminum has proven more than strong enough. Almost no one makes steel scope tubes anymore. If aluminum is good enough for fighter jets, it's tough enough for rifle scopes.
2.  Fully multi-coated lenses – This phrase means every air-to-glass surface within the scope is coated with multiple layers of anti-reflection coatings. This gives maximum light transmission (brightness) with minimum bulk and weight. A properly, fully multi-coated 10X scope with 40mm objective will be significantly brighter than a single-coated 10X with a big 56mm objective. The rule? Size matters, but anti-reflection coatings matter more.
3.  Lifetime guarantee – This might seem silly, but it suggests the scope is built well enough to deliver the next category, which is essential to performance. To judge the things you can't see, you must rely on reputation, price and how well a company stands behind its product. Any company that guarantees a scope for life must know that it's so well built they'll probably never have to repair it.
4.  Repeatable durability – By this we mean the ability to hold zero come recoil or high water. I'd rather have a scope that's 50 percent darker than one that can't keep its crosshair where I zeroed it.
The best way to know a scope will "hold zero" is to zero the scope, then "shoot the square." This means dialing the windage and elevation turrets to direct bullets in specific directions for specific distances. Here's how: Set your zero and fire a shot. Turn the elevation dial as many clicks as required to shift the next shot 4 inches down (this would be 16 clicks in a scope with 1/4-inch click adjustments.) Fire a shot while aiming at the same aiming point as you did for your first shot. The new bullet should land 4 inches below the hole punched by your zero bullet. Next, dial as required to shift 4 inches right and fire a shot. Then dial 4 inches up and shoot, then 4 inches left and shoot. The last shot should land within your rifle's accuracy potential near the initial shot. By drawing straight lines from shot to shot in sequence, you should get a big square.
5.  Repeat dialing – If you're going to play the "dial and shoot" game, meaning you'll dial corrections into the scope for long-range shooting, it must dial accurately. Shooting the square will reveal this. Scopes must be built precisely and durably to dial accurately every time. Don't expect a $200 unit to do this.
6.  Recoil endurance – This applies to you, but here we're talking about your scope. Even if the scope's reticle adjustments are slightly off, it could still perform consistently if it can hold zero. To test for this, shoot at least 20 rounds, preferably 40 rounds, during general practice. This can be done over hours, days or even weeks. The idea is to put 20 to 40-rounds of recoil pressure on the scope to "shake loose" any weak parts. If, after this many shots, the zero holds, it will probably hold for hundreds or even thousands more.
7.  Consider a fixed power – If you want to minimize potential scope malfunctions, avoid the bells and whistles and get a fixed 6X. There are almost no moving parts to screw up. With practice, you can train yourself to place shots accurately to 500 yards with a 6X, not that I recommend anyone but an expert's expert try 500-yard shots. However, with today's superior rifles, scopes and bullets, a disciplined, highly-trained shooter can shoot ethically and score at that distance.
But not without a dependable scope. And now you know what a dependable scope is.
Click here to read more great articles by Ron Spomer.
***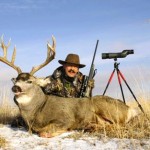 About Ron Spomer
Ron is rifles/optics columnist for Sporting Classics and North American Hunter magazines and host of Winchester World of Whitetail on NBC Sports. Learn more at (www.ronspomeroutdoors.com)[hs_action id="8244″]
8,913 total views, 1 views today