By Ron Spomer
5 Tips for knowing where to go in the vast West.
Don't spread this around, but the best whitetail hunting is in the West. And if you've never tried it you could be in for either the best hunt and biggest buck of your life, or the biggest disaster of your life.
Seriously. I've known eastern hunters who drove to the open plains to hunt and fled home with their tails tucked after just one day. The country was so open that it frightened them. Despite having been born and raised in the great open of South Dakota, I understand. We westerners get claustrophobia in the East, so we're even.
But what you want to know, need to know, is how to overcome your fears in order to take that big western buck.
Research and familiarize. Read magazine articles and books. Watch videos of the west and western hunts. Check out my TV show, Winchester World of Whitetail on NBC Sports network. Familiarize yourself with the plains and mountains west of Iowa. If possible, drive out for a family vacation or scouting mission.
 Get to know a local. There's nothing like a knowledgeable local friend, hunter, farmer or outdoorsman to show you the ropes and make you feel comfortable in the big open. If this has to be an outfitter or guide you pay…well, that could be a few thousand dollars well invested. But investigate all guides and outfitters carefully. While most are great, a few bad apples roll around in the barrel.
Visit western state Fish & Game websites. These places are rich with information about everything from season dates to game locations, harvest statistics and even hunting tips.
Map it. Road maps. Land ownership maps (often available on the F&G websites.) Topographical maps. Google Earth. Study where you're going so it doesn't seem so foreign.
Identify open hunting lands. Much of the West is either owned by the public (that's you and me) or open to public hunting through various F&G management programs. Literally millions of acres, much of it great whitetail habitat, are yours for the roaming. Again, check the web sites for maps.
Now that we've settled the issue of feeling comfortable and knowing your way around the big open, next we'll investigate eight ways a hunter can find whitetails in vast, open spaces. Stay tuned!
***
About Ron Spomer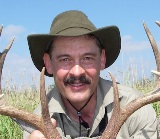 Ron Spomer writes for many outdoor magazines and hosts Winchester World of Whitetail on NBC Sports. Learn more at www.ronspomeroutdoors.com.
For more articles by Ron Spomer, click here.
And for the best whitetail skinning knife, click here. 
1,209 total views, 2 views today