By Bernie Barringer
Planning an out-of-state hunt?
Here's a how-to for the traveling archer.
Review by Steve Sorensen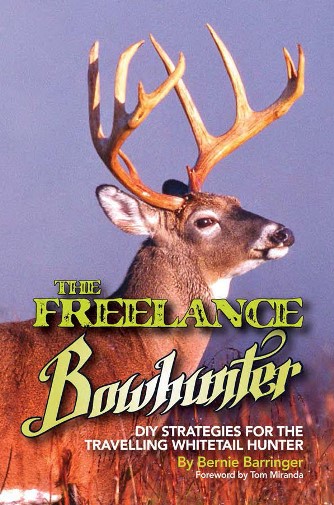 I've been saying for a while now that the Internet has made deer hunting in other states more accessible than ever before. But if you're really trying to zero in on specifics for hunting whitetails, the Internet may not be the best source for all the how-to angles the traveling hunter needs to know.
Havalon writer Bernie Barringer has recently come out with a book called The Freelance Bowhunter: DIY Strategies for the Traveling Whitetail Hunter. If you aspire to do an out-of-state deer hunt, this book is a goldmine of information. Bernie has made all the mistakes, conquered all the learning curves, and offers all his bowhunting expertise in this essential book.
Seven Reasons you need The Freelance Bowhunter
OK, a book is "old technology" – but Barringer mixes in new technology by adding "QR Codes" you can scan with your smartphone. They'll take you to videos he has made that explain in visual detail what he's talking about. This is the first book I've seen to do that. Most books merely integrate photos with text. This one integrates videos with text—a real value-added feature!
About technology—Barringer tells you how to use today's technology for mapping applications, how to use trail cameras while you hunt instead of before you hunt, and how to capitalize on the science you can get from local biologists.
This is the book that will raise your odds of success in bowhunting. You won't find any other place where you can get expert real-life mentoring on how to select your hunting partner, how to choose prime hunting areas, when to go, how to scout, what kinds of tree stands you'll need, options for getting meat home, and many other proven ideas that will insure the experience of a lifetime.
It will save you money. Without the information in this book, you'll spend a lot more than you need to spend. Barringer has explicit instructions on how to maximize limited dollars. A few things are a fixed price—hunting licenses, gas, etc. But you'll save many times the price of this book if you use his ideas on where to stay, how to split costs with another deer hunter, how to plan easy and inexpensive meals, and other bowhunting secrets you'd otherwise learn mostly through mistakes.
Bonus features are full of details, details, details! What your expectations should be. The lost art of getting permission. Weighing whether you should try new places or go back to a place you've been to. Why to be aggressive, and more important, how to be aggressive when you're up against a deadline.
Destinations. Barringer outlines the top 16 whitetail states, with an honest assessment of the benefits and drawbacks of each one. He tells you what you should know, wherever you choose to go. What's the best? Your choice depends on a variety of factors including where you live, how you'll travel, and what kind of hunting pressure each state has.
It's a keeper. Here's a book that will become dog-eared, because you'll return to it again and again. While some of the equipment he talks about may become outdated (it always does), the meat of this book draws from the lifetime of experience of one of the nation's top traveling bowhunters, so it will be relevant year after year after year.
Don't underestimate the value of The Freelance Bowhunter—it covers everything you can think of about mobile bowhunting, and much that you won't. Even if you're already in the planning stages for a deer hunt this fall, you can learn a lot from Bernie Barringer. It's on-target, and I'm betting a lot of hunters will credit some great bucks to what they learn from this book. Buy it from the author's own website at www.bowhuntingroad.com, or from www.Amazon.com, where it's also available for Kindle.
---

Outdoor writer and speaker Steve Sorensen is the author of Growing Up With Guns, writes an award-winning newspaper column called The Everyday Hunter®, and edits content on the Havalon Sportsman's Post. He has also published articles in Deer & Deer Hunting, Outdoor Life, and many other top magazines across the USA. Invite Steve to speak at your next sportsman's event, and follow him at www.EverydayHunter.com.
---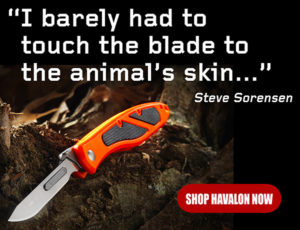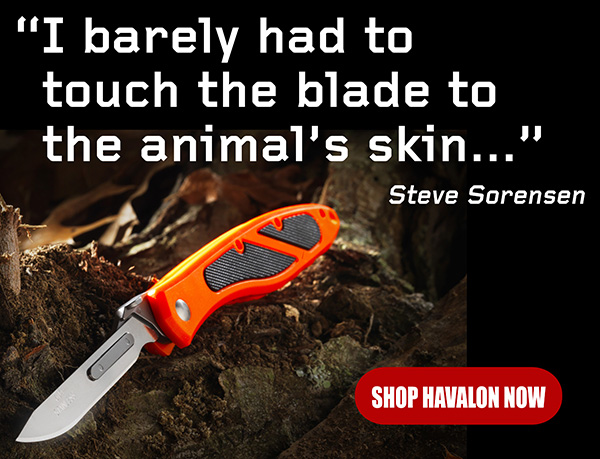 1,361 total views, 1 views today