By Brooke Hart
When you get a good lookin' deer,
you want all the meat you secured to be as
tasty and flavorful as possible!

When it comes to cooking venison backstrap, as with all wild game recipes, flavor is everything. The backstrap portion of the deer runs along the spine of the animal, and it's one of the most tender cuts of meat because deer rarely use the muscles in that area. Generally, the meat here is very tender and lean, and if prepared the right way, it can be a surefire way to cure a hungry appetite. There are many different ways to cook venison and achieve the taste you want from this area. Below is one of my favorite venison backstrap recipes, the always tasty Venison Steak Diane. A delicious twist on a classic dish!
Venison Steak Diane:
To create Venison Steak Diane, you first need a tender cut of meat, so get all your backstrap ready and start slicing. You'll want to cut the meat into medallion shapes and size them up before preparing it.
What you need:
1/2 a pound of venison backstrap
2 tablespoons of unsalted butter
1 minced shallot
Salt
1/4 cup of brandy
3 minced garlic cloves
1/2 cup of venison stock
1 tablespoon of tomato paste
1 tablespoon of mustard
2 tablespoons of Worcestershire sauce
Around 1/4 cup of heavy cream
Minced herbs for garnish (include items like chives, parsley, basil and so on)
What you do:
Once you have the venison prepared, refrigerate it overnight or for a few days. When you take it out of the fridge, salt it and then let it sit for about 20 minutes, until it reaches room temperature. Then you'll want to heat the butter in a saute pan at medium heat for about two minutes. Pat the venison dry on all sides and cook every side of it. Take your time to ensure that the butter won't scorch in the pan. It will take about 10 minutes to get a brown crust on the venison's outer portion without overcooking it in the middle. Once the meat is done, loosely wrap your venison in some tin foil and set it aside for now.
Next, put the shallots in the saute pan and cook them for 60 seconds. Then add the garlic and cook for another 30 seconds, making sure you don't burn the garlic as you go. After that simmers for half a minute, deglaze the pan with brandy and scrape off anything that's stuck to the sides. Let the brandy cook down to a glaze and then add the tomato paste, mustard, venison stock and Worcestershire sauce. Stir the combination and let it boil down until you can drag a wooden spoon across the pan and leave a trail that doesn't automatically fill itself back in. On high heat, this should only take 2-3 minutes.
Now turn off the heat and let the boiling process come to a halt. Stir the cream into the sauce until it's as light as you might enjoy. You won't want to boil or cook the sauce any longer. While the sauce sits for a brief moment, slice the venison into the medallion shapes and sizes you desire. If the center is not quite cooked, the meat can sit in the sauce and re-heat itself. You can garnish your creation with herbs like chives, basil or parsley.
Using a good sauce recipe with your venison backstrap is always a great idea. Once you cook your meat, simply add as much or as little sauce as you want in order to flavor the venison to perfection.
Cumberland Sauce:
Cumberland sauce is one of the most popular sauce recipes to go along with venison backstrap, especially when cooking Steak Diane. This sauce does not take a lot of time to prepare.
You will need:
Ground black pepper
Zest of a lemon and an orange
1/4 cup of red currant jelly
1/2 teaspoon of dry mustard
1/4 teaspoon of cayenne
A pinch of salt
1/4 cup of venison stock
1 minced shallot
1/2 cup of port wine
What you do:
Cook the meat in a large sauce pan with melted butter. Take it out and put it in some foil once it's cooked to your liking. After the meat comes out of the pan, check to make sure there is still some butter left. Saute the shallot then add the wine. Add the rest of the ingredients and boil it down until it is thick but still something you can pour. You can serve the sauce on the side or on the meat itself, and voila, you've got one hearty, delicious dish on your hands.
---
Download your FREE copy of…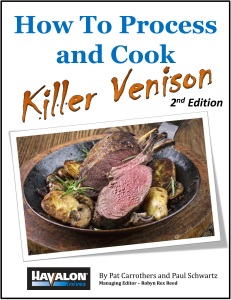 3,882 total views, 3 views today