Are You Making These 7 Turkey Hunting Mistakes?
(Part 1 of 3)
by Steve Sorensen
If you could cancel all the mistakes you've ever made in the turkey woods, you'd multiply the number of hero shots in you photo album by a factor of three or four. Your string of spurs and the number of gobbler beards you've carefully preserved would likewise multiply. But there's one thing you'd have no more of – more about that later.
Turkey hunters probably make more mistakes than any other hunters. And we find countless ways to make them. We make mistakes before we ever go into the woods. We make mistakes with our calls, mistakes with our shooting, mistakes with our set-ups. We can't quit making mistakes. Turkey hunting is a game of trial and error – sometimes,
mostly error.
Here's what we can do to avoid some of our myriad mistakes.
1.     Scouting Mistakes:
It should go without saying – you have to hunt where the gobblers are. Long ago, my successes were few and far between. I focused on places that were convenient because I had to be to work by 8:00 AM and had few vacation days. I economized on time by hunting close to my job.
It's not that turkeys weren't there, but there weren't many, and I was hunting gobblers others were hunting. So, while you shouldn't overlook the convenient places, your pre-season scouting should focus on giving yourself as many options as possible. Besides limited scouting, scouting by convenience is a big reason turkey hunters don't connect.
Overlooking food sources is a big mistake. Leftover corn from last fall will draw turkeys. So will acorns, beech nuts, wild grapes and other mast crops. Some woods might look turkey-ish, but if food is absent, turkeys will be, too. Remember that turkey food doesn't always look like food to you – turkeys find bugs, worms, and other invertebrates under leaf litter, and their telltale scratchings will give them away.
Another scouting mistake is to bet everything on finding vocal gobblers. You'll be finding gobblers other hunters locate just as easily. And if they're not far off a road, you can bet they'll get plenty of pressure. However, make a note of those places. In the late season, the next hill or the woodlot across the road might become the new home of a wandering gobbler.
Also, look for strut zones. When we say "strut zones", we don't always mean specific places where gobblers strut. In some areas those are almost impossible to find. Gobbler tracks and parallel drag marks where the strutter has dragged his wingtips don't show up in grassy meadows. So when you're thinking "strut zones", don't think too literally. Think of areas with high turkey activity. You can often watch them from a distance with a good pair of 10X42 binoculars. I like the Alpen Optics "Wings" line – they're light, bright and clear.
2.     Land Access Mistakes:  
One of the biggest mistakes turkey hunters make is to seek land access from only one or two private landowners, and keep a piece of public property in mind as a back-up. My advice is to find a couple of good pieces of public property, and learn the fastest way in. Then, knock on the doors of landowners – lots of them.
When seeking access to private property, don't give up easily. Don't be shy. If you're not knocking on at least a dozen doors, you're not doing it right. Don't fear rejection. Have you ever heard of a hunter arrested just because he drove up a long driveway to ask permission?
And ask more than once. Just because you were rejected last year doesn't mean the landowner will reject you this year. He might have had a bad experience with someone else. Or that someone else never actually used the permission he had. Once the landowner is familiar with you he might give you the thumbs up.
Most hunters live near federal or state properties that hold good populations of turkeys. Don't ignore them just because other hunters might be there. Those hunters often give up early, or sleep in, or stay home on rainy days. So, public property can be very productive.
Same goes for large tracts of land held by timber companies or oil companies, where you can get far in where few hunters go. When you're scouting these areas, stop and talk to the guys who work on that land. They're often willing to tell you where they see gobblers, where you can get a good map of the property, and where the best access points are.
Scouting mistakes and land access mistakes reduce your odds before the hunting even begins. In Part 2 I'll share two more pre-season mistakes, and in Part 3 I'll describe mistakes made during the hunt.
***
About Steve Sorensen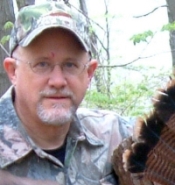 Award-winning outdoor writer and speaker Steve Sorensen loves the Havalon knife, and has been a fan of knives since he begged his dad for a hunting knife when he was six years old. His articles have been published in Deer & Deer Hunting Magazine, Sports Afield, and many other top magazines across the USA. Invite Steve to speak at your next sportsman's event, and follow his writing on his website, www.EverydayHunter.com.
Click HERE to read more articles by Steve.
2,561 total views, 1 views today