If you're packing too much stuff, you're more apt
to head for the truck early.
By Tracy Breen
As the sport of turkey hunting has grown dramatically over the last couple decades, more companies have jumped on the turkey product band wagon. If you walk into a box store or mom and pop hunting store, you'll quickly realize that you could use a different turkey call every day for a year and never run out of new calls to try. During the year, you could try dozens of decoys, guns, vests, turkey hunting boots, gloves, face masks and a variety of other products and never use the same products two days in a row.
As a result, most turkey hunters have more turkey gear than they will need in ten lifetimes. To justify the expense of buying all this stuff, most of us load our vests down with gadgets on opening day. We feel like a cross between a turkey commando and Agent 007. The truth is most gadgets aren't needed and in some cases may hinder success.
In the heat of the moment when trying to decide if you should "run and gun" or stay put, a vest heavy with gadgets can create problems. Deciding which call to use when a tom is hung up is gets complicated when you're carrying too many calls. Should you use the Double Clucker Plus, the Hot and Heavy Hen, or something else?
Maybe it's time you pack light.
Brett Berry, a pro staff member for Zink Calls (www.zinkcalls.com), recommends bringing only a couple of calls into the woods. "I use diaphragms. They are lightweight and sound great," Berry said. "Besides mouth calls, I usually bring a friction call of some type and a locator call. "Two or three calls are all I need most of the time."
Zink Calls makes the Avian-X line of turkey decoys and Berry usually has a decoy with him. "Most decoys are lightweight and collapsible so it makes sense to bring a decoy. I rarely bring more than one. If I bring two or three, I take a lot of extra time to set them up and take them down. With just one, I can pull it out of the ground and be running and gunning in no time."
When thinking about lightweight hunting, one thing most hunters overlook (myself included) is the shotgun. Some of the most popular turkey guns on the market are built to shoot 3½" shells. Bigger is better, right? That's what we are led to believe.
Andy McCormick, Vice President of Sales and Marketing for Legacy Sports (maker of the Escort line of shotguns at www.legacysports.com) says, "I've talked with many gun retailers over the years who say they sell a lot of guns with 3½" chambers, but not as much 3½" ammo. That tells us that many hunters like telling their friends that they have a big gun but they prefer using 3″ shells," McCormick said.
If you're in the market for a new turkey gun and you want to keep weight down, consider purchasing a 3″ gun instead of its big brother. After hunting all day, a heavy gun can wear you out. Studies show that today's high-tech 3″ turkey loads are effective at 40 yards and beyond. What more do you need?
I spend much of the fall hunting big game out west, deep in the back country. Early in my hunting career, I stuffed my backpack to the brim as I left the truck but didn't end up using many of the things I packed. As the years went by, I started packing lighter, only bringing exactly what I needed. Packing light allows me to cover more ground.
The same can be said about turkey hunting. Sometimes you must wear out the soles of your boots to find a hot gobbler. If you are packing a lot of stuff, you're more apt to head for the truck early. Packing light can help you cover a lot of ground in search of the longbeard of your dreams. "I love covering as much ground as I can while turkey hunting. Running and gunning is fun if I pack light. I don't often do it if I am lugging ground blinds, a vest full of calls, and four decoys," Berry added.
Do you want to increase your chances of success this spring? Pack light and you'll likely be willing to walk farther, work harder and call more birds than if you bring the entire Cabela's store with you in the woods.
Oh – one last thing. Pack a Havalon Hunting Knife. It weighs less than an extra shotgun shell.
***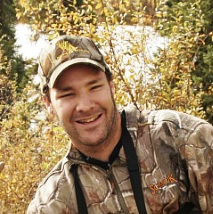 About Tracy Breen: Tracy is a full-time outdoor writer and consultant in the outdoor industry. He works with a variety of outdoor brands and television shows including Havalon Knives and the MeatEater. Learn more at www.tracybreen.com.
1,396 total views, 1 views today