by Steve Sorensen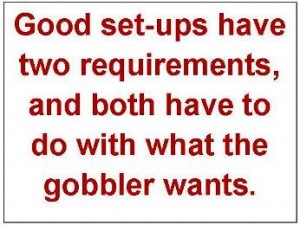 I've been hunting spring gobblers for a long time, and I'm still finding new ways to make mistakes. Seldom do I make calling mistakes, even though I'm not a great caller. I rarely make a mistake when it's time to pull the trigger. I almost never misjudge distance. But sometimes I set up wrong.
Bad set-ups are mistakes in judgment that you can never overcome completely, but experience can teach you some "do's and don'ts" that can help you make better choices.
Every situation offers a limitless variety of possibilities, but we make most set-up mistakes because we tend to choose spots for the wrong reasons. We choose them for what we want, rather than what the gobbler wants. Most often, a good set-up has two requirements, and both have to do with what the gobbler wants.
The number one requirement for a gobbler to come to a call is for the call to come from a place where he's normally comfortable.
The number two requirement is that he wants to see and be seen as he approaches what he thinks is a hen.
With those two points in mind, here are three set-ups that usually don't work. Part 2 will cover four that often do.
Three Set-Ups That Usually Don't Work
1.  The quick set-up – Some hunters make simple mistakes because of the fast pace of their hunting style. When they hear a gobbler they almost freak out, and rush to set up in the first place that catches their eye.
Instead, they should move through the woods with two things in mind. Not only should they be looking for a gobbling turkey. They should also be on the lookout for places to set up in case they hear one.
2.  Too close to a slope – We love to call turkeys uphill. That fits normal turkey behavior. And we also like to see a long distance. That's normal hunter behavior. The problem is that turkeys like to see a long distance, too. So if we set up where we can see a gobbler approaching from a long way, he thinks he should see the hen from a long distance, and that she should be able to see him.
Often gobblers will hang up in that situation. They expect the hen to look down the hillside, see them, and come running like the wife of a soldier home on leave. We love to watch a gobbler approaching, but when he doesn't see anything that looks like a hen, he gets suspicious.
3.  Behind obstructions – Obstructions can be almost anything, but most often they're some terrain feature that creates a significant visual screen. Often, it's a big blowdown that a gobbler won't circle around. Sometimes it's a patch of brush. Once, for me, it was a steep cliff someone made by bulldozing an oil lease road into the hillside. The gobbler just paraded back and forth below the cliff. Be on the lookout for obstructions, or you'll notice them when it's too late.
The successful turkey hunter is always making mental notes. He pays attention to landscape features that don't spell success, and those that do. Next time, I'll talk about four set-ups that pay off.
***
About Steve Sorensen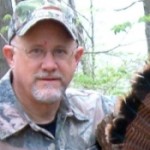 Award-winning outdoor writer and speaker Steve Sorensen loves the Havalon knife, and has been a fan of knives since he begged his dad for a hunting knife when he was six years old. His articles have been published in Deer & Deer Hunting Magazine, Sports Afield, and many other top magazines across the USA. Invite Steve to speak at your next sportsman's event, and follow his writing on his website, www.EverydayHunter.com.
Click HERE to read more articles about Turkey Hunting, and for the best turkey skinning knives, click HERE.
5,054 total views, 1 views today