Trout Fishing Tips for
Finding and Catching Big Trout!
By Judd Cooney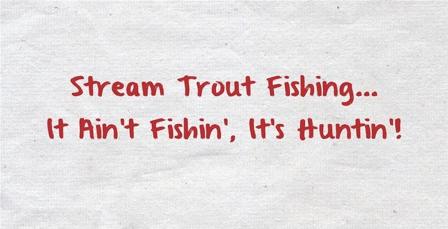 "Binoculars for trout fishing? Ya gotta be kiddin'," chortled my companion as I unlimbered my pocket-sized Nikons.
"Nope, not kiddin'. Right now we're huntin' trout. When I find the fish I want, then I'll start fishin'." I began glassing the 100-yard stretch of San Juan River below the high bank where we sat comfortably against a huge cottonwood tree.
1.  Stalking the Trout
A half-hour later I eased along the far side of the river staying well back from the edge of the bank, and ended up crawling the last ten yards to the tail end of the long pool. It had a gravel bar on the far side and a steep cut bank on my side.
A few feet from the bank about 20 yards upstream in the pool, the current swirled around the rock and into the undercut bank. I'd glassed several large swirls right at the lower end of the rock – along with lots of little dimples from smaller fish taking flies. I figured the big swirl was a good trout feeding on the smaller fish.
2.  The All-Important First Cast
Much the same as the first shot at a critter is the most important, the first cast and lure presentation on a trophy sized trout is equally important. Like spending time on a benchrest tuning your rifle and your shooting skills is time well spent, practice at casting with your flyrod or spinning gear will perfect your lure placement accuracy. It's time never wasted.
I eased slowly onto my knees to keep my silhouette as low as possible and flipped the 2″ rainbow-colored Rapala countdown into the fast water right at the upper edge of the rock. As the lure touched the water, I gave the line a couple quick, sharp jerks to make the lure dive and started a fast retrieve to keep it down.
A few seconds later I felt the jolt of a big fish hitting the lure and immediately put as much pressure on the 4-pound test mono as I dared to get the hefty fish to the lower end of the pool, into the riffles, and down into the next shallow pool where I could fight him into submission. Worked like a charm. Ten minutes later I beached a hefty 6-pound brightly colored brown trout which I quickly released.
Three more casts into the 100-yard long pool and I had two 4-pound rainbows and another 3-pound brown. I had located each fish by using my binoculars before making the first cast. My client was in total shock as I had let him fish the same pool the previous day where I had caught six trout, the largest a 12″ rainbow.
3.  You Need to Get Past the Small Trout
I like catching big trout on streams and to consistently catch the trophy-sized fish once you locate them, your toughest problem might be getting past the smaller fish. I know umpteen trout fishermen that feel the ultimate challenge is using a 1-pound or less tippet and No. 22 dry flies for their trout fishing. They delight in catching lots of small trout and the occasional lunker 12-14 incher. To me, that's a cop-out for failing to catch big fish.
When trout fishing with a flyrod or spinning rod  I don't do a lot of fancy long distance casting but sneak quietly as close to my target as possible, often crawling into position to drop or flip my fly or lure into exactly the right spot.
4.  The Best Big-Fish Lures
I use ultra-light spinning and fly rods with 4-pound test mono or 9-foot tapered leaders with 4-pound test tippets. However when it comes to lures or flies, I want bait that is going to discourage the smaller trout and appeal to the trophy lunkers. Big fish don't get fat on tiny tidbits in the form of minuscule insects or midges unless there is a major hatch with millions of the little bugs in the air or water.
My favorite big fish lures and flies are limited to those that produce consistently. I love 2″ and 3″ countdown Rapalas in the rainbow and brown trout pattern. However, the gold/black is almost as deadly. Large Mepps Aglia or willow leaf spinners in sizes 2 or 3 are also deadly big trout catchers. For my fly rod I stick to big wooly buggers in black, brown and olive green with a red yarn tail. Occasionally I use large streamer flies. Big lures for big trout!
5.  Your Fish-Fighting Tactics
I take my time glassing and studying the water I am about to fish, watching for large telltale swirls that indicate big fish feeding. I often spend a half hour or more trying to locate several big fish in a given pool and then figure out the best way to approach and catch them with the least disturbance to the pool. I always fish upstream as trout face into the current and are a lot less likely to spook from movement behind them.
When I hook a big fish I try to move it downstream as quickly and quietly as possible to avoid spooking other big fish in the pool. After making a catch in a small pool or area of the stream I'll often wait patiently for half hour or so for the pool to settle back to normal watching for more big fish activity.
Like hunting, I'll take a single, up close and personal shot at a trophy anytime, over a haphazard "Hail Mary" approach. When it comes to the biggest trophy trout in the stream, trout HUNTING and CATCHING sure beats fishing for any fish that just happens to be where your lure hits.
***
About Judd Cooney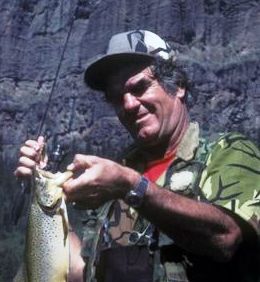 For the past 30 years Judd has been writing and photographing full time in addition to running his guiding and outfitting operation, spending 18-20 hours a day trying to avoid working an 8-5 job. He says, "I wouldn't change it for the world!" He has articles or photos in many of the outdoor magazines every month, covering bowhunting, muzzleloader hunting, big game, small game and predator hunting, plus turkey, waterfowl and upland game hunting. He can be reached through his website, www.JuddCooney.com.
Click here to read more great articles on trout fishing.
[hs_action id="7208″]
Related articles
7,390 total views, 1 views today