By Tracy L. Schmidt
Turn Your Skills into Confidence
with These Three Tips
I'll never forget that first year I learned how to shoot a bow. Weeks of practice made me proficient enough to place my aluminum arrows consistently into a paper plate at 15 yards. My boyfriend (now my husband) insisted that I wouldn't be ready to head for a treestand until I could place 10 out of 10 into that paper plate he had stapled to a bag target.
When I finally mastered the feat, I thought it was time to go hunting and everything would be the same. It wasn't. Although I was fortunate to harvest a deer my first time out with bow and arrow, I also learned that shooting at live game is a completely different ballgame than shooting at a paper plate, or even a 3D target. Here are three keys that helped me transition from target practice to go-time hunting.
1) Get Dialed In
It's imperative to practice the skills necessary for accurate shooting out to your effective hunting range. (My personal limit is still only 20 yards.) That means shooting broadheads regularly in the weeks leading up to the hunt and throughout hunting season.
In the weeks before the season I shoot 15 to 30 arrows per session, but during hunting season my practice periods often consist of shooting only two or three broadhead-tipped arrows at a target. I squeeze my practice in whenever I have time — before or after work, or at odd times during the weekend. I don't allow myself any warm-up shots. The first shot is always the most important, so my "make the first shot count" approach makes me practice more meticulously.
2) Get Real
Shooting at a 3-D target as though it's a real-world situation helps me get ready for the hunt. For example, we will take our GlenDel buck target and tuck it into some brush exposing only the vitals. We will also place it at various angles (quartering away, broadside, etc.) and practice those shots from 15 to 20 yards.
During these practice sessions I'll shoot my regular gear (Muzzy-tipped Easton arrows) and wear my hunting jacket and gloves. I wear an armguard while practicing, so I do the same when I'm hunting. I even take care in choosing my hats. I have to wear a short brim or it interferes with my bow. I make my practice sessions as realistic as possible so when I'm out in the woods and the real deal comes along it's as much like practice as possible. I do in practice what I anticipate doing in prime time.
3) Get a Sense of Urgency
Lastly, my husband has pounded it into my head that bowhunting is a serious lifestyle (we never call it a "sport"), and one that requires a predator attitude. When you're hunting for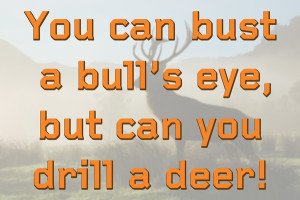 dinner and any deer will do, you need to act with a greater sense of urgency when a shot opportunity comes along. This means being instantly ready to draw your bow, anchor, acquire the sight pin on the animal's vitals and release the arrow.
It might also mean that you have to "stop" the deer as it walks in front of you. A simple "blatt" with your mouth will do this, but you need to already be at full draw. Dan coaches me through what he calls "quick draw" practice. "Here comes the deer. He's moving quickly. Get ready. Draw. Stop him. Shoot."
Think of the quick-draw approach as a 1-2-3 countdown:
Come to full draw in one smooth motion.
Settle the bowstring to your anchor point (the corner of your mouth, your nose, whatever).
Acquire the sight pin, focus on the point of impact and release the arrow.
When we practice this at home, the goal is to complete the entire process in just a few seconds. In fact, when Dan first taught me this technique, he'd count "Three-two-one-shoot." We practice shots from various angles; from tree stands and from ground blinds.
In reading more about how Fred Bear approached the hunt, I've learned the hunter must develop a shooting instinct. It means learning how to perform under pressure by making your routine second-nature, without rushing the shot. If you have never tried this technique, please do. Even if you never have to shoot a deer using the quick-draw approach, you will learn that it makes shooting sessions more realistic than anything else you might have tried before.
In bowhunting, these three tips add up to confidence. And confidence is everything.
---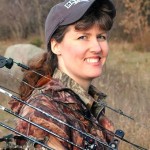 Tracy Schmidt is a deer hunting enthusiast, master gardener and certified food-preservation specialist from Wisconsin. Her husband Dan is editor-in-chief of Deer & Deer Hunting magazine and co-host of Deer & Deer Hunting TV on NBC Sports.
---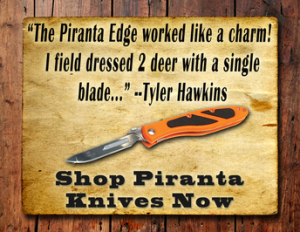 1,213 total views, 2 views today