by Bob Robb
How to ruin your chances in March for
the elk you want to bag in September.
Decades ago, an old mentor explained why most out-of-state elk hunters never saw a bull, much less got a shot at one. "The mountains don't care that you've gotten older, had an injury, or are too busy with work and the family to train for the hunt," he said. "They're still steep and rough, and the elk can prance about like ballerinas at higher elevations. Unless you prepare, you don't stand a chance." Sage advice, even today.
This is why, six to eight months before opening day, you must start training for your elk hunt. You can't put it off because physical fitness is not something that occurs overnight, or by osmosis. It's a slow-but-steady progression that you must participate in several times a week to achieve measurable results.
If you're serious about elk hunting, begin your training program now. If you're not, the mountains will beat you. Here are six ways to fail long before the hunt.
1. If you don't have a medical exam, you might begin your physical training only to find out you're in over your head. You can't afford a training injury, and you need to know if getting in shape is doable in the time you have. Once your doctor gives the OK, you're ready to start.
2. If you don't change your evil ways, your training will be worth little. It's time to address that improper diet, poor discipline, and your other bad habits (you know what they are). At your medical exam be honest with your doctor. Consider him part of your team. Seek his diet and exercise suggestions, and ask him if your target weight is realistic. Yes – diet and exercise are hard, but if they can do it on "The Biggest Loser" TV show, why can't you?
3. If you don't start out walking, you'll stop far short of your goal. You literally have to walk before you run. Commit to taking a brisk walk every day. Put in 30 minutes to begin with, and work your way up to an hour. Weather's the problem? Head for the mall or walk on a treadmill. To get started, check out my article A Basic Fitness Program for Hunters.
4. If you don't do aerobic exercise, you might be strong but not fit. Some guys think aerobics is just for women. Don't be one of those guys. Use aerobic exercises to get your heart pumping at your target heart rate, or THR. I've written more about THR and "training zones" in Toughen Up! Six Steps to Elk Hunting Fitness. Choose a combination of aerobic activities that interest you enough so you'll stick with it over time. Jogging, swimming, bicycling, walking, jumping rope, and fast walking are good examples. The aerobics classes so popular these days are an excellent way to both improve your overall aerobic capacity and tone your muscles.
5. If you don't get stronger, you'll feel fatigued by mid-day. Build some muscle through weight training or calisthenics like push-ups, pull-ups, sit-ups, and stretching. When using weights, concentrate on the main muscle groups – legs, back, shoulders, arms, chest, and stomach. However, keep in mind that the most important muscle in your body is your heart – it is best strengthened through the aerobic activities mentioned above.
6. If you don't get specific, the hunt will be torture. Once you reach your general fitness goals, you need to focus on training your body specifically for the mountains. Exercise physiologists call it "specificity training" – designed to improve the performance of a specific task. A mountain hunter is basically a mountain hiker who carries a daypack weighing 10-15 pounds. Therefore, incorporate exercises that simulate this activity. On your walks, start wearing a loaded day pack. Avoid flat ground. Make stadium steps and hills part of your route. For more about specificity training read Toughen Up! Six Steps to Elk Hunting Fitness.
If you need help, don't be embarrassed to ask for it. The truth is that not asking for help is more likely to cause embarrassment. Receiving professional advice and guidance to achieve a fitness goal is as easy as joining a local health club, YMCA, or signing up for a class at the local college or other accredited institution specializing in physical fitness. Most have a staff of trained professionals who can help design an exercise program to meet your specific goals. They'll help keep you motivated, too.
You have other things to do – scouting through aerial photos and topo maps, researching Internet sites for information about the area, deciding what gear you'll need, and more. But if you don't get your body ready, none of that will matter.
Last year, after 10 years of applying, I finally drew a coveted Arizona archery elk tag. Thankfully, I did the physical training work for months before the season began. One day, according to the GPS my friend Jon Vance carried, we hiked 16 miles chasing bulls. In four days the total was 47 miles. I was prepared to go like this for the entire two-week season, but thankfully Artemis, the Greek goddess of the hunt, smiled on day four when I arrowed a bull scoring 361 Pope & Young points.
Take it from me – not starting your training for elk season now is a bad mistake, and bad things will happen. But if you do start now, Artemis is more likely to smile on you, too, and make all those hours on the track, in the gym, and in your hiking boots worth it.
***
About Bob Robb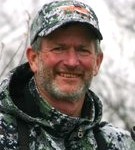 For over two decades, Bob's articles and photographs have appear in most major outdoor magazines. Currently he is editor of Whitetail Journal and Predator Xtreme magazines. Bob was founding editor of Petersen's Bowhunting magazines, and the author of many books, including The Field & Stream Bowhunting Handbook, and The Ultimate Guide to Elk Hunting. Bob sees the value of super-sharp, lightweight Havalon knives.
To read more artilces by Bob Robb, click here.
Click here for the best elk skinning knife…..and read what other's say about their Havalon knives.
2,588 total views, 3 views today