By Tracy L. Schmidt
Don't throw away those turkey drumsticks!
I can still remember the first time my husband handed me a pair of turkey legs. Those drumsticks were huge — big enough for a meal in themselves. I don't think I said it out loud, but I certainly thought, "What in the world am I supposed to do with these?"
It was a stressful moment, trying to figure out whether to debone them and marinate the meat for sandwiches or prep them for the soup pot. I decided I needed more time to figure things out so I roasted them in my slow cooker.
When you successfully hunt an animal you don't want anything to go to waste. Out of respect for the animal's sacrifice, I want to utilize every part possible. But not everything is instantly palatable.
Think about this — wild turkeys make their living with their legs. They almost always opt to run rather than fly, and when they fly those muscular legs launch them with power. That's one reason why, when compared to domestic fowl, wild turkey leg meat is much more firm. So, whether serving it in a soup or in a sandwich, make sure you cut it up into smaller bite-sized pieces that people can easily chew.
Prepared properly, turkey legs make excellent table fare. It cannot be rushed in the kitchen, however. That's why I like to turn our turkey legs into soup. The slow cooking process of making soup helps break down the muscle groups and bring out the turkey's unique flavor and texture. I like to use a two-step process that allows the meat to cook slowly so it becomes its most tender before it becomes part of a great pot of soup. Spread the process out over a couple of days, and it's easy to make.
Tracy's Two-Day Turkey Leg Soup
2 legs wild turkey, cleaned
Salt
Pepper
Paprika
1 1/2 teaspoons thyme
32 ounce box of chicken broth
2 carrots, sliced thinly or 3/4 cup snapped green beans
1/2 cup frozen corn kernels
1 teaspoon garlic, minced
1/4 cup onion, chopped
Extra-wide egg noodles
Day One:
Season turkey legs with salt, pepper, paprika and one teaspoon of thyme, then place in slow cooker. Add 12 ounces of chicken broth to cooker and cook for 4 hours on low heat or until they are cooked through and the meat is tender and loose on the bones. Because we are dealing with wild game, the size of the legs will be variable, so the cooking time will vary as well.
I allow the meat to cool, cut it into bite-sized pieces, then store it in the fridge for the next day when I make the soup. If you want, you can go right to Day Two.
Day Two:
Place the remaining broth plus 2 cups of water in a large stockpot. Add the carrots or beans, onion and garlic and bring to a boil. Add the cooked turkey, 1/2 teaspoon thyme and corn to the pot, cover loosely and simmer for 10 minutes. Then add 1/3 bag of egg noodles and cook uncovered to manufacturer's recommendation for al dente (firmness of the noodles to the bite).
Check to make sure the carrots are done. Before serving, taste to see if you need any additional seasoning.
---
About Tracy L. Schmidt: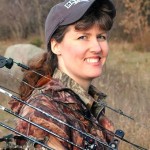 Tracy L. Schmidt is a certified master food preservation specialist and the author of the book "Venison Wisdom." Each of her recipes is tested and perfected. She is married to Daniel Schmidt, editor in chief of Deer & Deer Hunting magazine and host of "Deer & Deer Hunting TV" on NBC Sports. Tracy enjoys the versatility of Havalon Knives in both the kitchen and the field.
---
The best knife for the field is also
the best knife for the kitchen! Get your
Havalon Piranta today!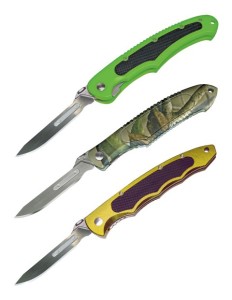 5,468 total views, 4 views today