By Bernie Barringer
Executing your plans for a successful whitetail road trip.
You've decided where you're going. You've gathered information and made some contacts. You have maps. You've planned the trip. Now, it's time to execute.
Find the Right Spot
You're on the hunt. But just as scouting pays off at home, scouting will pay off here. It's time to burn the shoe leather and learn the land. You should have maps in your pocket and a checklist of places to examine. So get out and look them over.
You'll be cramming lots of scouting into a very short time, but it should involve at least these three specific tasks:
Put trail cameras out to inventory the buck population so you know what you are working with.
Check for rubs, scrapes and trails, and gather as much information as you can before selecting your treestand locations.
Figure on spending the first day doing more looking than sitting. I may even spend the first evening and morning in a new area just glassing or sitting in an observation stand. It takes time to find the exact right spot, but later, I can sit on stand a lot longer if I have confidence that I made a good choice.
You'll find that the first time you go to a new area, you spend more time learning, but as you continue to go back year after year, you'll have a much better chance of bagging a mature buck. You'll build and draw from a storehouse of knowledge about the area, making your daily where-shall-I-hunt-today decision much better than an educated guess.
Some public hunting areas get lots of hunting pressure, but once you get a mile from the road, that pressure drops of drastically. Most hunters won't lug a treestand that far, and they are afraid of the work of getting a big buck out. The bucks seem to know that, and if you're willing to work harder than the average guy, you can get away from the crowds and into some prime land.
Learn to travel light. Lightweight stands and equipment are important keys to reducing your workload. Don't load down your back pack. Choose lightweight equipment such as smaller binoculars and a Havalon skinning knife, which is much lighter and sharper than standard hunting knives.
Cut Costs Where You Can
One of the keys to a successful D-I-Y hunt is to keep costs down. Often small-town motels in rural Midwestern states are pretty cheap. Inquire about a weekly rate. My preference is to pull a travel trailer so I have everything with me including cooking equipment to save on meals.
It's amazing how many meals you can cook in a motel room or camper with a crockpot, a microwave and a toaster. Before leaving home, I freeze entire meals in plastic containers, then pull one out in the morning before leaving for the day's hunt. I drop the whole frozen mass into the crockpot set on low heat. When evening comes it's very satisfying to find a hot meal ready and waiting.
Another way to cut costs is to go with a buddy who can help split the motels bills and fuel costs. It's essential to team up with someone who is motivated and enthusiastic. You don't want someone you have to shake out of bed in the morning. Hunters like that will drag your energy down.
Above all, just do it. If you are happy to watch those guys killing big bucks on the Sportsman Channel, that's fine, but if you really want a chance to put a heavy antlered buck in the back of your pickup truck, it is time to start planning and make it happen!
***
About Bernie Barringer: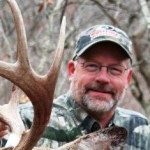 Bernie Barringer hunts a variety of species in several states and Canadian provinces. He has published more than 400 articles in two dozen outdoor magazines and authored ten books on hunting, fishing and trapping. He is the managing editor of Bear Hunting Magazine, and blogs his hunts on his website www.bowhuntingroad.com.
For more articles by Bernie Barringer, click here.
 When buying gear for your trip, don't forget the best deer skinning knife.
1,639 total views, 1 views today