By Darl Black
Use the ice fishing techniques the
tournament pros use!
Mike Kuna and Bob Griffith are professional competitive ice anglers who would rather sit around a hole in the ice on a frozen lake in the middle of winter than soak up summer rays while fishing from a boat.
"I see hard-water fishing as more challenging than soft-water fishing," says Kuna. "Instead of standing in a boat where I can fan cast 360 degrees, I'm dealing with a 6- or 8-inch hole from which I must track down fish and entice them to bite. You tell me, which is more challenging?"
Hailing from western Pennsylvania where there is no guarantee that there will be more than a few weeks of safe ice, Mike and Bob travel considerable distances each winter to 'colder' states in order to participate in ice fishing competition. Like traveling pro bass anglers, these ice fishing pros frequently find themselves on unfamiliar waters. They have acquired the knowledge and skills to evaluate waters and quickly locate biting fish.
Here are some of their tips:
Research before arrival. Rather than arriving at a lake and making a beeline for the area where the greatest numbers of anglers are already set up – like so many ice fishermen do – Kuna and Griffith invest time on the Internet researching a new body of water. Kuna says, "We search for local fishing reports, checking the type of area where anglers generally make winter catches. Then we study contour maps of the lake and try to figure out similar areas which we can reach during ice season. Sometimes we end up fishing near the pack; other times we strike out away from the group – but it's our decision based on our research."
Drill, baby, drill. "Most of the time we engage in a run-and-gun style of fishing," explains Kuna. "Once we determine the general area to fish and check the depth with a test hole, we then drill a line of perhaps 20 holes before we actually start fishing. How far apart our holes are depends on the general bottom contour. For perch, if we're checking a large flat with gradual depth change, we allow greater distance between holes. However, if fishing for crappies on an area with a drop-off, ledge, channel or weedbed, our holes will be closer together because of the rapid contour changes.
Don't sit still. With a large number of holes drilled, Kuna and Griffith lower a sonar transducer down to check for fish marks. If fish marks show up on the sonar, they begin fishing in earnest. However, if they don't get the correct signals from the sonar, one of them nonetheless will drop a line down the hole for a quick test to see if they can draw fish to their baits. If they don't get a bite quickly, then it's on to the next one as they hopscotch the line of holes until one of them encounters fish.
Mobility is a critical component. "Rarely do we actually set up a shelter," says Kuna. "We need to be mobile in order to find fish, and then immediately move if the bite slows down. A sled carries my drill, rods and supplies, but actual fishing is generally done when I set-up on a 7-gallon bucket to which my depthfinder is attached. This way I can keep moving from hole to hole, and even going back to a previous hole. If bad weather is moving in, then we will set up a shelter."
Sonar is still the #1 technology. In recent years, underwater cameras have captured the interest of ice fishermen. Kuna says that cameras have a role in ice fishing, but quality sonar is still the primary tool because it can provide much more detailed information. "I run a Vexilar unit, which I believe is the ultimate ice fishing sonar. It is attached to my bucket, and I can move quickly around the lake area with just the bucket containing the minimal necessary equipment. In addition to the depthfinder and well-balanced rods and reels, I have added the new Aqua-Vu  pocket-size camera which helps me identify the size of the fish I'm seeing around my bait on the sonar. This new downsized camera is a far better investment than the older large units which were a pain to carry around on the ice."
Above all, stay safe on the ice. Mike Kuna offers these safety reminders:
✓  Don't trust what you read online about current ice thickness at a particular lake – verify ice thickness upon arriving at the lake.
✓  Don't assume the ice will be uniform. Weak spots occur due to current movement, springs and even weed growth near the surface. Periodically test thickness with a test hole as you move across the lake – especially when venturing onto areas off the beaten track.
✓  Purchase and use traction devices for your boots. "The most common injury I see on the ice comes from falling due to slick ice," says Kuna. "The bottoms of boots are not designed for sure-footing on glare ice. Buy a set of 'creepers' to slip onto your boots – but not the spike type. Buy a decent pair, not cheap ones which will fall apart quickly. I use Yak Tracks which are small wire coils – great for both slick ice and snow."
***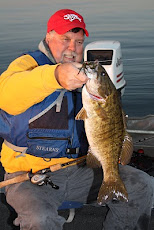 About Darl Black
A lifelong freshwater angler and veteran writer/photographer, Darl tackles a wide variety of fishing related stories for print publications and websites.  Of all fishing, angling for smallmouth bass is his favorite pastime.  He may be reached for assignment at darlblack@windstream.net.
For more articles by Darl Black, click here.
And click here for the best fillet knife out on the ice or in the kitchen.
3,012 total views, 2 views today