By Ray Dillon
Bobby Ray and the Dancing Ground Blind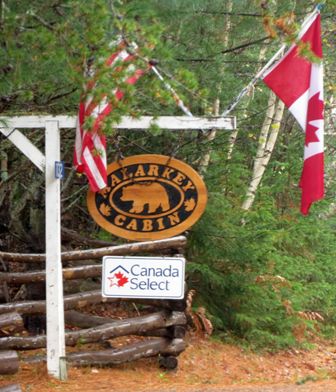 Bobby Ray was a big man, a 6′ 8″ Alabaman and handy to 500 pounds. An enormous potbelly caught dribbles of tobacco juice which leaked out from between his tobacco stained teeth – amply displayed whenever he grinned, which was all the time. His sense of humor as as big as he was and he rarely got angry. Except one time.
It was deer season and Bobby Ray had booked into Malarky Cabin to hunt the great New Brunswick whitetail. He would always arrive in camp in one of those tiny Austin Minis and it was a treat for everyone to watch him pry himself from the interior of that car. It reminded me of watching that toy kids played with that swelled to enormous proportions when water was added. But it didn't bother Bobby Ray any when all the spectators at the lodge cheered as he extricated himself from the vehicle.
One rainy windy morning in November, Bobby Ray asked me to station him in a ground blind for his hunt. I had nothing but a small pop-up blind and I had my doubts that Bobby Ray would fit inside. It was quite funny to watch Bobby Ray attempt to squeeze his huge frame in through the narrow slit of a doorway but with me bracing myself and the blind on the opposite end, he finally pushed his way through and sat down on a launcher, opening the shooting windows on the front and sides of the blind.
He had a voice that can only be described as deep and whining, and he commences to whining that the blind was very small and he didn't like the wind making the fabric slap against the frame. When I offered to have him sit in the tree stand he declined, moaning and groaning that the blind would have to do.
I cover-scented the blind and put some deer attractant scent on scent cloths near the apple bait pile, wished Bobby Ray luck and left the area, still concerned about the vicious wind and the stinging rain, but more concerned about Bobby Ray being in that tiny blind. It's not a fib to say I cared about Bobby Ray, but honesty compels me to say I cared mostly about the blind.
Later that morning I drove back to the area in heavy wind and driving rain. And as I came over the knoll, I couldn't believe my eyes. There was a big buck, standing munching apples, and watching my pop-up blind stagger around in circles with two stubby legs sticking out beneath. I started laughing as soon as I saw the situation.
Bobby Ray, adorned with the blind, was staggering toward the apple pile. I stifled my laughter as he came within 30 feet of the trophy buck. Finally, all 500 pounds of Bobby Ray crashed to the ground and the big eight-point finally overcame its puzzlement, snorted, and ran off into the woods.  But the episode wasn't over because Bobby Ray was helplessly inseparable from the ground blind.
To that day, I'd never before heard Bobby Ray say a cuss word – but the air was blue that morning. "Ray is that you?" he yelled. It took a good 20 minutes to get the pop-up frame pried away from his body, with Bobby Ray fuming and muttering and waving his rifle around while telling me how close he had been to a trophy New Brunswick whitetail. Frankly, it was hard to work any faster, doubled over with laughter. That, and I had my own safety to think about.
Bobby Ray has been back many times since, and heard the many funny stories I always tell our whitetail hunters. But when Bobby Ray is at Malarky Cabin, I never talk about the dancing blind I came upon in the deer woods. The moral of the story is "don't take your ground blind dancing in the woods of New Brunswick." Not if you're a quarter-ton mountain of a man like Bobby Ray!
***
About Ray Dillon
A licensed New Brunswick hunting guide, Ray is owner and operator of Malarkey Cabin Guiding Service where he has been guiding hunters on deer, moose, bear and partridge hunts for the past 22 years. He was President of the New Brunswick Alliance of Professional Outfitters for eight years, and is a member of the Outdoor Writers Association of America. You can contact him through his website, www.MalarkeyCabin.com.
2,076 total views, 2 views today