By Zach Rogers
A conversation with outdoor writer and
hunter Steve Sorensen
Steve Sorensen, otherwise known as "The Everyday Hunter," is an award-winning outdoor writer whose passion for hunting and the outdoors has shaped every aspect of his life. Born and raised in Warren County, Pennsylvania (where he still lives today), Sorensen fell in love with hunting at an early age, admiring the bucks his father would bring home until he got the chance to experience the hunt himself. Whether he was hunting rabbits after school or reading issues of Pennsylvania Game News, Sorensen always knew his love of hunting would take him places, although he probably never guessed he'd be able to combine it with another passion of his, writing.
Fast-forward to 2015 and Sorensen is coming off of being awarded the 2015 "Pinnacle" Award from the Professional Outdoor Media Association (POMA) for magazine writing for his article, "The Arthur Young Buck — 1830," which appeared in the December 2013 issue of Pennsylvania Game News. Sorensen sat down to talk about his life growing up in Pennsylvania, his introduction to hunting and how he got wrapped up in the world of outdoor writing.
You recently won the 2015 "Pinnacle" Award from the Professional Outdoor Media Association. How did it feel when you heard the news?
It took me completely by surprise. I was speaking at a Wild Game Dinner in Hanover, Pennsylvania when I read about it on Facebook. My friend and fellow outdoor writer Tom Claycomb, who was there when it was announced, posted it. The caliber of writers who have won the award for magazine writing in the past includes Ron Spomer and Mike Marsh (both are Havalon contributors) and Frank Miniter (one of the top writers for the NRA). I'm very flattered to be in that group, and I want to thank the POMA for all it does to promote the traditional "hook and gun" sports, and Mossy Oak for sponsoring it.
You also just won five writing awards from the Pennsylvania Outdoor Writers Association, including two first place awards. What are your thoughts on all the well-deserved praise you've received this year?
One of my first place awards from the POWA was for my book, "Growing Up With Guns." Much of the book is really about how to think about hunting. Many people don't know that hunters are the ones who have protected wildlife and put the most into conserving it for future generations. It seems counter-intuitive, but hunters with firearms have insured that wildlife thrives on this continent. Those who don't hunt but love wildlife should be thanking hunters because almost 100 percent of the investment made in wildlife comes from hunters. The North American model of wildlife conservation means wildlife belongs to us all. Sadly, it's not that way in the rest of the world. The fact that my book has received this kind of recognition helps get the message out.
How long have you been writing professionally?
My first outdoor article was published in Pennsylvania Sportsman in 2000. Not long after that I had two feature articles published in national magazines, Outdoor Life and Fur-Fish-Game. My outdoor writing became more regular in 2005 when I was invited by the local newspaper to write a regular outdoor column. That's when I joined my first professional writing organization, the POWA. It was a foot in the door and a connection to a great organization where I built a lot of relationships and became acquainted with some of the writers I had read growing up — people like Bob Clark and Shirley Grenoble.
What was it like growing up in Warren County? What kind of background did you come from?
My parents are rural, blue-collar people. Both graduated from high school, but never had the opportunity for college. I was blessed to be born into a Christian family, and that had a big impact on me. I was 6 years old when my dad brought home a nice buck, and I was hooked on hunting from that day forward. While in high school I often had a shotgun on school grounds because after school I liked to hunt rabbits on the hill above the school. At graduation I — along with a friend who ended up becoming a pro football star — received an award for "outstanding character and manly qualities." I still laugh about that. In today's world having a gun at school might kill your chance of graduating — and it won't win you an award for character!
Did you come from a family of hunters and outdoorsmen?
Yes, I think all my uncles have been hunters at some point in time. Some didn't stay with it because of the direction their lives took them, whether it was work or the military. Most of my cousins who grew up around here hunted, and some came back to hunt. The opening day of deer season was always a big holiday. Most people I knew were hunters, whether from church or school. I was introduced to hunting at age 6, but I don't want to mislead anyone into thinking I was a bloodthirsty little kid. I never actually killed a game animal until I was 15. I was just stubborn enough to stick with it.
Tell me about your column "The Everyday Hunter®," which is a three-time winner of "Best Newspaper Column" from the POWA. Where did you get the idea for it?
One of my younger brothers gave me the idea for the name. "The Everyday Hunter®"says I'm neither the expert hunter nor the celebrity hunter. I'm certainly not the best hunter around, so I try to write for other everyday hunters. But I'm pretty sure no one thinks about it more, or loves it more, than I do. That's why I have a tailpiece that usually appears on my columns. It says, "When 'The Everyday Hunter' isn't hunting, he's thinking about hunting, talking about hunting, dreaming about hunting, writing about hunting or wishing he were hunting."
It's currently in two newspapers, one in Pennsylvania and one in New York, and I'm hoping a couple of other newspapers pick it up soon. I often write about the how-to of hunting, but what underlies most of my columns is what hunting means and why we do it. It's bottom shelf hunting philosophy for other everyday hunters.
You're working on a series of books called the "The Everyday Hunter® Handbook Series." Could you tell me a little bit about that?
I got the idea for "The Everyday Hunter Handbook Series" when Smokey McNicholas of Smokey's Deer Lures asked me to write a book about using pre-orbital gland lure for scouting and hunting whitetail deer. I had written a few articles about it before, but I didn't think it would be a very big book, nor would I have much of a market for it. But I agreed to write it because it gave me the idea for a series on short topics. "Secrets of Using Pre-Orbital Gland Lure" was the first, followed by "A 30-Day Hunt for Faith." Those first two are outperforming my expectations, so I'm anxious to get more out.
You're also the author of the book "Growing Up With Guns." Tell me a little bit about the book and how the idea came about?
"Growing Up With Guns," my first book, came about because people wanted me to put my columns into book form. I didn't want a random collection of unconnected chapters, but I soon realized if I rewrote them and grouped them properly, I'd have a book about the contribution firearms make to the great conservation movement North American hunters are engaged in. It's about how to think about hunting. One friend of mine, Audrey Zimmerman (who is the best woman hunter I know) said it's "venison stew for the hunter's soul." It gets people to think about the benefits of hunting, and gives hunters the ammunition they need to be able to talk about hunting in positive terms.
You also do a lot of public speaking at various sportsmen's events. How did you get involved with that?
Back in the '80s the church I attended held a wild game banquet and invited Charles J. Alsheimer to be the speaker. Charlie might be the world's best whitetail photographer, and he puts on a terrific program. We kept in touch, and in 2007 he told me I ought to be speaking at these events. He began recommending me and now, during the "cabin fever season" of January through March, I get a lot of calls based on his recommendation, and also through my website, www.EverydayHunter.com.
Do you have any more projects lined up this year?
The main season for wild game dinners is January through March, so it has tailed off for 2015. I'm taking bookings for 2016 and have already had inquiries for 2017. I'll probably speak at a couple of sport shows this summer. I'm hoping to print "Essentials of Scent Control" soon, and write a new volume for the Handbook Series on turkey hunting. That will make four, and should give me a pretty good idea whether I should continue in that vein.
I'm also working on a book about a western hound hunter who chases bears and cougars. It's about the kind of life that has just about gone extinct. I'm also working on an annual project for Deer & Deer Hunting magazine along with some other magazine articles. And of course we'll continue to produce some solid, easily digestible stuff for our Havalon Nation readers.
---
Steve Sorensen is the author of "Growing Up With Guns" and "The Everyday Hunter Handbook Series." He writes an award-winning newspaper column called "The Everyday Hunter®" and edits content in the Havalon Post. He has published articles in top magazines across the USA, and recently won the 2015 "Pinnacle" Award for magazine writing from the Professional Outdoor Media Association and five writing awards from the Pennsylvania Outdoor Writers Association. Invite Steve to speak at your next sportsman's event, and follow him at www.EverydayHunter.com.
---
Pick up a copy of Steve's book
"Growing Up With Guns" today!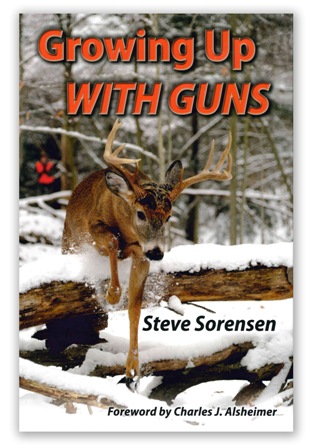 1,443 total views, 2 views today