For A Great Many Anglers, Crappie Are #1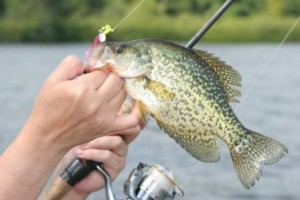 What do papermouth, speckled perch, calico and strawberry bass have in common? All are nicknames for crappie.
There are two species of crappie; the "black", sporting irregular dark spots on its sides and the "white", with faint dark vertical bars. Although some minor differences exist between the two, the same fishing tactics and lures work for both.
Crappie are found in all contiguous 48 states, with respectable populations of the fish in every region of the country. What angler does not fish for crappie at least several times each spring?
I admit to being a smallmouth bass addict, but crappie fishing holds the number two spot on my list. However, for a great many anglers, crappie are #1. My wife, Marilyn, is one of them.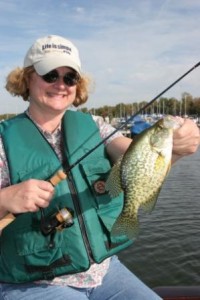 With the demands of her current job, Marilyn does not have a lot of time to fish. So when she has the opportunity to get on the water, she doesn't want to spend too much time chasing species that are reluctant to bite – for whatever reason. While she certainly desires a challenge when fishing, she also expects to be rewarded with a substantive catch. (You would never get her to go musky fishing, where deeply troubled individuals spend all day casting, with their only expected reward being a glimpse of a 'lunge following their lure!)
Crappie fill that "challenging yet enjoyable with a tangible reward" opportunity. In lakes with a self-sustaining population of crappie, these fish are abundant and always willing to bite (more so than smallmouth bass on many days). Furthermore, it takes skill to locate and catch crappie. Granted, speckled perch don't match the aerial acrobatics and lightning fast runs of some gamefish, yet a one-pound calico will give a good accounting of itself on light tackle. Hooking a true two-pounder can give you a thrill not soon forgotten.
You may choose to release your crappie as you catch them, or you may opt to keep some for a meal. Try my low-fat oven-fried Cajun crappie recipe at the end of this article, and you'll be keeping crappie on every fishing trip!
One Rod vs Many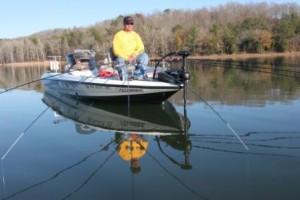 The approach to crappie fishing varies considerably depending on the region of the country. In many southern states, fishing regulations allow the use of multiple poles for crappie – as many as 16 rods in one state! In the South, anglers use slow trolling techniques with several 10 to 16 foot rods hanging over the gunwales. In some areas the strategy is referred to as spider rigging because a boat with so many rods and
lines over the sides takes on the appearance of a spider.
Slow trolling isn't the approach that Marilyn and I take….we cast.
Someone might argue that our choice is based on the fact that we grew up fishing in states where the number of rods is restricted to one or two. But the truth of the matter is we find casting and manipulating a lure during the retrieve, plus feeling the bite while holding the rod, far more enjoyable than watching half a dozen rods sitting in pole holders.
However, being a "single pole" angler does not mean owning one crappie rod. Various rods are needed for specific purposes. My arsenal consists of 5 rods: a 6'6" light power for 1/32 to 1/16-ounce lures in the shallowest water; a 6'6" medium light for 1/16 to 1/8-ounce lures for all around use; a 7' medium power for 1/8 to 5/16-ounce lures worked in deeper water; a 9' dippin' rod; and a 5' moderate parabolic rod for dock shootin'.
Springing Into Action
In Pennsylvania and other northern tier states, springtime crappie fishing begins as a lake's ice cover melts. The earliest biting fish are ones that have migrated to cover-laden shallow water, likely moving in prior to ice-out. Types of areas that crappie congregate this time of year include: backwater sloughs; shallow cuts with submerged wood; wind-protected bays with remnant beds of last season's spatterdock beds; and dead-slack pools at the mouths of tributary creeks. Minnows have entered the shallows and crappie are here to feed, not to spawn.
Ice-out crappie are not in a chasing mood. A struggling baitfish that seems unable to move off is the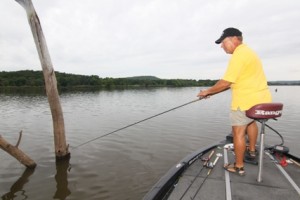 favorite target of calicos at this time. That's why a fathead minnow or emerald shiner suspended below a shallow-set bobber is so effective.
If you are not into still-fishing with live bait, try casting a small egg-shape float positioned 12 to 18 inches above a minimal action minnow-like jig. A 1/32-ounce hair jig or split-tail grub is a good choice. Cast beyond shallow cover and retrieve very, very slowly with long pauses.
There is a reason crappies have the nickname "papermouth". Jerk too forcefully when a crappie takes the jig or bait, and you will tear the hook from the delicate mouth tissue. Instead, employ firm-but-gentle sweep when setting the hook.
Within weeks after ice-out, crappie abandon the extremely shallow backwaters. These fish re-locate not far from future spawning sites, and are joined by additional crappie that did not move up for the early shallow-water feeding spree. Check out stumps, brush piles and hard bottom marl or gravel sites near mouths of bays in water depths from 5 to 14 feet, or run secondary points from shallow to deep to find staging fish.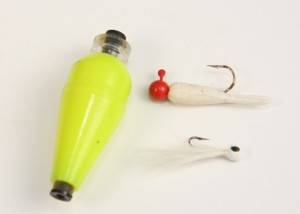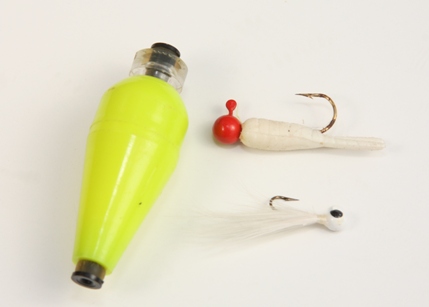 During pre-spawn, crappie are usually aggressive, falling victim to an array of action-tail jigs and swimming lures in the two to three-inch range. Typically these jig lures weigh-in around 1/16-ounce, although a slightly heavier head may be needed to maintain contact with the jig under breezy conditions or in deeper water.
Tubes and small curly-tail jigs have been the standard among crappie anglers for decades. But changing to a jig with a slightly different look or action may be the trigger for the day – especially for bigger fish. In addition to the usual suspects, I also carry 1-1/2 inch Slider Crappie Grubs, 2-inch Lake Fork Live Action Baby Shad, 2-inch Skippy Fish, 3-inch Bobby Garland Slab Slay'R bodies and 1/16-ounce Road Runner jig-spinners.
Precise depth control of your bait is critical to catching strawberry bass. Once schooled crappie
have been located on a key staging structure, the jig must be kept close to the bottom or within inches of the tops of submerged cover. Many days a steady do-nothing retrieve works best, but on other days you may need to tweak it with pauses or little lifts and drops.
Late Spring Spawn
Spawning does not begin until the water temperature in the shallows stabilizes around 60 degrees or slightly warmer, typically mid May or early June in Pennsylvania. Unlike the soft, gooey black bottom areas where crappie had their ice-out feast, saucer-like nests are built by fanning a thin layer of loose silt or loam away from a firm bottom.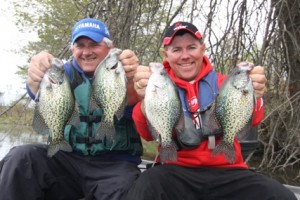 The depth at which crappie spawn depends largely on the clarity of water. In my region of the country, the bedding depth is generally between three feet and ten feet. In clear water it may be possible to see beds, but on other dingy water lakes the beds will not be visible even though constructed in quite shallow water. In addition, crappie beds are usually camouflaged among vegetation, reeds, stumps or stick-ups.
Knowing exactly what type of cover to target is vital during the spawn because fan casting an area may not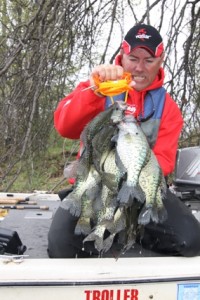 produce fish. When on beds or in the post-spawn funk, crappie revert to a non-chasing mode. The bait must be close enough to be inhaled by the crappie without making the fish move. When targeting locked-down spawning fish, I prefer to fish "quiver tail" soft plastic bodies such as a Bobby Garland Baby Shad or Yum Wooly Beavertail.
Here is where dippin' shallow cover with a long rod comes into play:
• Simply lower the bait beside cover and hold it for a few seconds
• "Swim it" by moving the rod tip and pause again
• Raise or lower the jig, and repeat
If you don't have a long dippin' rod, a shorter rod with a bobber to suspend the jigging lure will accomplish the hovering presentation.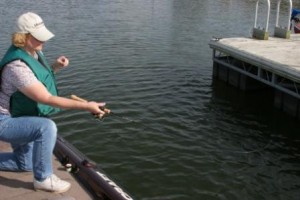 Late pre-spawn to post-spawn crappie may hang around docks. Reaching these fish requires skipping or shooting a small jig far under the dock, thus the need to keep a short, parabolic action rod handy. A solid body 2" Yum Vibra King Tube holds up to repeated skipping, and it can be fished slowly or even dead-sticked in place if needed.
Color My World Natural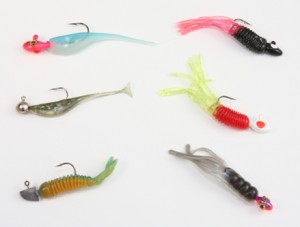 Southern crappie fishermen are into bright, bold colors in their crappie jigs. These fishermen often use tri-colored soft plastics in an attempt to find the right color to trigger strikes. Typically, bright hues are employed on the dirty water lakes being fished.
On the other hand, a good share of my crappie fishing is done on clear natural lakes or moderately clear reservoirs. I find success with more natural minnow, shiner and shad-colored baits. White, silver, watermelon and clear with sparkle are among my favorites. I'll go with a darker body and chartreuse tail when the water is cloudy or somewhat dingy – but rarely will you find a gaudy tri-colored jig body on the end of my line.
Now get out there and catch those spring crappie!
Low-Fat Oven-Fried Cajun Crappie
Ingredients
10 to 12 crappie fillets
3/4 cup Egg Beater
1 cup bread crumbs
1 tablespoon garlic powder
1/2 tablespoon black pepper
1/2 to 1 tablespoon Cajun seasoning depending on taste
Spray margarine (or 2 tablespoons melted butter)
Cooking spray
2 shallow bowls
Baking sheet or large glass baking dish
Use your Havalon Baracuta Edge to fillet crappies, including removing the skin from each fillet, rinse thoroughly in cold water and pat dry.
1. Preheat oven to 450 degrees
2. Coat the baking sheet with cooking spray
3. Combine dry ingredients (bread crumbs and seasonings) in one bowl
4. Place liquid Egg Beater in second bowl
5. Dip each fillet in Egg Beater
6. Then in the bread crumb mixture, coating each side evenly
7. Place each fillet on the baking sheet and spray lightly with margarine (or drizzle melted butter on each fillet)
Bake in oven at 450 degrees for 8 to 10 minutes or until fish flakes easily with a fork.
What are your thoughts on spring crappie fishing? Do you have a recipe you'd like to share? Let us know, we'd love to hear from you!
7,372 total views, 1 views today