By William Clunie
Here's a basic primer to help you eliminate
deer-killing coyotes!
The deep bellow from the hounds echoed through the woods and bounced off the huge cedar trees in the frozen swamp. Wailing hounds, hot on the trail of a coyote in the north woods, gets amplified in the silence of a snow-filled forest. I love the sound.
When the coyote made a dash out of the thick brush, I let a load of three-inch, number four buckshot go from my 12 gauge Remington 11-87. The coyote flinched and kept running, so I fired the shotgun again and watched the big male continue his sprint. One more "insurance" round as he crossed an opening at forty yards finished him, but he went another thirty yards before piling up.
Some hunters have become proficient at calling, baiting or trapping coyotes, while others use long-legged hounds to chase the wily predator in the snow. Using hounds might sound easy if you don't fully appreciate the process, but it's rewarding. To shorten your learning curve, I'll give you the basic facts.
1. Know why coyotes need to be hunted
Maine biologists have labeled predatory coyotes as one of the biggest reasons the deer population has been dropping off over the last ten or so years. Hunters in this region have recently been banding together to help solve the deer predation problem by taking some of these coyotes out of the equation.
2. Count the cost of hounding
Here in the Western Mountains of Maine our hound hunters chase coyotes with passion and determination, but we still come up empty-handed occasionally. Using hounds never guarantees success.
Coyote hunters don't use just one dog either, so hunting coyotes with hounds becomes an expensive operation. Call it a lifestyle. Maintaining a pack of hounds for hunting is a costly task involving vet bills, food, hunting equipment and the cost of building kennel facilities. A pack of hounds is a major investment.
3. Team together to maintain a pack of hounds
When I first considered coyote hunting with hounds, I knew a pack of dogs wasn't in the cards for me, so I connected with a friend of mine who has hounds and worked out a plan to help him with his coyote-hunting operation. It's mutually satisfying, and reduces the cost born by a single individual.
4. Find creative ways to form a hunting team
I formed a coyote-hunting club on Facebook called Coyote Hunters of Maine. It's an open group with no charge for admission. New members can come and hunt with the group free-of-charge. Most of them soon realize that donating time, food or money to the cause helps out tremendously.
The Facebook site also works perfectly for keeping members informed of needs individuals in the group might have, like the time my snowmobile track needed to be replaced. Once the message got posted on the site, several members went to work and located a used track in decent shape. The process only took a few days and helped me avoid paying hundreds of dollars for a new track.
5. Make equipment investments beyond dogs
The first piece of equipment a hunter needs to be part of the coyote-hunting group is a hand-held radio, essential for staying connected during a hunt that can range up to twenty miles or more during the course of a day.
Snowmobiles transport hunters and dogs from one location to the next during the hunt. Once the dogs take off on a track, hunters jump on their snowmobiles and head for individual locations in the woods to cut off the path of the running coyote.
Hand-held GPS tracking units, like the Garmin Astro (www.garmin.com), follow the path of the collared hounds so hunters can get ahead of the running coyote. Over the years, our group noticed that a running coyote almost always crosses snowmobile trails at the same spot other coyotes have in the past, so our hunters take up positions at these known locations and wait.
When a coyote tires it often stops and turns to fight, called "baying-up," and the hunters must get to the hounds quickly to avoid a confrontation that may injure dogs. Most hunters carry a good pair of snowshoes for foot travel in deep snow conditions.
6. Start with a basic strategy
To give the dogs a central area to start, the group places bait in several locations throughout the region. The Facebook page comes in handy here by informing members and visitors alike about the need for bait. This social media site keeps our members connected and informed of road-kill sites and places to pick up butcher shop scraps. Both are perfect for coyote bait.
Pulling together as a group not only helps us be more effective at taking coyotes with hounds, but it's also a means of connecting with other hunters who have a similar love of hound hunting. Even on days that don't end with a dead coyote, our hunters take pleasure in time spent in the woods together, and post the story and photos to the Facebook site for all to enjoy.
You still have time to get out and hunt coyotes as the northern winter comes to an end, and plenty of time to use these tips to put your coyote hunting plan together for next year.
---
About William Clunie: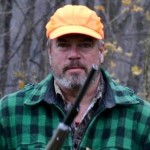 William Clunie is a registered Maine master guide, outdoor writer and nature photographer, blessed to be "living the dream" in the rugged mountains of Western Maine. He can be reached at: william.clunie@gmail.com.
---
Take a look at some of the best
hunting and skinning knives out there,
including the new Piranta Stags!
Click here:
7,351 total views, 6 views today