By Mike Bleech
How to make that hole through the ice easy!
In the early 1970s we had a miserably cold winter. Ice built to a thickness of more than 30 inches on local lakes, and I had what was then the latest technology in ice drilling equipment – a "spoon" type auger. Oh, how great it was with 6 inches of ice. With 30-plus inches, not so good.
More Pain Than Gain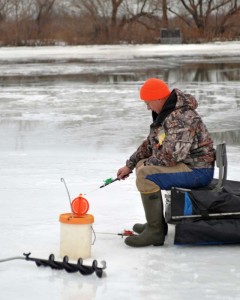 I got a few holes through the ice, but it was far from easy despite the fact that my shoulders and back were pretty strong. Not long after that, the current styles of hand powered, drill-type augers became readily available – a big improvement, but getting through thick ice was still a lot of work. When ice fishing for panfish, a 5-inch auger is adequate, and much easier to use than a 7-inch auger. In either case, with each passing winter my shoulders and back began to show their age.
Then, before the latest turn of century, a gas-powered auger became a necessity. But guess what! Even this takes a toll on an aging body.
It's All about the Edge
With the technological advancement of ice augers, one thing remained true. Keeping a good edge on the auger blades is necessary to take full advantage of these ice fishing tools. Same for a spud bar.
Unless you're going to spend extra money on extra blades, or having someone sharpen your bladed, you need to learn how get the right edge on your auger blades. Knowing how will keep you from ruining more blades than you actually sharpen.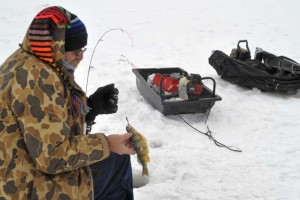 The right tools are important, and today sharpeners with positive angle guides are common. These feature sharpening stones set in plastic holders which are attached to metal rods. The edge to be sharpened is set in a clamp with slots to hold the metal rod at the correct angle. Each kit has three, maybe more, grades of sharpening stones. With the very hard blades on ice augers, diamond stones may be best, but they must be purchased separately.
Seven Tips
With the right tools in your ice fishing gear chest, here are seven tips for getting an edge that will breeze through the thickest ice.
Remove the blades from the ice auger, and be very careful not to lose any shims. You'll probably need them when you reattach the blades.
Study the blades before doing anything. Note that only one side should be sharpened. Then select the correct angle for your blade. This requires very careful, close-up examination with good light. A little trial and error may help.
Avoid any temptation to "improve" the angle to make it sharper. The angle selected by the auger manufacturer was chosen for good reason. A hard working blade like an ice auger would chip and bend over quickly if it had a blade shaped more like a knife.
Unless a blade is terribly worn, in which case it might be best to replace it, do not use a coarse grit sharpening stone. Start with a medium grit, then finish with a fine grit stone.
Do not over-sharpen. Once too much metal is removed an ice auger blade is worthless. Also, try to sharpen both blades of a two-blade ice auger the same, removing about the same amounts of metal. Blades should be in balance, though this is seldom a problem.
After sharpening one side of the blade, the side which has the bevel, remove rollover from the opposite side. But do this without creating any bevel on this side of the blade.
Often when ice fishers think they need new blades, the real problem is that all is needed is a shim, or two, to set the auger at the best angle for cutting ice. Ice fishers should carry the correct tool for removing blades and spare shims. Blades must be tested on ice to determine whether the angle is correct.
It is unlikely that blades need to be adjusted during the course of one ice fishing season. The exception is if a shim slips, or if a bolt works loose.
What You've Heard about Reopening Old Holes
Some experienced ice fishers insist that an auger, either gas-powered or hand-powered, should never be used to reopen old holes because it ruins blades. I doubt that anyone has actually scientifically tested this supposition. But even if reopening old holes does not dull blades, this process is hard on the shoulders because cutting tends to be jolting.
Carry an ice spud if you want to reopen old holes. At some very popular ice fishing hot spots, some anglers need only carry ice spuds.
If the process of sharpening ice auger blades is not for you, at least keep a pair of spare blades handy. Every reader in this space should well understand the importance of sharp edges.
---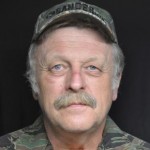 Mike Bleech has been a full-time freelance writer/photographer since 1980 with more than 5,000 articles published in more than 100 publications. He is the outdoor columnist for the Erie Times-News and the Warren Times Observer. Over the years he has become an accomplished trout fisherman and an expert at hunting the Allegheny National Forest and other public lands.
---

2,007 total views, 3 views today