By John Jameson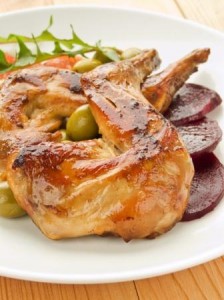 While you may hear many people say rabbit tastes like chicken, the meat is slightly sweeter, and is one of the healthiest, leanest meats you can eat. It's also environmentally friendly, especially if you hunt or even raise and butcher your own. Rabbit is a sustainable meat that isn't grown on farms or produced in factories. What rabbit does have in common with chicken is that it is easy to cook and can be substituted into any delicious chicken recipe. Here are three great recipes for cooking rabbits.
Prepare the Rabbit
Before you are ready to follow any great recipes for cooking rabbits, you have to prepare the meat. It's a good idea to wear disposable gloves to avoid contracting diseases that rabbits sometimes have (don't worry, cooking the rabbit will kill the bacteria) and use a sharp knife. Remove the guts and skin, then remove the feet and head. Cut the forelegs from the body at the shoulder and cut the hind legs from the body at the hip. Finally, separate the rib section from the loin, and your rabbit is ready.
French Rabbit Stew
This is an age-old stew and one of the many great recipes for cooking rabbits that people have enjoyed for centuries. It is a delicious autumn and winter stew (although great for summer months as well) that pairs well with a glass of red wine. Here are the steps:
• Quarter the prepared rabbit
• Fry three slices of bacon in a frying pan
• Saute onion and garlic in the bacon grease
• Drain most of the grease, but leave a small remainder of drippings as well as the onion and garlic
• Pour this mixture into a large saucepan
• Cook rabbit, mushrooms and chopped carrots in grease in saucepan, saute over medium heat until meat is golden brown
• Add 3 teaspoons flour and stir to make gravy-like substance
• Add beef broth, red wine, thyme, parsley and bay leaves
• Simmer on low for an hour
• Add salt and pepper to taste
• Serve over mashed potatoes or noodles
Rabbit Casserole
While this is a favorite recipe for chicken, it's also one of the great recipes for cooking rabbits. It's an ideal family dish that most children love. Best of all, it's easy and fast:
• Preheat oven to 350
• Grease a 9 x 13 inch pan with oil or butter
• Line bottom of dish with fresh whole-leaf baby spinach
• Sprinkle salt, pepper and your favorite cajun seasonings
• Pour 1/4 cup chicken broth over top of spinach
• Place rabbit over spinach, sprinkle with salt, pepper and seasoning
• Cover with diced tomato, mushrooms and green onion
• Sprinkle cheese and/or breadcrumbs on top if desired
• Cover with foil
• Bake for 20 minutes covered, 15 minutes uncovered
Beer-Braised Crock Pot Rabbit
This is a true hunter's delight and tastes delicious after a day in the great outdoors. While it does take a little more time, this is one of the great recipes for cooking rabbits that everyone should know by heart. This is also great in a Dutch oven; simply follow the recipe then place the oven on preheated coals that you've placed in a dug-out hole. Cover with coals and cook.
• Put 3 peeled potatoes and carrots, 1 onion, 1 cup of mushrooms, 1 cup uncooked rice in a crock pot
• Leave out the rice if you don't like the mushier consistency
• Season rabbit with salt and pepper, then brown in oil
• Put rabbit in crock pot on top of vegetables
• Combine 1 cup beer, 1/4 cup chili sauce, 2 tablespoons brown sugar and 1 garlic clove, pour over meat
• Cook on high for 3 1/2 hours, then check
• Serve with thick sliced bread and a glass of cold beer
What's your favorite recipe for rabbit?
Be sure to let us know!
22,711 total views, 1 views today