By Tracy L. Schmidt
Not only is rabbit meat tasty —
it's a nutritional goldmine!
My family and I are certified venison fanatics, but truth be told we are equal-opportunity wild game meat eaters. We live ready, meaning we'll gladly freeze, can, pickle and dry just about any critter we can get our hands on. It's fun, clean living, and we wouldn't have it any other way. Deer might be our preoccupation, but small game like rabbits and squirrels are celebrated as winter treats. I will admit it took me a while to acquire the taste and learn how to cook these critters.
When prepared properly, rabbit meat is not only tasty — it's a nutritional gold mine. In fact, rabbit meat is one of the healthiest wild game proteins you can find. It is extremely low in fat, and high in protein, vitamin B-12 and selenium. One 3-ounce serving of rabbit meat contains 25 grams of protein, more than 100 percent of the daily recommended allowance of vitamin B-12 and nearly 50 percent of our daily selenium requirement. (Selenium is a natural antioxidant that helps prevent hardening of the arteries.)
How to Skin and Cut Up a Rabbit
Rabbits are among the easiest animals to process. Field dressing is best done while the animal is still warm; this makes taking the hide off as simple as removing a sweater.
The best knife for field dressing small game is one that's sharp. When cutting up your rabbit, you should also have either a bone blade or shears.
Hang the rabbit up by its back legs and trim the hide away from the leg bone. Make a Y-shaped incision toward the pelvis, and repeat the same cut on the opposite side of the legs. Pull the hide as you go. Once you start, you'll get the idea. It comes off very easily.
Eviscerate the rabbit while it's still hanging. Remove all innards, vital organs, blood, body fat and stomach skin. The more time you take here, the less time you'll have to spend trimming the meat on your butcher block. Next, use a bone blade to remove the head and feet. You can then split the pelvis and remove the offal remnants.
After field dressing, it's important to thoroughly wash the rabbit meat with clean, cold water. Make sure to clean your sink and prep area too. Sanitize these areas, as well as your cutting boards and other equipment, with a diluted bleach solution containing 1 teaspoon of bleach to 1 quart of water. This is will prevent harmful bacteria from entering your cooking area and avoid cross-contamination.
Should I Soak Rabbit Meat in Brine?
After washing the meat, pat the meat dry with paper towels or soak the rabbit for 30 minutes in salt brine. We prefer to soak all of our rabbits, squirrels and ruffed grouse in salt brine overnight. It is believed the gamey taste in some wild animals has to do with the fact that they build up urea in their bloodstream when they don't drink much water. This is especially true for rabbits and squirrels — they acquire most of their bodily fluids from the foods they eat. Soaking the meat in saltwater helps with the appearance of bloodshot meat.
We use 3 tablespoons of salt per gallon of water. In the winter, we place the brine bucket on our covered front porch. During warm weather we place the bucket in the refrigerator and cover it with plastic wrap. Since moisture causes bacterial growth, we pat our meat dry before putting it in the refrigerator.
Spanish Rabbit and Garbanzo Bean Bake:
16 oz. can of Garbanzo Beans
6 cups water
1 rabbit, cut into serving pieces
Salt
Pepper
1/4 cup extra-virgin olive oil
1 cup chopped yellow onions
1 teaspoon chopped garlic
1 small bay leaf
3 chorizos sausages, cooked and sliced into 1/4″ rounds
1 cup uncooked long-grain rice
4 eggs, lightly beaten
Place the Garbanzo beans and water into a small Dutch oven. Bring to a boil and simmer, covered, for 30 minutes. Meanwhile, salt and pepper the rabbit and place the pieces in a 10- to 12-inch skillet and brown them. I like to use a cast iron to get a great color. When the beans have simmered for 30 minutes, add the rabbit, onions, garlic and bay leaf. Cover and simmer for 60 minutes. Add the sausages and rice to the rabbit. If you want to remove the rabbit meat from the bones, now is the time to do so. Place back into the pan and simmer with the cover on for an additional 30 minutes or until most of the liquid has cooked off and the rabbit is tender.
Preheat the oven to 350 degrees. Take the beaten eggs and pour them over the top of the casserole without stirring. Bake in the oven for 10 minutes until the eggs are firm and lightly browned.
---
About Tracy L. Schmidt: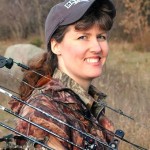 Tracy L. Schmidt is a certified master food preservation specialist and the author of the book "Venison Wisdom." She is married to Daniel Schmidt, editor in chief of Deer & Deer Hunting Magazine and host of "Deer & Deer Hunting TV" on NBC Sports. Tracy enjoys the versatility afforded by Havalon Knives in both the kitchen and in the field.
---
Speaking of versatility, check out the
new Havalon Piranta Stags in
green and desert digital camo!
Click here: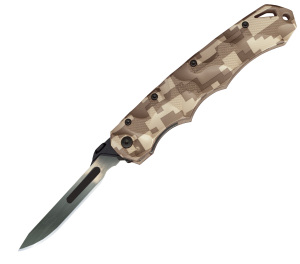 3,039 total views, 4 views today