By Steve Sorensen
No beagle? No problem! Rabbit hunting
can still be fun!
Back in the "olden" days, I cut my predatory teeth on small game — mostly rabbits, the most widely distributed small game in America. As an early teenager I tramped through the thick stuff and stomped on brushpiles, hoping to kick out br'er rabbit and get a shot.
Those really were the "olden" days, because back then society didn't have the same fear about kids with guns that society has today. In fact, after school I often walked across the football team's practice field carrying my shotgun. The coach always waved as I headed for the perfect rabbit habitat — the cross-country team's track, which snaked through the brushy woods on the hill above the school. The next day the coach would hold me accountable by asking, "How many did you get?"
In those days a kid could frequently have a gun on school property, and when graduation day rolled around they'd be recognized with an award for character. Try that today and you'll be expelled, you won't graduate and you might end up living under a bridge somewhere. So don't end up living under a bridge — just find another place to hunt rabbits!
I had a rural upbringing, which included a beagle. A dog does the hard work — penetrating the brush — and the work you can't do, like smelling the rabbit. Mitzy was good — slow good — so the rabbits she chased would stay a comfortable distance ahead. Sometimes Mitzy was so far behind that by the time she showed up I had already finished the field dressing.
Today, when many hunters live in urban areas, dogs are expensive and difficult to keep. Puddy tats are more popular, but more tuned in to catching Tweety birds than chasing rabbits by scent. However, you can still pursue Peter Cottontail even without a dog. Here's how to succeed:
1. Know their cover — Rabbits live almost everywhere, but you need to know where they're most easily accessible. Your inventory of rabbit habitat should include edges of cultivated agricultural fields, old brushy farm fields with plenty of openings and those spots farmers can't cultivate because they're too rocky, too wet or otherwise unfriendly to farm equipment. Notice especially islands of brush within farm fields — they're virtually guaranteed to harbor a rabbit or two.
2. Look for rabbit sign — In some respects, rabbit sign is like deer sign. They excrete pellets similar to the dry, roundish pellets deer leave. Although rabbits don't use antlers to rub bark off trees, they do chew the bark off small trees. So take a closer look at that buck rub — it might be the work of a rabbit. Like deer, they don't mind the rain, but unlike deer they avoid mud, so you won't find many rabbit tracks except in snow. Find rabbit sign and you'll find rabbits.
3. Get out early in the season — I always marvel at people who comment on the abundance of bunnies all summer, and then wonder where they've gone in the fall. Many have been eaten by coyotes, foxes and winged predators that enjoy open season year 'round. So the earlier in the season you get out, the better.
4. Don't overlook the late season — Winter snows will deliver a couple of advantages. Rabbits will concentrate around food sources, and you'll see tracks in the snow. It's not hard to know which brush piles to stomp. You can follow rabbits in the snow even though you can't smell them.
5. Team up — You don't have to live in the dog house to be the dog. Have one person follow the trail while the other keeps himself positioned for a shot. Two shooters also means a bouncing rabbit may avoid one, but not the other.
6. Go solo — A one-man hunt can be a lot of fun. Rabbits are nervous and often hold tight, hoping you don't see them. Look for that perfect circle of an eye — sometimes it's the easiest thing to spot. Use their paranoia to your advantage by taking a few steps, then stopping for 20 seconds or more as you look. They'll be convinced you've seen them so be ready to shoot when they make a mad dash for alternate cover.
Over the years, I've shot cottontail rabbits with air guns, shotguns and .22 rimfire rifles. They all work. Since you don't need specialized guns or gear, rabbits are one of the least expensive game animals you can chase. Same goes for jackrabbits (a major nuisance in some places) and wintertime snowshoe hares. So put on a pair of boots, some brush-resistant pants and some fluorescent orange and get going. Not having a dog is no excuse.
---
About Steve Sorensen: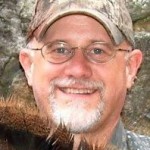 Steve Sorensen is the author of "Growing Up With Guns" and "The Everyday Hunter Handbook Series." He also writes an award-winning newspaper column called "The Everyday Hunter"® and edits content for the Havalon Post. He has published articles in Deer & Deer Hunting, Outdoor Life and many other top magazines across the USA. Invite Steve to speak at your next event, and follow him at www.EverydayHunter.com.
---
It's never too late to get a head start
on spring gobblers!
Download your FREE copy of …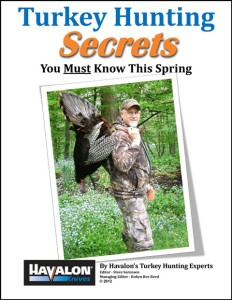 3,957 total views, 14 views today