by Gene Wensel
If you've been reading outdoor magazines for as long as I have, you probably know who Gene and Barry Wensel are. These guys are two great deer hunters, but lots of people don't know they're big on pigs, too. Gene has agreed to tell us how they make the most of every trip south to hunt feral hogs. – Steve Sorensen
The disease that plagues many hunters between the end of deer season and spring turkey or bear is winter cabin fever. For many decades now, my brother and I have cured our cabin fever with annual pilgrimages south to hunt feral hogs with friends.
Hunting wild pigs is becoming more popular every year. Not only are licenses inexpensive, but hogs are a very challenging quarry. They're smart, tough, elusive, and dangerous enough to ratchet up some excitement. And dead ones taste great.
Unlike the similar but smaller javelina, which all essentially look alike, wild hogs come in all sizes and colors. Unchecked populations multiply quickly, and regions infested with them suffer damage to crops, habitat, and game bird eggs, and aggressive rooting causes tremendous soil disturbance which can dramatically change the landscape.
I hope I've convinced you that hogs need killing. So, how do you go about planning
a wild hog hunt?
Locating Land with Pig Problems
Feral hogs are wide-spread but concentrated in the south, from Georgia and Florida through Texas. In many states, wild hogs are considered pests and are not listed as game animals. They're often in direct conflict with the most popular game species – whitetail deer, turkeys, and quail – threatening their habitat and reproduction.
When looking for good places to hunt, target known deer leases or farmers trying to grow crops. In places like Texas, where private land is often leased for deer hunting and deer feeders are used, feral hogs not only aggressively run whitetails off feeders, they also eat tons of expensive deer feed. We hunt several leases where members don't shoot hogs during deer season under the presumption killing pigs will disrupt their chances for a big whitetail buck.
That makes off-season pig hunters welcome.
A great way to find a place to hunt is to run inexpensive classified ads in rural weekly farming/ranching community newspapers a month or two before you plan to hunt. You might try to sell yourself as a "pig extermination service," but be prepared to pay reasonable trespass fees because America's farming economy is under stress these days.
Getting to know locals is a great way to get your foot in the door among landowners who have hog problems. During any pig hunt, whenever you go to town for gas or groceries, make local residents aware that you're there to hunt pigs. We've picked up several new opportunities by simply telling people what we're doing. Whenever you gain access, make landowners happy and they'll often invite you to return annually. So, keep in touch.
I'm always fascinated that many Texas ranchers will hire professional hog trappers or even pay top dollar helicopter teams to aerial shoot wild hogs, when it's a whole lot cheaper to trust responsible hunters looking for recreational opportunities. If you're honest, reliable, and respect the land, it's all pros with no cons for the landowner.
When To Go
Anytime is good, but right after deer season is the best time to strike. Southern winters often bring competition for food sources – you can capitalize on that. If you wait until things green up, hogs often utilize green grass and become harder to attract. Texas is one of the few places on earth where the word "corn" is a verb!
Where To Stay
Ranchers sometimes offer ranch cabins, or will recommend nice places to erect tents. If you prefer small town motels, always ask about less expensive weekly rates. You might need four-wheel drive vehicles to get into the ranch, as southern soils are conducive to mud. The good news is that sunny days quickly dry up access roads.
Tips
Undisturbed hogs move quite a bit during daylight hours, although just before dark is always prime time. Wild pigs are very smart. As soon as they realize they're being hunted, they become even more nocturnal. Night hunting over baited sites with some sort of light is also popular where legal.
Stalking bedded hogs is also a productive technique, especially along drainages or in heavy bedding cover.
Take trail cameras. They can tell you when and how many pigs are coming to a food source – natural, or ones you provide – or water source. We concentrate our efforts near drainages or other water sources.
Final Thoughts
Pigs are tough animals, and mature boars develop heavy cartilage "shields" over their vitals from fighting. Most hunters prefer a gun or bow suitable for deer – with proper shot placement they work well on most wild hogs.
Pigs might not have the best eyesight, although I personally think they can see better than most hunters give them credit for. Their hearing is superb but their noses are by far their best defense. Always play the wind and try not to let them know they are being hunted by driving around too much.
Off season feral hog hunting opportunities are not only exciting, but are lots of fun. Plus, for a guy from Iowa, it sure beats shoveling late-winter snow!
***
About Gene Wensel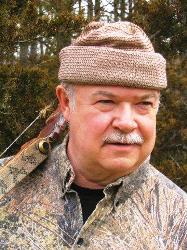 Gene is a widely known and universally respected hunter who is dedicated to traditional archery equipment. He specializes in whitetail deer but he'll shoot anything, from Iowa to Africa. He has written for just about every bowhunting and whitetail periodical. Gene, his brother Barry, and their buddy Mike Mitten, are known as "Brothers of the Bow." Their website is www.brothersofthebow.com.

For the best wild pig skinning knives, click here.
3,369 total views, 1 views today