By Darl Black
4 Trout Lures That Do It All!
The spring trout opener is a rite of passage for anglers, signaling an end to winter and the start of a new fishing season. In Pennsylvania the first day of trout season is probably only second to the opening day of deer season in terms of participation numbers. It's pretty much the same in every state with a trout program – if the state fisheries agency stocks a stream, fishermen will come.
Anglers generally face less than perfect stream conditions in the early season. Spring rains generate strong flows and roiled water. Fly fishing is a hit-and-miss proposition in the early season with hatches disrupted by high, cold water.
Many fishermen believe they must rely on live bait options such as red worms, nightcrawlers and minnows, or jars of cured salmon eggs. Or even flavored paste bait – but paste bait is messy and live bait troublesome to carry. Another negative – the ongoing costs associated with continually buying a fresh supply.
Artificial Lures Are Often Overlooked
On the other hand, consider artificial lures. Don't believe the old wives tales about stocked trout not hitting artificial bait unless they look like the pellet feed used in hatcheries. I've never caught a fish on a "pellet" but I have caught a lot of stocked trout on lures – in both high and low water situations.
Lures can be easily carried in a small utility case stored in your vehicle along with a rod, providing an individual the opportunity to dabble in a trout stream on the way home from work or whenever he has a few spare minutes. Compared to a couple dozen nightcrawlers, you can always have artificial baits and they'll last indefinitely.
The iconic image of a trout rising for a hatching insect is certainly true. All species of trout feed on aquatic and terrestrial insects – but they also eat small fish. The small fish in trout streams include minnows, emerald shiners, dace and sculpin.
Lure choices should be representative of forage size available in typical trout streams, which translates to 2″ to 3″ slender minnow-like prey. If fishing larger waters (i.e. small rivers), you will want to include slightly larger profile baits.
Don't Leave Home Without These Trout Lures
Straight Shaft-Spinners: Spinners are classic stream trout lures. Most anglers carry silver or gold blade spinners in size #00, #0 and #1. For really dingy water, I always have a larger, bold-colored one. On the other hand, be ready for an exceptionally clear water stream. In that case I suggest breaking out a dark blade, like the Mepps Black Fury, because too much flash can spook trout. To reduce line twist, be sure to attach a spinner to the line with a small ball-bearing swivel or beaded chain swivel. Spinners generally produce best in faster moving water such as ripple areas. Cast a spinner perpendicular to the flow and retrieve slowly but steadily as the current sweeps it downstream.
Wobbling Spoons

: Here is a lure not routinely found in a trout angler's pack: the small wobbling spoon. I'm referring to models about 1″ to 1½" long weighing 1/8 to 3/16-ounce. As minnow imitators, small spoons have a place in trout streams – that place is the deeper, stronger runs. The revolving blades of spinners tend to lift the bait; unless additional weight is added, spinners may not reach the bottom in deep, moving-water holes. But a compact wobbling spoon will get down and stay down – even when the stream is running high. Fish spoons with a slow rolling retrieve.

Long Minnow Plugs: Nothing says minnow like a 2″ to 4″ long minnow plug. In my experience, minnow plugs catch bigger trout. It's a good idea to have all three types: floating, suspending and sinking models. The floating model can be slowly retrieved through extremely shallow water, while a sinking model can be slowly retrieved in deeper pools. However, I find a suspending model to be the most useful. With a suspending model, the retrieval can be stopped periodically and the plug will simply hang in the water just like a real minnow. You can also utilize a jerk-pause injured minnow presentation, often energizing a trout into striking. Suspending models are available, or turn a floating model into a suspending model by using weighted adhesive Storm SuspenDots to fine-tune your suspending lure quickly and easily.
Hair/Feather Jigs: Normally, hand-tied hair/feather jigs are associated with crappie or larger gamefish rather than trout – unless, of course you are a steelhead angler. I admit it was exposure to steelhead fishing that got me thinking about small hair jigs for stocked trout. Once wet, marabou plume or rabbit fur compresses into a streamline lure with perfect minnow movements when fished with a slow swimming retrieve.  A 1/16-ounce jig can be easily fished on ultra-light rod, while lighter weight ones may be fished with a float as steelhead anglers do.
Having these four basic lures, with color and size variations, means you'll be prepared for just about anything on the trout opener, or any day.
***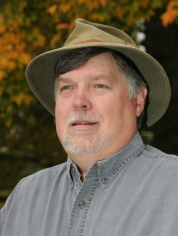 About Darl Black
A lifelong freshwater angler and veteran writer and photographer, Darl tackles a wide variety of fishing related stories for print publications and websites. Of all fishing, angling for smallmouth bass is his favorite pastime. He may be reached for assignment at darlblack@windstream.net.
For more fishing articles by Darl Black, click here.
Read what other fisherman and hunters have to say
about their Havalon knives….
6,476 total views, 1 views today