By Darl Black
The simple secrets of catching bass
in water 10 feet deep or less!
Summertime and bass fishing is easy — or so we like to imagine!
In part, it may seem that fishing is easy because once the spawn is over and water temps climb into the 70s, bass spread out to various cover and various depths. On any given day, you may find some bass shallow, some deep and some suspended in between.
Bass that are relatively shallow will always be easier to catch than bass which are holding tight to deep structure or suspended in the water column. So if you're an angler who just wants to have fun, concentrate your efforts in water 10 feet or less.
Shallow water is comprised of a cornucopia of different cover elements, including weeds, wood, rocky gravel bars, riprap and docks. So, I've carefully selected seven lucky lures for summer bass that will help you navigate the shallow water maze.
These baits aren't lucky in any mystical sense, but they are:
1. Extremely effective. They work for all summer bass, both largemouth and smallmouth.
2. Almost foolproof. Presentation is straightforward — no complicated rod gyrations or difficult-to-master retrieves.
All seven baits can be fished on spinning tackle by anglers who have not mastered the free-spool casting reel. In order to be successful with all seven, you should have a spinning outfit to match up properly with each lure. You'll need at least two different ones: first, a medium power, moderately fast tip rod with two line spools — one spool of 10 pound test copolymer (monofilament) and one spool of 8-pound fluorocarbon. The second rod should be medium-heavy power fast tip and 15-pound braid. With that, you're ready for my "lucky seven summer baits" for shallow water situations.
1. Topwater Prop Bait: Fishermen are enthralled when bass bust surface baits. But topwater baits such as dog-walking baits and chuggers require special rod manipulations to ensure the lure works properly. On the other hand, the prop (short for propeller) bait is simple to work, yet very effective for bass cruising the shallows or chasing baitfish schools near the surface in open water. With a prop bait you can employ a steady retrieve or a sweep-pause. My favorite is the Cordell Crazy Shad. It fishes well on spinning gear with 10-pound test copolymer line (monofilament). Do not use sinking fluorocarbon.
2. Frog: When faced with floating pad-style vegetation or matted surface weeds, call on a hollow belly frog! A slow steady retrieve glides the frog lure across the surface of the thick stuff, creating a slight disturbance ripple — a dinner bell for bass living below the mat. Several lure manufacturers offer frogs; most feature heavy duty hooks which require super-stiff casting tackle. However, Booyah offers the Pad Crasher Jr., which is the perfect size for spinning tackle. But even this junior frog should be fished on braided line on a medium-heavy power spinning rod.
3. Square Bill Crankbait: A square-bill crankbait is a bit like a bulldozer — bumping, banging, grinding and weaving its way through shallow water areas where weed growth is minimal. Whether the predator believes this bait is a bluegill, shad or crayfish, it doesn't matter. The square bill gets the job done by triggering strikes from active and inactive bass. For spinning gear, use one of the smaller model square bills on 10-pound test copolymer line.
4. Hinged Jig: Some anglers may wonder about this term. A "hinged jig" (or pivoting swing head) is a foot-shaped leadhead with an attached free-swinging worm hook. Since the hook is not molded into the head, the soft plastic bait on the worm hook has a wide range of motion. What a square bill crank does free-swimming in skinny water, dragging a hinged jig with soft plastic creature attached will do in slightly deeper water on gravel points and along hard bottom edges outside a deep weedline. Gene Larew's Biffle Hardhead was the first successful hinged jig. While the Hardhead is great on casting tackle, the extra stout hook does not perform well with spinning tackle. For a hinged-jig with a lighter wire hook, check out the Bombshell "Jiggy" Hook. Use a medium-heavy spinning rod with braided line, add a soft plastic creature of your choice to the hook and then retrieve steadily while maintaining bottom contact.
5. Soft Jerkbait: This is one of the most versatile baits of all times. Nose-hook a soft jerkbait on a #2 drop-shot hook or rig it Tex-posed on a 3/0 wide gap worm hook. You won't find a wrong way to fish one — dart it with erratic rod snaps followed by a pause, sashay it across the surface or drift it with only an occasional twitch. The Lunker City Slug Go was the original, but today every soft plastic manufacturer has one of these in its line. Works best with braided line on the medium-heavy spinning rod.
6. Wacky Stick Worm: Wacky rigging simply means positioning the hook (small wide gap worm hook, drop shot hook or specialty wacky hook) in the center of a four- or five-inch soft plastic worm so both ends wiggle enticingly as it falls through the water column. I prefer a four- or five-inch Yum Dinger stick worm. For summer fishing, a wacky worm is primarily a drop-bait for targets such as dock posts, boat mooring buoys, submerged stumps, deep edge of weedlines, bridge pillars, etc. Works great when bass are in neutral feeding mood. A small bit of weight (1/32 to 3/32) in the form of split shot, pegged worm sinker, insert weight or specialty jighead should be used to actuate the butterfly action of the bait — especially when fishing in water deeper than three or four feet. Fished best on medium power rod with fluorocarbon line. Simply cast, let drop and wait for a hit.
7. Drop-Shot Rig: When bass have lockjaw, it's time to turn to the drop-shot technique. More so than any other lure presentation, drop-shotting teases reluctant bass into striking by repeatedly dancing the bait in front of the fish. Tie a #2 drop shot hook to the line with a Palomar knot, leaving a 15- to 20-inch tag dangling below the knot. To the tag line, clip on a drop-shot 1/4-ounce weight for up to 10 feet of water. Next, nose-hook a four-inch drop-shot bait such as Jackall Cross-Tail Shad or Lunker City Ribster. Make a relatively short cast, let the sinker find bottom and take up slack line. Make sure the sinker continually makes bottom contact, slowly drag the rig along until the sinker encounters resistance from an object on the bottom. Stop the forward retrieve and start shaking the rod tip lightly. Next lower the rod tip slightly so the soft plastic bait drifts toward the bottom. Then shake the tip again as you take up slack and continue dragging until another bottom obstacle is encountered. Then repeat. It's a slow, methodical process, but if bass are turned off, drop-shotting may be the best approach to draw a bite.
Go fish!
---
About Darl Black: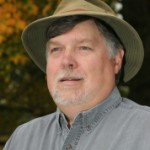 Darl Black is a lifelong freshwater angler and veteran writer/photographer. Darl tackles a wide variety of fishing related stories for print publications and websites. Of all fishing, angling for smallmouth bass is his favorite pastime.  He may be reached for assignment at darlblack@windstream.net.
---
Enter our "Gear Up for the Hunt"
sweepstakes for your chance at the hunt
of a lifetime! Click here: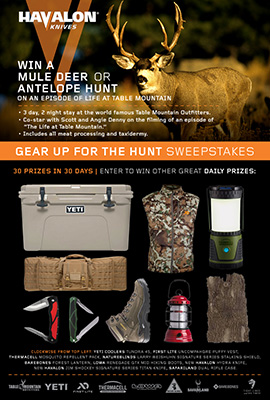 3,249 total views, 3 views today