By Tracy Breen
We film our customers and tell the story of their hunt….
In some cases, the hunt ends up on TV.
Would being an outfitter be a great job? Most hunters and outdoorsmen think so. Add a TV Show, and many believe they would be living in a dream world. Yes, making a living in the outdoor industry has its perks, but it is a lot of work. Ask Angie Denny, the better half of Scott Denny and co-host of The Life at Table Mountain on the Sportsman Channel.
The Life at Table Mountain is sponsored by Havalon Knives, Mathews Archery and several other well-known companies. "We are full-time outfitters in our home state of Wyoming. We also guide in Idaho, North Dakota and Nebraska. It's safe to say that between outfitting and doing the TV show, we are super busy. It's a fun job, but it is tons of work."
Most hunting TV shows focus on the host of the show. As a result, many TV show hosts have become superstars in the outdoor industry. For the Denny family, the show isn't about them and what great hunters they are; it's about the outfitting business and the clients they serve. "For the most part, we film our customers and tell the story of their hunt which is neat. When someone books a hunt with us, they get to have a great hunt. In some cases, the hunt ends up on TV which is an added bonus for the customer," Denny said.
Table Mountain Outfitters is a family run business, so this husband and wife team treats its clients like family. As a result, many of their clients return year after year to chase big game. "We are a family friendly operation. As a result, we get many return customers. We have husbands and wives who hunt together with us. We try to create a family environment where everyone feels welcome," Angie explained.
Table Mountain has many return clients because they hunt a wide variety of species. "We offer deer hunts, elk hunts, bear hunts, buffalo hunts and antelope hunts. People can come and hunt with us several years in a row and hunt different species each time. That's unique," she noted. "Sixty percent (or more) of our customers return to Table Mountain."
If you're interested in a guided hunt, choosing the right outfitter for the species you want to chase can be a daunting task, but the Dennys have a suggestion. "Regardless of what species someone wants to go after, they should find out if the outfitter they are considering hunting with specializes in the species they want to hunt. It may seem like a silly question, but many outfitters don't guide in an area that offers great elk hunting or bear hunting but they offer the hunts because there are some of those species in the area. People should do plenty of research on the outfitter they are looking to book a hunt with and make sure they offer quality hunts."
She also advises hunters to be in shape and be prepared to do physical things they don't normally do. "We hunt in the mountains, which is physically demanding. Many hunters aren't physically prepared to hunt in the mountains day after day. The better shape a person is in, the better chance they have of being successful. Hunters also need to be mentally tough. When things don't go according to plan, many hunters give up. If a person thinks they can get something done and keep a positive attitude, they will often be successful," Denny said.
Outfitters and guides are very particular about the gear they use when hunting. Outfitters need top notch gear that can get the job done. Inferior gear can turn a ten-minute job into an hour-long job. In some cases, using cheap equipment can be dangerous to the outfitter or his clients. When it comes to skinning out someone's trophy, the Table Mountain crew depends on Havalon knives. "We love Havalon knives. Changing out the blades is easy so we don't have to stop and sharpen knives all the time. They are lightweight, razor-sharp, and easy to pack. The Havalon knife is everything we need in a knife," Denny noted.
Scott and Angie Denny may live an adventuresome life, but to be an outfitter, you must be a workaholic. "Our season starts on August 15 and ends on June 30 the following year," Denny said, laughing. Obviously, the outfitting and TV business isn't for the weak or lazy. As the saying goes, when you love what you're doing for a living, you never work a day in your life. That is definitely the case with the Denny family!
***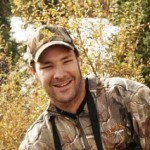 About Tracy Breen
Tracy is a full-time outdoor writer and consultant in the outdoor industry. He works with a variety of outdoor brands and television shows including Havalon Knives and the MeatEater. Learn more at www.tracybreen.com.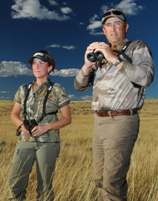 About Table Mountain Outfitters
Scott and Angie Denny of Table Mountain Outfitters offer some of the finest big game hunting in the world, specializing in fully guided hunts for trophy antelope, black bear, buffalo, elk, cougar, mule deer, whitetails, and turkey. Watch them on the Sportsman Channel, Thursday at 7 PM Eastern Time. (Check listings for other broadcast times.)
 For more articles by Tracy Breen, click here.
Click here for the best skinning knife – and read what Scott and Angie say about Havalon Knives…
3,423 total views, 1 views today