By Vikki Trout
Eliminating human scent? Impossible. Significantly reducing human scent? Very possible,
and absolutely necessary.
The 8-point moved deliberately toward my tree stand as I reached for my bow. It was just a matter of time until my Muzzy-tipped arrow would be on the way to this beautiful buck's vital lung area. Everything was in my favor – that is until Mother Nature turned the wind direction completely around. In less time than it takes to tell, my scent was blowing directly at the buck. He stopped, threw his head up, and vanished into thick cover, stomping the ground with every bound.
A whitetail's ability to detect a hunter is nothing new and never surprising, but here are some tips that may help to sway the odds in our favor.
1.  Scent Prevention – Destroy bacteria that causes odor by frequent bathing using scent-killer soap and applying scent-free deodorant. Some hunters still violate common sense and use commercial products not designed with hunters in mind. Several companies, including Wildlife Research Center, offer soap, shampoo and deodorant created for the hunter. Their products can be found at www.wildlife.com.
Our heads emit a major portion of our scent. In fact, hair holds scent so well that my husband John and I have placed it around the garden to discourage deer from stealing vegetables. Reduce the amount of scent coming from your head by using scent killer shampoo and proper headwear.
In my opinion, odor-blocking facemasks and beanies are invaluable. Many manufacturers now produce these items to help block scent and also keep us cool in the early season and warm when temperatures plummet. A facemask or beanie is worthless if we leave it behind because it's too heavy or too light.
2.  Scent Limiting Clothing – Many companies offer charcoal activated clothing and sprays that diminish human scent, and now they're available to fit both men and women. I have a Scent-Lok fleece suit that provides warmth when it's cold, but also does a great job in masking my scent. When temperatures are too warm for the fleece, I still make it a point to wear my lightweight Scent-Lok facemask and hat to stop odor radiating from my head. Visit www.scentlok.com.
3.  Rubber Boots – Rubber boots are an absolute necessity for deer hunting. They reduce human odor and help you remain undetected when getting in and out of the woods. Always tuck your pants into the rubber boots, since your clothing also could leave human scent behind.
Rubber boots containing no insulation are hard to find; however, Irish Setter carries rubber boots with and without insulation. That makes them great for early or late-season hunting. More information is available at www.irishsetterboots.com.
4.  Switching Winds – Regardless of where you hunt, changing winds spell trouble. Once again, getting past the keen sense of a whitetail's nose seems impossible. As mentioned at the beginning of the story, all was going well for me until the wind switched and carried my scent directly to the buck's nose.
Hunting open areas, such as fields and along fencelines can help because wind direction is often steadier away from woods and dense areas. Ridges or hills are probably the hardest places to hunt since changing winds will bounce around, sending your scent in every direction.
Alternatively, if the wind is blowing hard, your scent also moves quickly and could get past a deer before they notice. This seldom applies to variable winds, however. When strong winds prevail, the wind is typically steadier.
5.  Pack it in – Regardless of temperature, carrying your outer-layer clothing as opposed to wearing everything to your hunting location can reduce over-heating. It is possible to get warm walking even when cold temperatures prevail. Warmer bodies produce more scent.
6.  Men vs. Women – Throughout this story, I haven't focused on differences of scent between men and women. Now, before anyone gets angry, please realize that I am not trying to say that men smell more than women. However, men typically do perspire more than women.
According to a study done for Live Science by Andrea Thompson, each person has a "signature odor," a genetically determined "odortype."
Thompson also says odortype is determined in part by genes that play a role in the immune system found in most vertebrates. That means deer might be able to distinguish vertebrates from other animals by smell, and many vertebrates are predators to deer – including men AND women. So it doesn't matter how much you sweat – both need to give major attention to human odor.
Eliminating human scent entirely is impossible. However, we can take measures to increase the odds of remaining undetected. As deer season approaches, I am already contemplating my fanny pack ingredients. My facemask and anti-odor field wipes will definitely be part of the inventory – because even women risk sweating in the early season heat and humidity!
***
About Vikki Trout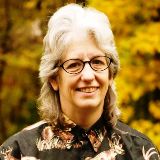 Vikki Trout is a full-time freelance writer and photographer from southern Indiana. She loves hunting turkey, deer, bear, and small game. When she's not hunting, she loves capturing wildlife thru the lens of her camera. Please visit her website at www.troutswildoutdoors.com.
For more articles by Vikki Trout click here.
And for the best deer skinning knife, click here.
58,598 total views, 1 views today