By Vikki Trout
Attention procrastinators – here are three risks and three advantages of putting off your scouting.
A tree stand hung before deer season begins brings a smile to my face. On the flipside, I sometimes find myself on the move to a different location immediately following opening day!
Mother Nature can force changes in deer movement for a variety of reasons. She can produce conditions ranging from drought to flooding and everything in between. With all that said, is it better to scout early and get prepared, or should we wait? Here are some of the risks and advantages facing scouting procrastinators.
RISKS:
A deer's nose – No hunter needs to be told that deer have great sense of smell, and you leave your scent behind on the ground and brush. If that scent has time to dissipate, the deer have time to calm down and get the feeling that all is well. However, some hunters forget they are predators, and nothing will alert a deer more than scent from a predator in the vicinity. Deer might rapidly vacate the premises, and if you have scouted at the last minute, they might not be back on opening day.
Visual detection – How many times have we been out there scouting and notice the
south end of a deer heading north? Add a big rack on top of his head and the pit in your stomach just got bigger. When we head out to scout, deer are going to see us more than we see them. We are easily spotted by the elusive whitetail because of foliage. As autumn arrives, leaves start falling visibility increases for the deer. I mentioned deer have incredible noses, but their eyesight is not far behind. If we upset the eco-system just prior to season, our odds for success will certainly decline.
Adjustment time – Whitetails are spooky. That is a fact no one will argue! They know their territory just as we know our home.
Setting up a tree stand is not as noticeable as a ground blind, but it is still a change. Waiting until the last minute gives deer no time to adjust to the new "thing" in their home and they will avoid the area around the intrusion.
When setting up a stand or ground blind, trees usually need pruning. Archer's need shooting lanes and gun hunters need openings for the projectile to pass through. Last minute set-ups mean changing the look of the woods and alerting all deer in the area of a new change.
I recall an occasion when my husband John had found an active oak. He wasted no time setting up his stand and hunting the location the same day. A huge buck was on the way to the tasty white oak acorns when he suddenly stopped. The buck smelled a small sapling John had accidentally rubbed against. After smelling the tree, he backed out of the area and John never saw the deer again. If John's scent wasn't so stinking fresh, that buck might have felt at ease coming in to feed.
ADVANTAGES:
Hot food sources – Locating a hot food source just prior to opening day could produce a dandy buck. For example, white oak acorns are a favorite of whitetails, and finding a loaded oak will oftentimes produce action. It will be hot for only a short period, and deer will leave just as quickly as the nuts do. If you found where deer are feeding long before the season opener, the food source could be gone by the time the hunting begins.
Fresh deer sign – Finding sign early lets you know where the deer have been. However, finding fresh deer droppings and rubs lets you know where the deer are. Obviously, knowing the deer are in your area now will boost your hopes for success.
Don't confuse heavily-used trails with active trails. It's easy to get roped into hunting a trail that looks great at first appearance. However, without locating fresh tracks and droppings, the trail could mean nothing. Some worn trails have been there for eons, but are seldom used. It's advantageous to locate trails with fresh sign just before season.
An open mind – As I write this, I can only think of deer season just around the corner. Don't get me wrong, I will most certainly be looking for sign when I head out in pursuit of bushytails, long before deer season begins. But I don't want to get locked in on the deer sign I find. I'll likely find potential hotspots, but I'll also keep an open mind.
Before the deer season, my husband John and I always set up a few treestands. However, throughout the hunting season we continue scouting and moving stands. The fact is, there are pros and cons to scouting early – and late.
***
About Vikki Trout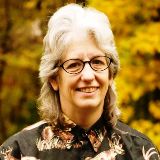 Vikki Trout is a full-time freelance writer and photographer from southern Indiana. She loves hunting turkey, deer, bear, and small game. When she's not hunting, she loves capturing wildlife thru the lens of her camera. Please visit her website at www.troutswildoutdoors.com.
For more great articles with hunting tips and how-to's, click here.
And click here to find the best deer skinning knife.
2,376 total views, 1 views today