By Bob Robb
Where can you hunt bugling bulls on public land
with a decent chance of success – and not
take out a second mortgage?
More elk roam North America today than at any time in modern history. According to the Rocky Mountain Elk Foundation, nearly a million elk are out there. If that's the case, then why is it so difficult to kill one? Perhaps it's because most elk hunters don't maximize their odds by hunting where their chances are best.
Here are some places where the elk hunting today, in terms of numbers of elk and the chances at getting in the middle of them, are as good as it gets on public land. And so you know, I'm realistic. That means I'm biased against places where non-resident tags are hard to get and cost more than a set of new tires for your truck. I also dismiss many popular areas known for the occasional monster bull but that require a decade or more of preference points for a reasonable chance at drawing a tag.
Hunting some places will be like taking a shot in the dark. The following aren't. But as I said, I'm realistic, so I'm also giving you the downside.
White River National Forest, Colorado: North of I-70, the White River elk herd is Colorado's largest, numbering over 50,000 animals. Also a good bet in Colorado is the 1.1 million acre Routt National Forest, in the state's northwestern corner. Not only do these two areas have lots of elk, but in Colorado you can buy tags over the counter for a reasonable amount of money.
The downside? Colorado annually hosts over 200,000 elk hunters. A lot of elk draw in a lot of elk hunters, but you'll do your research and get off the beaten path, right? If you don't do your homework and are not prepared to work at it, expect some company.
St. Joe National Forest, Idaho: Located in the southern panhandle region, those who work hard here can get into bugling bulls during archery season in numbers as good as any place on public land out West.
The downside? Wolves are becoming an issue. They eat lots of elk and send those that survive into nasty places. But elk tags and licenses are relatively easy to obtain and not overpriced.
Siuslaw National Forest, Oregon: Want to kill a Roosevelt bull on public land? Talk about tough….but the Siuslaw National Forest in western Oregon might be the answer. Over-the-counter tags are usually available at reasonable cost.
The downside? Boy, can it rain here! And the best hunting is often in the middle of a jungle-like rainforest.
Western Wyoming: I like hunting elk in Wyoming for a couple of reasons. There are lots of elk in many places, especially the Yellowstone ecosystem. Also, tags are reasonably priced – and even though you have to draw them, in many good units you can usually draw a tag with just one or two preference points. Two areas have been good bets for rut hunting the past couple of seasons – the Bridger-Teton National Forest, near Jackson, and the Beartooth Mountains in the Shoshone National Forest.
The downside? Lord, the grizzly bears and a growing population of wolves can cause you fits. It has gotten so bad that some of my serious elk hunting friends have actually left areas they have hunted for a decade or more to try new places where these large predators have not made an impact yet. Hopefully recent wolf hunting seasons will help.
Southwestern Montana: Nearly 50 percent of Montana's annual elk harvest comes from Region 3. That means the Beaverhead-Deerlodge ­National Forest can be an excellent bet for those willing to get off the beaten path and invest some serious effort.
The downside? Non-resident elk tags in this state can set you back more than a grand. And, here's another place where the grizzly/wolf problem is rampant.
These are the best bets for the self-guided elk hunter on public land. Wherever you choose to go, doing your research before the hunt is every bit as important as what you do on the hunt. Success is up to the same person as always – you!
***
About Bob Robb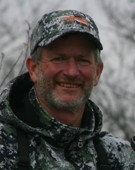 For over two decades, Bob's articles and photographs have appear in most major outdoor magazines. Currently he is editor of Whitetail Journal and Predator Xtreme magazines. Bob was founding editor of Petersen's Bowhunting magazines, and the author of many books, including The Field & Stream Bowhunting Handbook, and The Ultimate Guide to Elk Hunting.  Bob sees the value of super-sharp, lightweight Havalon knives.
13,010 total views, 4 views today