By Bob Robb
Smart elk hunters pack light – which means they need
to bring only the essentials
In wilderness elk hunting, where you hike several miles a day over a week's time, ounces are heavy. The less of them you carry, the more efficient you'll be. Still, you gotta bring everything you need to get it done.
If I'm hunting solo, I choose gear differently than when buddy hunting. That's because two of us can share some stuff between us. And gear needs to be selected based on the type of hunt you are doing. A backpack hunter doesn't necessarily take the same stuff as someone doing day hunts out of his truck or off the back of a horse. Also, let's not discuss the obvious – bow, arrows, etc. Instead, let's talk about those little things that can make a big difference in your daypack.
GPS: I'm not talking about a large, heavy GPS unit. Get one of the compact units that only records a handful of waypoints – the Brunton Get-Back or Bushnell Backtrack. They weigh next to nothing and record 3 to 6 waypoints. I only need three – camp, truck, and the elk I kill. Once I used the Get-Back to record a hidden wallow I stumbled upon. I killed a nice bull there, and the GPS was what made hunting it possible.
Walker's Game Ear: I'm older now and do not hear well. In fact, few of us have pristine hearing. A simple behind-the-ear Walker's Game Ear has made it possible for me to hear faint bugles and the approach of a sneaking bull again. It's invaluable.
Judo point: My quiver is never without a judo point-tipped shaft. Why? Because staying sharp with my shooting is critical, and the judo allows me to stump-shoot all day, every day, as I am hiking along. It lets me incorporate real-world target practice into my hunt.
Rangefinder: My Nikon Archer's Choice laser rangefinder is with me every day. I've yet to be able to take a reading off a bull, but it does permit me to range objects around me after I set-up and try and call a bull in. I also use it in conjunction with my judo point practice and as I hike along. Why? Because it helps me get a feel for what specific distances actually look like in the woods, which makes it more likely that I'll pick the right pin when I have to shoot a bull that doesn't allow me to take a reading off him first.
Scent Killer Field Wipes: I firmly believe you must always have the wind right or elk will bust you. Still, as a precaution, I pack along Scent Killer Field Wipes. I wipe down everything – my body, my clothes, my gear – on a regular basis. It's cheap insurance.
Elk Fire: A little bottle of this cow-in-heat scent and a couple of wicks is employed whenever possible on the downwind side of all my calling set-ups. You know why.
Flagging: A half roll of fluorescent flagging tape makes marking whatever needs marking in the woods quick and easy. A trail to a downed bull, a stand site, whatever. In grizzly and wolf country, if I have to come back later to pack meat – which is most of the time – I tie a lot of flagging onto a tall pole and place it in the center of the gut pile. When I come back I glass this from afar. If it has been knocked down, I know a bear is around and I need to be extra-careful.
Fuel: The smartest thing I started doing years ago was packing along powdered energy supplements that need to be mixed with water. You need to drink lots of water on a mountain hunt anyway, and adding these supplements boosts your energy level measurably. You can find them in a nutrition store – I like the stuff endurance athletes use – Wilderness Athlete sells some great stuff designed specifically for hunters. I packaged quart-sized amounts in Stretch-Tite food wrap, store them in a plastic baggie, and when it's time simply mix one up in my quart water bottle.
Lightweight Skinning Knife:  To skin a few ounces off and keep your pack light, the Havalon Piranta is by far the best skinning knife for elk hunting. Each knife weighs less than 3 ounces, and you only need to take few extra blades along. They'll get the job done fast and get you back home.
You may have your own essentials, but based on experience, I advise you not to forget any of these.
***
About Bob Robb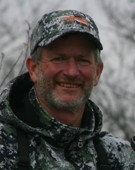 For over two decades, Bob's articles and photographs have appear in most major outdoor magazines. Currently he is editor of Whitetail Journal and Predator Xtreme magazines. Bob was founding editor of Petersen's Bowhunting magazines, and the author of many books, including The Field & Stream Bowhunting Handbook, and The Ultimate Guide to Elk Hunting.  Bob sees the value of super-sharp, lightweight Havalon knives.
3,509 total views, 1 views today