by Ron Spomer
Our optics expert's 4-step process to cleaning lenses.
Congratulations on buying that expensive new binocular, spotting scope or riflescope. Your world is looking brighter already. Keep it that way.
If You're Not Getting Them Dirty, You're Not Using Them
Optical maintenance isn't difficult, but it is important. One coarse mistake can take the shine off the best lenses. This tempts many of us to leave our optics covered up. Cases, lids, padded jackets. Nothing wrong with those UNLESS they prevent us from using our instruments. Everyone's eager to peel the covers off a rifle scope and whip it into action, but opening a case, pulling out a binocular, taking off objective lens covers, opening eyepiece covers – it's easier to skip the whole exercise.
Those protective accessories can actually be impediments to using your optics, so stack them carefully in the original packaging and store them in the closet. Your binocular is going hunting. I will permit you to keep eyepiece covers on if they pop or flip off easily. You'll have time to do that and still get the binocular up to peruse a suspicious object at the slightest provocation.
How Lenses Get Dirty
Eyepiece lenses, riding there below your chin, are the most likely to get dirty or scratched, catching every drip off your nose and crumb from your sandwich. The objective lenses, recessed as they are and hanging face down, are well protected from rain and snow and even errant branches.
Feel free to keep lens caps on spotting scopes or wrap them in those zip-open jackets. Setting up a spotter is such an event that you aren't likely to skip it because of an extra step or two.
I invariably carry rifle scopes "in the raw" on the theory that I don't want to be fumbling with lens covers when my buck of a lifetime leaps up. (This will never happen, but my dream persists.) It makes sense to keep a quick release cover on at least the eyepiece lens. Scope covers keep snow and rain off, too.
Despite your best efforts, dust, dirt, finger prints and debris foul your lenses. Don't panic. You can freak out if you want, but the better idea is to clean things up and sin no more.
You Don't Have To Baby Them
The good news is that today's lenses are tough and resilient. Many are coated with extremely hard substances that protect them, resist scratching and even repel external fogging. They clean up nicely, but only if you do it correctly. And that means carefully. With a light touch. Not with your glove, pant leg, sandpaper or dirty handkerchief.
Nor gasoline. Okay, I'm being facetious. But to make a point. Lenses should be cleaned with soft, clean cloth or tissue designed for eye glasses and camera lenses. Those microfiber cloths are perfect, but keep them clean.
A quick and easy lens cleaning process:
Shake off the gravel. Really. Tip lenses down. Blow across them. Dust with a camelhair brush. The idea is to remove the harshest debris. Sand is not nice to glass.
Moisten the glass. The old hot breath trick is fine, but so is spit. Really. It's not the best, but it's okay if you don't have a mouthful of popcorn or caramel and you dry up the spit with that soft cloth. Official lens cleaning fluid is better. Those pre-moistened lens cleaning cloths in the foil packs are great. The idea behind the moisture is to liquefy any dried-on gunk so it can be lifted and absorbed off the surface with the cloth, instead of being ground in, which brings us to…
DON'T GRIND! Actually a soft cotton shirt tail isn't the worst cleaning cloth IF it's not contaminated with sand and if you sweep it over the glass delicately, absorbing the moisture.
Repeat. Moisten, absorb, moisten, absorb. Two to ten light sequences of this are better than one traditional grind and polish. Elbow grease is great for polishing steel pots and pans. Not glass lenses.
Clean in this fashion every time you detect spots or smudges on lenses. Salts, oils and even rainwater can etch permanent imperfections in some lenses if left on too long.
Optical instruments are built so watertight and durably that little else besides basic external cleaning is needed. Use cotton-tips or a cloth-covered toothpick to clean dirt and oily dust from crevices, especially around moving wheels and dials. Don't let dust built up under eyepiece cups. Flex binoculars at hinges to reach greasy debris there.
That's all the more maintenance you're required to do to keep your optics running smoothly and shining brightly for a lifetime.
Click here to read more great articles by Ron Spomer.
***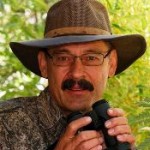 About Ron Spomer
Ron is rifles/optics columnist for Sporting Classics and North American Hunter magazines and host of Winchester World of Whitetail on NBC Sports. Learn more at (www.ronspomeroutdoors.com)[hs_action id="7771″]
6,127 total views, 2 views today