By Bernie Barringer
The Three Phases of a Spring Bear Hunt
A very common saying among hunters on a week-long hunting adventure goes like this "Don't pass up on the first day what you would shoot on the last day."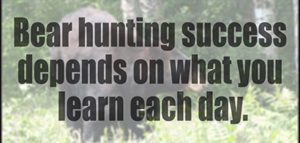 Well, I ain't buying it. If I bought it, I wouldn't have shot as many truly large bruins as I have. In fact, I wouldn't have the nice chocolate-colored bear rug hanging on my wall behind me right now if I had shot the nice black one that presented me with a good shot on day two of that hunt.
I understand the logic behind that thought, but frankly, I can't think of a single hunt when I wasn't learning more and more about my chances of success every single day. By day six, you know a whole lot more about the area and its potential than you do on day one.
Some people are happy to shoot a bear early in the hunt and then go fishing or hang around camp the rest of the week. And if you're headed for your first bear hunt, that might be your best option. But at some point, you'll want to kill a bigger bear, or maybe a color phase bear. Will you depend on pure luck? Or will you adjust your strategy through the week to improve your odds?
The key to being as successful as possible on any hunt, but particularly on a spring bear hunt, is to be constantly gathering information throughout. Most week-long hunts offer you six days. Let's break that down into three two-day phases.
Days One and Two
On the first two days I am primarily in information-gathering mode. Whether I am on an outfitted hunt or baiting for myself, I like to get some trail cameras out as soon as I can. Nothing helps you gather information like a game camera taking inventory of the bears hitting the baits.
Chatting with the guides and other hunters in the camp will also help you gather information. Are they seeing bears? Are they shooting bears? Are the bears interacting at the baits, spending time feeding or just moving in and out of the area? Usually the first two days can give you a really good feel for how the rest of the week will go.
Keep an eye on the weather. Heavy rain can dampen (pardon the pun) bear activity. Likewise, hot weather can cause most bear activity to occur after dark. With today's technology offering an accurate weather forecast at your fingertips, there's no excuse for not knowing what to expect weather-wise. If a major change is coming, factor that into your decisions – it will affect bear activity either negatively or positively.
Days Three and Four
I have been on many bear hunts, both on my own and in bear hunting camps. By the end of day two, I have a pretty good feel for what to expect. Either I feel that I have a great opportunity to hold out for the best bear possible – or that if I don't shoot a bear by midweek, I might not get another opportunity.
How I react to bear encounters on days three and four will depend on the information gathered on the two previous days. Midweek can make or break your hunt – decisions are difficult and making the wrong one can send you home without a bear. Here's an example.
In 2012, hunting with Grandview Outfitters in Grandview Manitoba, I passed up several smaller bears on days one and two. I knew there were a couple giants in the area and I really wanted the beautiful cinnamon-colored bear that showed up on camera at one of the baits. However, on day three a great-looking chocolate bear tempted me with plenty of shot opportunities, but when I let it walk out of my life, I had a sinking feeling that I might have made a mistake.
The next three nights I hunted hard for a cinnamon, and briefly saw the red bear of my dreams but it didn't offer a shot. I passed a couple of large blacks because I had confidence that if the cinnamon didn't show up I could shoot whatever bear I wanted at the last minute.
Long story short, I saw only two smallish bears the last evening and was mentally beating myself up for having been so greedy. I prepared to go home empty-handed. Lucky for me, the outfitter saved my hunt by graciously offering one more night since everyone else in camp was filled out. I committed to shooting the first bear that came in. I took home a 200-pound sow.
Days Five and Six
The last two days are when decisions become easier once again. It's now or never. You have all the information you're going to get, and it's up to you to make the decisions you will live with for a long time. You should have mentally prepared for this time from the start.
Before you go on the hunt you need to be in touch with what you really want out of it. If you are looking for a really big bear, one with a specific feature such a big white blaze on its chest, or maybe a color phase, you should know that before you arrive. You will have to decide if you are going to hold out for that specific bear or go home and eat tag sandwich all year. If you are perfectly happy going home empty-handed rather than shooting something you didn't come for, that's OK. But making decisions like that on the fly will drive you crazy.
Whatever you decide to shoot, and no matter what day you decide, keep in mind that bear hunting is more than just shooting a bear. The camaraderie, the accommodations and food, the enjoyment of time spent in the outdoors and around such an amazing animal, and the overall experience are things you should factor into your decision-making. No one can make your decisions for you, so above all commit to having fun and enjoying the hunt whatever the outcome.
---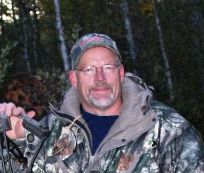 Bernie Barringer hunts a variety of species in several states and Canadian provinces. He has published more than 400 articles in two dozen outdoor magazines and authored ten books on hunting, fishing and trapping. The latest is Bear Baiter's Manual. He is the managing editor of Bear Hunting Magazine, and blogs his hunts on his website www.bowhuntingroad.com.
---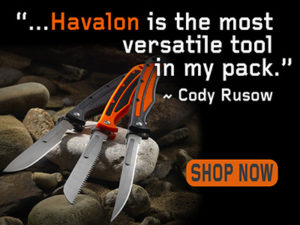 2,757 total views, 1 views today