By Nicole McClain
No place to hunt? Don't panic — here are
3 easy (but not simple) ways to tip the odds
in your favor!
You're in a panic. You don't have a place to hunt, and you'll do just about anything to get permission — beg, plead, offer money — just to hear a landowner say those 5 magical words, "Yes, you can hunt here."
Maybe you recently lost permission to your current hunting grounds due to change of ownership. Maybe you're trying to figure out how to approach your neighbor about hunting his property. Maybe you're a new hunter who is doesn't have a place to hunt.
Whatever the case, the end goal is to lock down a solid place to hunt. Here's how you can score that deer-rich acreage down the road. It's actually pretty simple, but it's not necessarily easy. The key is this: don't let it get to the panic point.
1. Be a true neighbor
This isn't 1970 anymore. Back then hunters could knock on doors and gain permission not only to hunt deer but just about everything else. Permission meant you could play to your heart's content. Things have changed, for lots of reasons. Land was cheap back then. So were property taxes. There weren't many deer around, either.
Also, our society was different. Neighbors actually knew each other. They celebrated kids' birthdays together, got together for summer picnics and saw each other at church every Sunday. Today we live in a society of isolationists. People keep to themselves, and some folks don't even know their neighbors.
If you want to gain access to that prime land you have your eye on, you need to become a good neighbor. It's not as easy as showing up with a case of beer or a spiral-cut ham two weeks before bow season. That approach is lame and contrived, and most landowners see through it.
Don't approach landowners with a payoff in mind. Instead, make some goodwill gestures that show you're part of the community. Maybe the end result will only be a new friend. Maybe you'll eventually get to hunt his or her land. Maybe not. On the other hand, maybe you make one friend, which leads to making another friend, which leads to becoming a neighbor people trust.
To be a good neighbor you don't have to suddenly adopt an outgoing personality. You can go about this a million ways. Offer a lending hand when there are chores to be done. Remember landowners with small, thoughtful gifts at holiday time. Show genuine interest in their lives, and in their kids' lives. When you become that type of neighbor, you're thinking long term, and opportunities will eventually come your way. If you're looking for a shortcut, forget it. That's not how life works.
2. Get creative
Many landowners won't want to give you free reign to their property right away, especially if they intend to do some hunting themselves. That means you need to be a giver, not just a taker.
Be creative. Land is not cheap. Property taxes alone are a big financial burden to landowners. You might need to pay something to offset taxes in exchange for hunting privileges. Or, offer some physical labor in exchange for permission to hunt. Make sure the landowner has your phone number, and encourage him to call if he needs some help. You may need to spell out your goals — that you'd like to fill a couple of doe tags during the muzzleloader season, or hunt a certain number of weekends during the early archery season. No matter what, respect the land and report anything you see that he should know about.
Many landowners won't accept payment because they know when money changes hands, the person paying will probably expect more in return than the landowner is willing to give up. Remember — even if you share his costs, the landowner is still being gracious. Accept whatever arrangement is offered.
3. Take nothing for granted
Some of the best advice I've ever gotten on hunting land access came from a dear friend who has seen his share of promising deals go sour over the years. "If you don't own it, you will lose access at some point," he once told me. True words.
I've seen numerous opportunities go away over the years, many of which were beyond my control. Land gets sold. A landowner's kids or a relative takes a sudden new interest in the property. Someone else comes along and offers him more money. The scenarios are endless. I stay a step ahead of such possibilities by continually looking for new places to hunt. That being said, I never, ever look a gift horse in the mouth.
If a landowner grants me even just partial access, I work tirelessly to keep that relationship strong. It might be very limited — like hunting only a few weekends, or just two days during firearms season. Even if I have limited access, it's a bird in the hand. I won't let that opportunity slip away if I can help it. You never know when that marginal piece of property could turn around, or offer the only place to hunt when other situations fall through.
---
About Nicole McClain: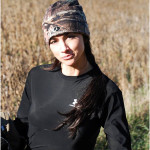 Nicole McClain is involved with brands and foundations including GearForWarriors.com, Mathews, Deer & Deer Hunting Magazine, Havalon Knives, CAMX Crossbows, Nikon, Hawke Optics, Field Logic, 20th Century Fox, Fight Like a Girl!, Kellogg's, Susan G. Komen and Pickle Press Comics. She says, "I'm a warrior, hunter, fighter and survivor regardless of what mud you sling my way. I'm good with mud."
---
There's still time to win the hunt of a
lifetime! Enter our "Gear Up for the Hunt"
sweepstakes today! Click here: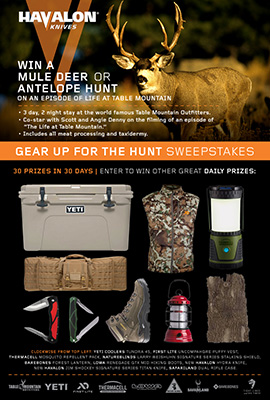 2,497 total views, 2 views today