By Tracy L. Schmidt
Make terrific tasting pulled pork from
your next wild hog!
The morning after my husband, Dan, returned from a recent wild hog hunting trip, I woke up thinking about how to prepare our hog. Since I cook a lot of venison, I decided to adapt one my hits from that playbook.
After breakfast I asked Dan if he wanted any more of the coffee in the pot because I was going to dump it all over his treasured hog in my slow cooker. "Seriously?" he responded. I told him I was absolutely serious. I make venison roast with coffee, so why not wild hog? The most abundant acid in coffee — chlorogenic acid — is an antioxidant and helps tenderize the venison. It will do the same for pork.
Dan looked at me a bit funny but stood to the side and watched while I measured and poured the coffee over the meat in the slow cooker. This might be a little different, but I like to use what I have handy for a lot of my food, and coffee is pretty much a staple at every hunting camp.
I decided not to overdo it with too many flavors in my pot, so I stuck to the basics and added some brown sugar to sweeten it a bit. Brown sugar will complement the barbeque sauce I will be adding to the hog later to make sandwiches, as will the chili powder.
The end result is the recipe below. We love it and hope you will, too.
Ingredients:
Wild hog portion
2 cups coffee
1/2 cup chopped onion
2 tablespoon brown sugar
Dusting of chili powder to taste
2 teaspoons minced garlic
Salt
Pepper
Barbeque sauce
Buns
Instructions:
Salt and pepper, then place wild hog ham or boneless shoulder roast in slow cooker. Add 2 cups of coffee to the cooker, making sure to pour it over the hog. Dust the meat with chili powder, then coat with brown sugar, garlic and onion. Cook for 6-8 hours on low heat. Allow to sit for 10 minutes to let the meat absorb some of the juices once it is removed from the cooker. Shred with a pair of forks and mix in your favorite barbeque sauce. Serve over high-quality sandwich rolls.
---
About Tracy L. Schmidt: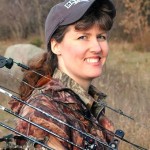 Tracy L. Schmidt is a certified master food preservation specialist and the author of the book "Venison Wisdom." Each of her recipes is tested and perfected. She is married to Daniel Schmidt, editor in chief of Deer & Deer Hunting magazine and host of "Deer & Deer Hunting TV" on NBC Sports. Tracy enjoys the versatility of Havalon Knives in both the kitchen and the field.
---
Download your FREE copy of our
wild hog hunting eBook! Click here: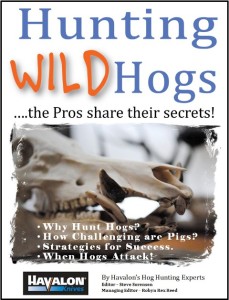 1,958 total views, 3 views today