Every year, Havalon Knives teams up with the great people over at Table Mountain Outfitters to give someone the hunting experience of a lifetime. We select one winner and send them out on an adventure they'll never forget. Of course, we wouldn't be able to pull it off without the depth of knowledge and skill from Scott and Angie Denny and the rest of Table Mountain. Below are a few words from this year's winner, Kevin Barhorst:
To the amazing people at Havalon Knives,
I was recently selected as the winner for the Havalon Knives/Table Mountain Outfitters annual hunt, and wanted to write and say thank you all for the experience I was given.
After finding out I had won, I spent the next few months having trouble believing that I was about to be a part of something so unbelievable. Getting a call like that and trying to wrap my head around what I was chosen to be a part of is truly hard to believe. For a few minutes, I honestly thought it was some kind of joke.
I wanted to take a moment and thank Havalon and John Barrett (who made the trip that much more fun) for what turned out to be the coolest adventure of my life. I have watched more hunting shows than I could ever count. I was literally the guy who sat there thinking about how awesome it would be to actually go out on a big game hunt out west.
As you can imagine, I had no idea what to expect. Flying across the U.S. to somewhere I had never been, staying in a town I had never heard of and spending the entire time with people I've never met was a little unnerving to think about. Add to that the fact that my entire experience was going to be filmed for a television show, one that I had actually watched before, made it even more unnerving. However, excitement was always there.
Now that it has actually happened I can only sit back and think about how appreciative and humbled I am to have gotten a chance to experience something I never thought would happen in a million years. Scott and Angie Denny, as well as the entire staff at Table Mountain Outfitters, made every second of my adventure that much better. The hospitality of every person there and the camaraderie of all the hunters made this entire event more amazing than I could ever describe on paper.
Not only did this experience bring a mountain of excitement to me, it also did the same for my 3 young boys, and as a father that makes me even more grateful. Not a day has gone by since my wife and kids picked me up from the airport that one of my sons hasn't asked me about my adventure.
I hope the next unbelieving person shares the same experience I was lucky enough to have, and also have the memories to last them a lifetime, as I now do. I know how lucky I was and still am to be a part of this, and I am extremely grateful. Thank you again, and happy hunting.
Sincerely,
Kevin Barhorst
---
Havalon would like to send out a special thank you
to our friends Scott and Angie Denny at
Table Mountain Outfitters for another successful hunt!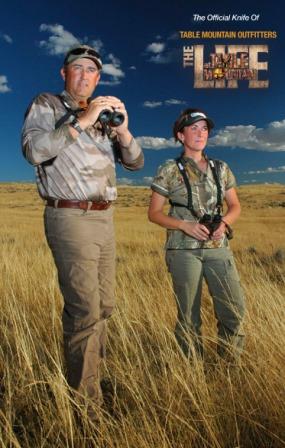 1,637 total views, 3 views today